Life
Trust Your Apple Products with Database
Did you get a new Apple product? Database, Springfield's only locally owned Apple Premier Partner since 1984, offers classes that can help you become a wizard on your shiny new toy.
By Savannah Waszczuk | Photos by Kevin O'Riley
Jan 2016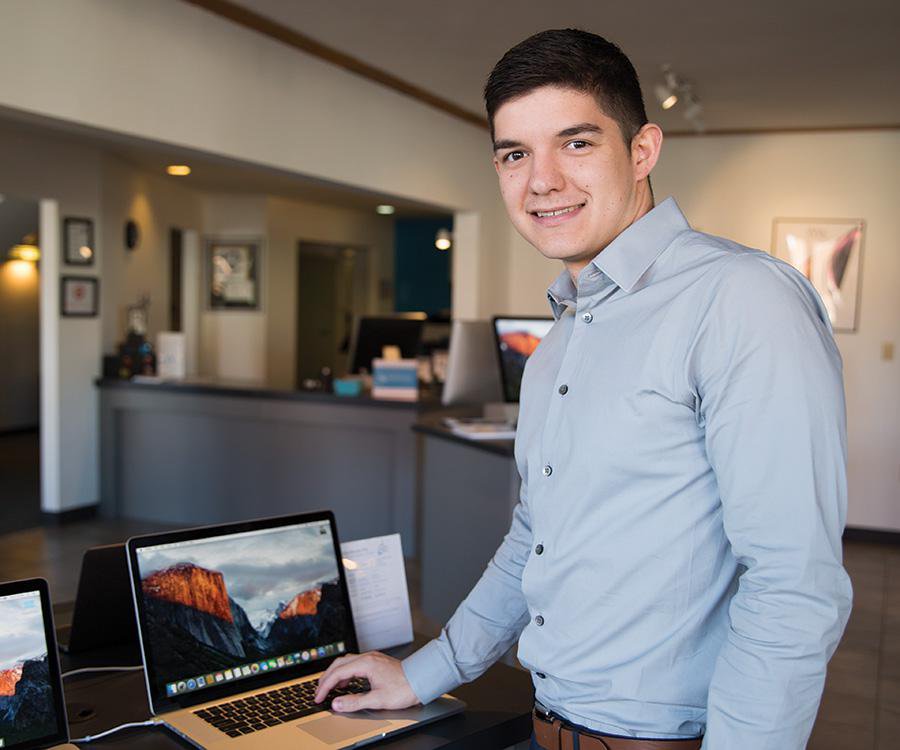 We've all seen news stations flashing footage of mile-long lines outside of Apple Stores in New York and L.A. when the latest iPhone comes out. And while we don't have any of those corporate stores in 417-land, we have something even better: a place that offers all of those great Apple products, but is locally owned.
Jeff and Lisa Baird and Jim and James Morris opened Database (formerly known as Database Systems, 1550 E. Battlefield Rd., Suite C, 417-883-5665, databasespringfield.com) in 1984. "At that time there weren't many options in the world of computers," Jeff says. But since the very beginning, he was happy to be a part of Apple, a company he says had a rock solid foundation at the very start. 
As Apple grew and evolved, so did Database. In fact, the store was completely remodeled a year and a half ago. "We went for that clean, light and bright Apple Store look, but we also kept that comfortable neighborhood feel in mind," Jeff says. The store has been Springfield's only locally owned Apple Apple Premier Partner since 1984—it both sells Apple products and offers service for and training on them.
Database started offering classes for both iOS (iPhone Operating System) and Mac operating system about a year and a half ago. "We have a Basics class and a Beyond Basics class," Jeff says. Many of the students are customers who are making a switch to an Apple product, and some are simply members of the generation that is new to smart phones. People who purchased their product at Database get a discount on the learning sessions, which are an hour and a half long.
Database also offers private classes in a variety of areas. "We've taught classes on social media before," Jeff says. "We helped a local small business owner set up a Facebook page for her business, and we taught her how to use it." 
Of course, these Apple experts have knowledge that expands far beyond iPhones and iPads. Thanks to extensive training on a plethora of products straight from Apple's headquarters in Cupertino, California, the pros here can train you on any Apple product you can get your hands on. Ready to make the most of that new gadget? Get to class!
Tips and Tricks OS X 10.11 - El Capitan
Tips provided by Database 
1. Ever have trouble finding your cursor on your screen? In this version of OS X, a mouse wiggle makes the cursor enlarge massively so you can find it. It stays big for as long as you do so and then returns to normal. 
2. If you really want a simple, spare look to your display, you can now hide the Menu Bar that runs across the top of the screen as well as the Dock that sits at the bottom. To do this just open System Preferences, choose General in the top row of options, then check the box marked Automatically hide and show the menu bar. This means that you can opt for a screen that's completely clean.  
3. OS X El Capitan adds some welcome new features for those who use the built-in Dictation feature. First, you can now set your Mac so it will begin accepting dictation upon a spoken command—useful if your computer is on the other side of the room. You can also have your Mac automatically mute any audio output while you're dictating, which can help reduce errors. Open System Preferences, go to Accessibility, then choose Dictation from the left-hand sidebar.
4.  If you have an Apple notebook or use Apple's Magic Trackpad, you can swipe across any message in Mail to delete it, just as you can on iOS. Mouse over the message in question as it appears in the message list along the left, then swipe with two fingers from right to left. Keep swiping, and the message will be deleted. It's a quick and easy way to scan and delete emails you don't need.
5.  Spotlight gained a lot of new features in El Capitan, and one of these new features will leave Sports fanatics loving Spotlight even more. You can now get Sports scores for major teams by simply typing in the name of the team. You'll be able to see a game in progress, or previous games, and the upcoming schedule.