Style
Sweet Girl Natural Skincare Products
Carrie and Devin Didier are growing a business that brings an effective, natural version of skincare—right here in our neck of the woods.
By Peyson Shields | Photo by Abby Gust
Jan 2016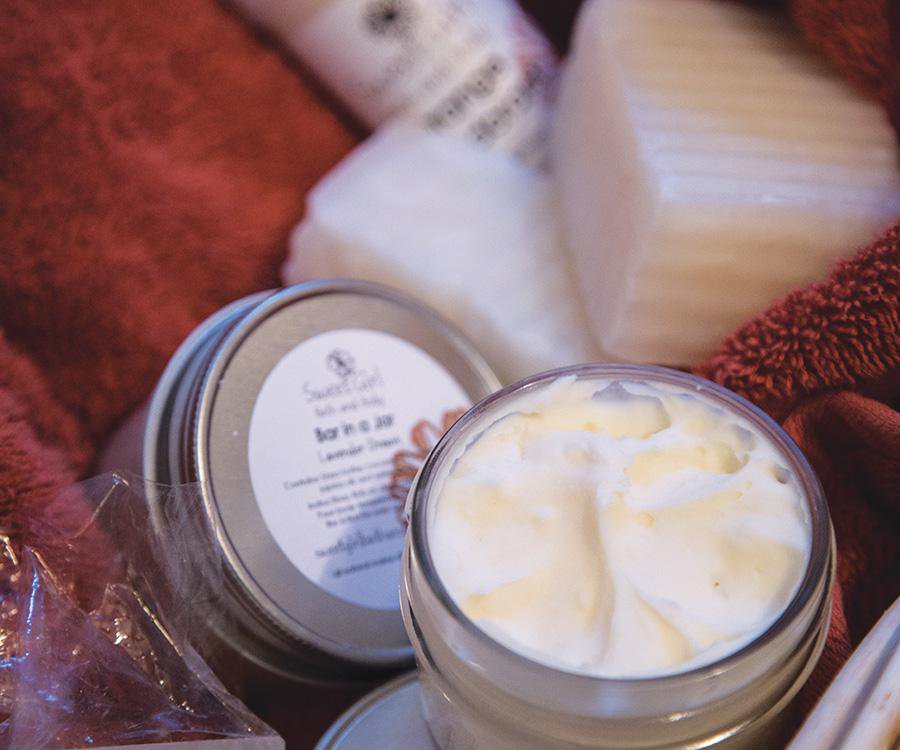 Especially in the winter, dry skin can be the itchy bandit no one wants to deal with. Enter Sweet Girl Bath and Body, a family-run local business started by Carrie and Devin Didier—parents of six whose oldest son struggled with eczema. After years of dermatologist visits and prescriptions, the couple decided to make their own natural products to alleviate his symptoms. "We realized that long-term side effects of [medicated products] could cause thinning of the skin," Devin explains. That's when they started experimenting with coconut oil, shea butter and beeswax as their core ingredients.
The Didiers created the natural lotions out of necessity, but they soon became the family's favorite products. Carrie, who also suffers from dry skin, started using their homemade products and realized they actually worked, beyond soothing her son's eczema. "I noticed with traditional lotions, I was putting it on [several times] a day," Carrie says. "With our products, I would put it on once in the morning and would stay moisturized."
The Didiers soon began giving the lotions and soaps to family members as holiday gifts—and then the demand came. Friends and family kept raving about the products and how Carrie and Devin should sell them. Alas, in 2012, Sweet Girl Bath and Body was born—because "Sweet Boy" didn't have the same cute ring to it.
Hours upon hours of work helped the family launch their products at the Farmer's Market of the Ozarks. With Carrie and Devin working the booth and the kiddos handling the money, the family business is booming. All of the kids help. "Some of them are old enough to handle transactions, but others are helping greet customers and hand out samples," Devin says. "We work together in all that we do as family."
With sales growing, Devin was able to quit his job, and now the focus is purely on Sweet Girl. And even though they're growing, they want to maintain the quality and honesty of their products, says the couple. The family still makes everything at home, planning kitchen time between cooking dinner and preparing soap.
Lip balm, sunblock, hard lotions, natural deodorants, coconut oil soaps and jarred lotions are just a handful of what's offered by Sweet Girl. Carrie and Devin say that most of the products are multi-purpose. They use the soap on their hair and body, and Devin uses jarred lotions on his beard.
The Didiers are also growing to offer products you may not have thought of as "traditional" bath products. After having conversations with the owner of Ink Ink Tattoo & Piercing Studio, they realized there is a demand for a natural tattoo aftercare product, so they came up with Tattube.
The Didiers also plan to launch their men's line of products known as Simple Man in early 2016. The line will carry a single scent and variety of man-friendly products.