Life
Explore Itty Bitty City
Itty Bitty City is redefining playtime for 417-land's smallest citizens. Writer Lillian Stone took the grand tour to learn more about Itty Bitty City's approach to play.
Written by Lillian Stone | Photos by Terry Sweeney
Jan 2017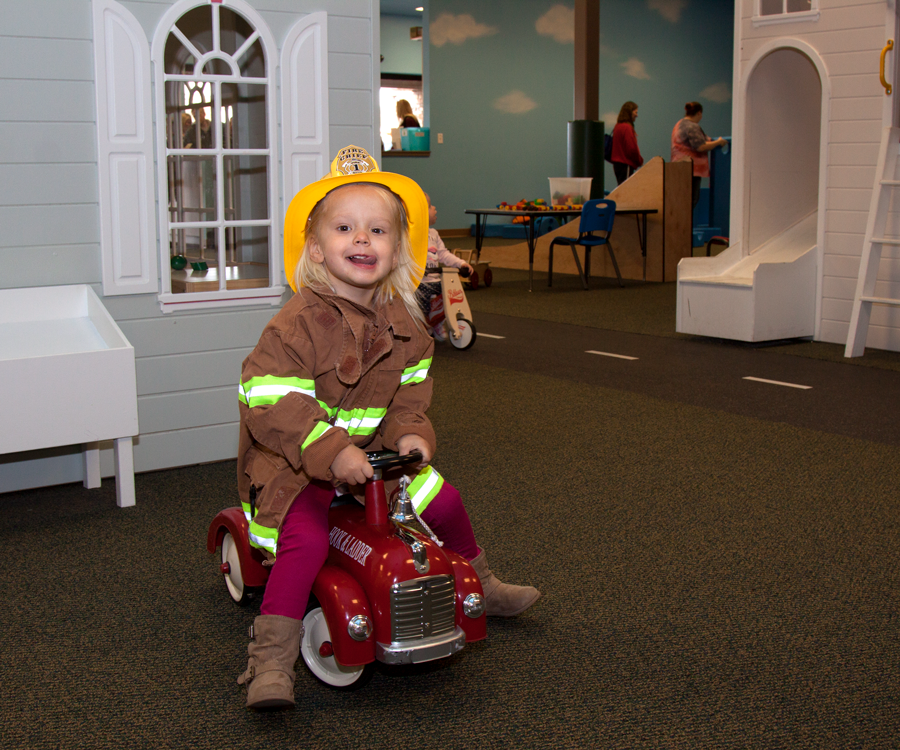 Some say bigger is better, but I've never been fully convinced. I often prefer the wisdom of our smallest citizens—people under the age of 10, that is. Naturally, I was excited when Itty Bitty City, a creative play center designed for ages 8 and younger, opened in Springfield last fall. I am well over the age of 8, but as a seasoned babysitter, I know the value of good, old-fashioned play. Intrigued, I met owner Fawn Rechkemmer and set out to explore Itty Bitty City.
Before becoming a stay-at-home mom, Rechkemmer worked at The Discovery Center of Springfield for eight years and served as the facility's education director for two years. She concepted Itty Bitty City with her husband, Craig, a little over a year ago when they struggled to find a kid-friendly New Year's Eve outing. Although their kids, now ages 8 and 10, are slightly older than Itty Bitty City's demographic, the family places high value on creative play. How does that tie into the vision for Itty Bitty City? According to Rechkemmer, it starts with "playology," which she defines as "the art and science of learning through play." Thus, Itty Bitty City's employees are "playologists." Make no mistake: A playologist's job isn't all fun and games. Most of the staffers are studying early childhood development, elementary education or theatre, so working at Itty Bitty City is valuable experience.
Itty Bitty City's Main Street has six businesses where kids can live out their professional dreams.
Walking into Itty Bitty City, I felt a sense of awe. Where to begin? I bypassed a custom water table and a large stage heading straight for the Village—the real Itty Bitty "City." It contains six freestanding buildings and two long walls of play businesses that create the Main Street strip. The buildings are impossibly detailed, adorned with flower boxes and kid-sized mailboxes. The supermarket is fully stocked with fruits and veggies, and kids can play shopper or cashier. I saw two little girls hard at work in the Itty Bitty Animal Hospital, where they fawned over stuffed animals like red pandas and three-toed sloths. There's a 17-foot-long train table, a nursing room and a birthday party space that doubles as a learning center. Kids can dress the part of the town mail carrier, keep the peace as police officers or save the day as fire fighters. A "rescue" house crackles next to the fire station, flames made of orange fabric shooting from the roof. "It's a losing effort," Rechkemmer says with a laugh.
In addition to creative play, Itty Bitty City offers educational story times, classes and workshops. The space is also completely ADA-accessible and can serve as a resource for parents wanting to keep an eye on their child's development. "It's great for parents who can learn how their kids are developing and interacting with others," Rechkemmer says. Overall, Itty Bitty City fosters unbridled creativity and gives kids resources to explore their imaginations and their wildest dreams. One thing is for sure: It's good to be itty bitty.