Dishes
Rosemary Chicken Pub Pie at Springfield Brew Co.
Plus six other things that passed the test of our taste buds.
By Stephanie Towne Benoit
Jan 2017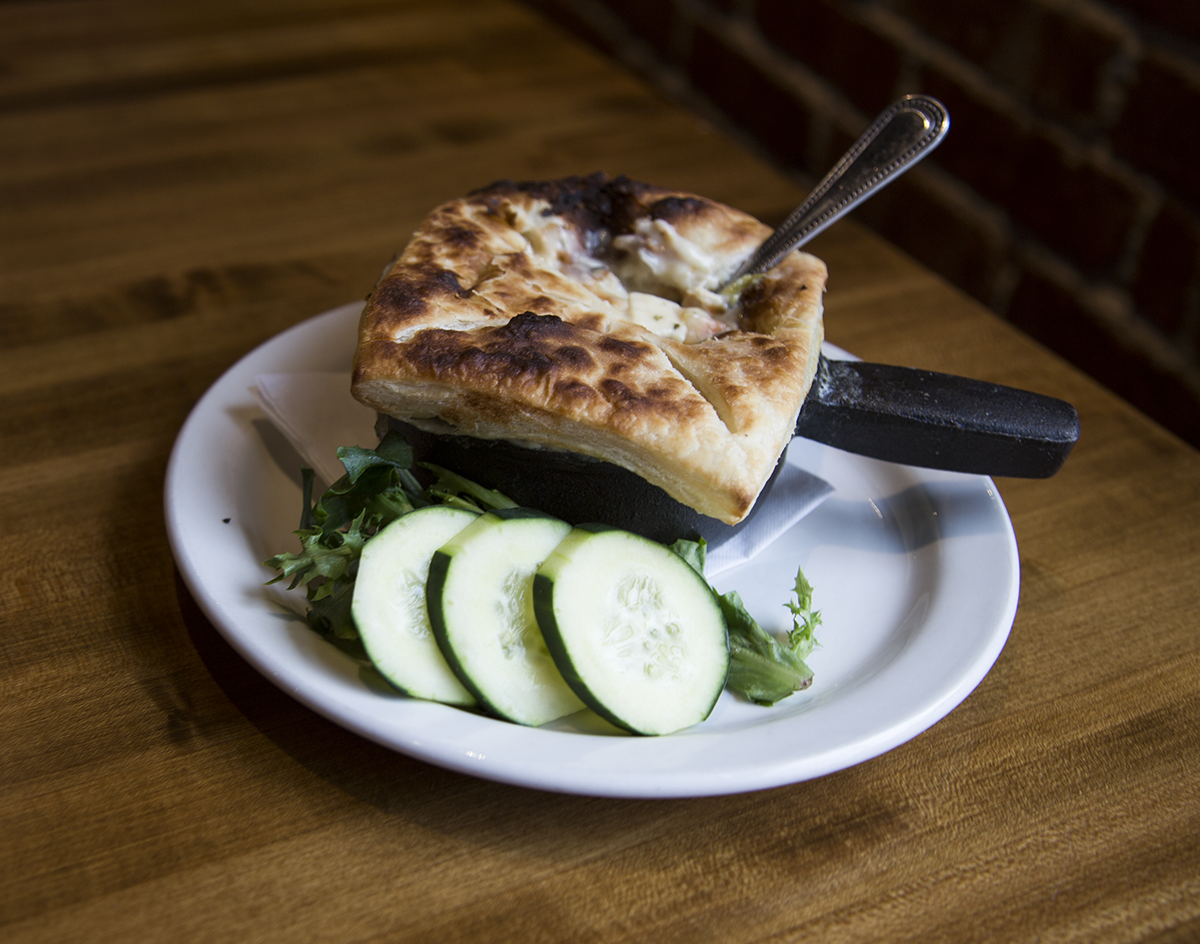 1. The Rosemary Chicken Pub Pie at Springfield Brew Co. (305 S. Market Ave., Springfield, 417-832-8277, springfieldbrewingco.com) is a perfect way to fend off chilly winter weather. Served in a cast-iron skillet, this homey, filling dish features a mashed potato base, hearty chicken stew, flaky puff pastry on top and some pickled onions on the side, bringing a welcome acidic note.
2. For a perfect cocktail to unwind with after work, one staffer's go-to is the Saturn at The Golden Girl Rum Club (137 Park Central Square, Springfield, 417-425-5162, thegoldengirl.com). Featuring London dry gin, passionfruit and lemon juices, house-made falernum and other components, the smooth, balanced drink is a star on the stylish spot's happy hour menu. 
3. The soups rotate daily at Vasken's International Deli (Springfield: 3522 S National Ave., 417-888-0083; Branson: 3200 Gretna Road, Suite 100, 417-334-9182, vaskensdeli.com), but when the roasted red pepper and gouda soup is served, do yourself a favor and order a bowl of the soul-warming potage. It's thick, creamy and oh-so-tasty.
4. When brunch rolls around, so too do cravings for finger-licking, sweet-and-salty goodness. For a bite-sized morsel combining those flavors, don't miss the crispy chicken and waffles sliders from The Order (305 E. Walnut St., Springfield, 417-832-1515, theordersgf.com), which come with honey butter and maple syrup on the side. Yum!
5. Berries and chocolate, a match made in dessert heaven, star in the grilled Nutella and strawberry sandwich at Druff's (331 Park Central East, Suite 101, Springfield, 417-719-1719, yumdruffs.com). The decadent chocolate-hazelnut spread goes brilliantly with the buttery wheatberry bread and plump, juicy sliced berries.
6. If you crave breakfast food all day (honestly, who doesn't?), the Breakfast Burger at Civil Kitchen (107 Park Central Square, Springfield, 417-501-8456, civilsgf.com) is just the ticket. Two beef patties, an egg, crispy bacon strips and American cheese are sandwiched between waffles and served with your choice of house-made sauces, like peppered bacon gravy or Mornay sauce. 
7. When picking a side to go with the mouthwatering meats at CB Social House (314 S. Patton Ave., 417-368-0778, cbsocialhouse.com), don't overlook the pinto beans, which are available on the dinner menu. Topped with a cornbread crumble and spicy pickled jalapeños, the side is put over the top by flavorful bits of brisket that are mixed into the beans.