Style
Just 4 You Resale & Consignment Shop
Just 4 You Resale & Consignment Shop has been a spot for finding deals and steals for nearly 25 years, and it recently moved to Springfield.
Written by Savannah Waszczuk | Photos by Abby Gust
Jan 2017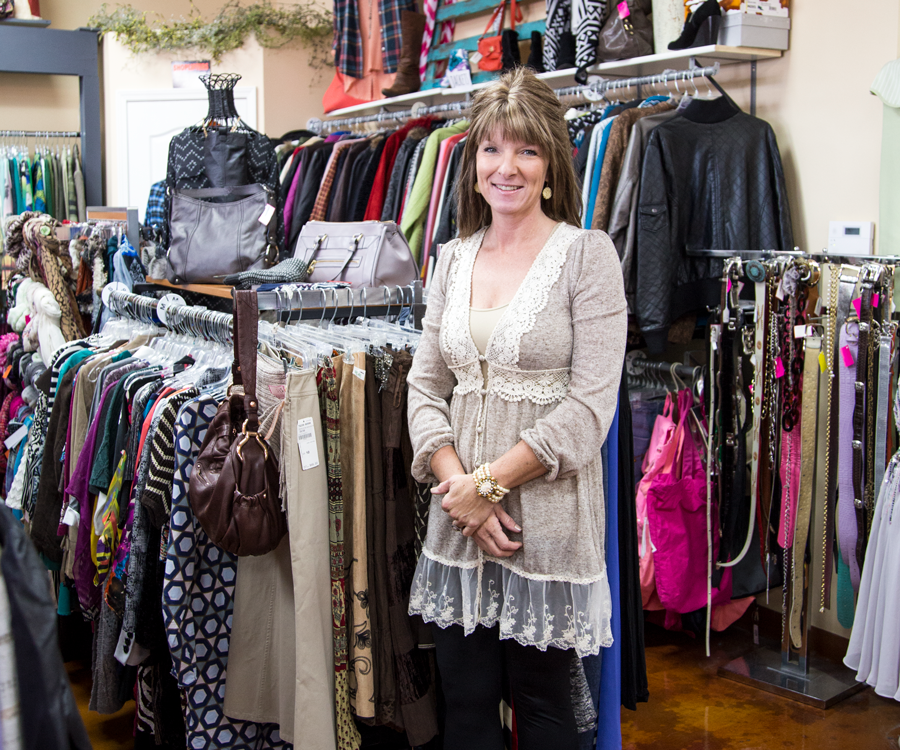 Misha Watts has always had a passion for fashion. "When I was a kid I used to dress up my animals," Watts says. "I have pictures of me with my kittens, and the kittens have clothes on them." As she grew, so did her love for all things stylish. "I really started getting into clothes and planning my outfits when I was in junior high," she says. 
After graduating from high school and college, Watts decided to try and make a career out of her favorite hobby and purchased Just 4 You Resale & Consignment Shop. "I purchased the store in 1995," she says. "It had been open in Nixa since 1992."
When she purchased the store it was on Mount Vernon Street, and she operated it there for seven years before moving it to its second home. "When we grew out of the first space, we moved to a location on CC," Watts says. "We were there for 14 years. It's funny that we were always in Nixa, because I always lived in Springfield."
In April 2016, Watts shortened her daily commute by moving the store to its current location on South Campbell Avenue. "I had been looking for a while, and I knew this was the perfect spot," Watts says. "I didn't want to lose my Nixa customers." She's been in the new location for nearly 10 months, and she says she still sees those loyal customers on a regular basis, plus a whole lot more. "I've seen a 50 to 60 percent increase in business since moving," she says. 
The store sells quality used clothing for the entire family. And by quality, we mean clothes that have been made well from the start. "We do pay attention to the brands we take," Misha says. "I typically tell people we sell mall brands." Women's clothing and accessories make up the majority of the merchandise, but a few racks of men's clothing are also open for browsing, and there's a large section of baby and children's clothing up for grabs. It's all organized by size and color, which is a nice relief from many resale shops. "I really like to keep things in order," Watts says. 
On any given trip, it's not unusual to happen upon a pair of Miss Me jeans or Coach or Michael Kors handbags. Another popular stop is the rack of Chico's clothing. You'll also find workout wear with items by Nike and Under Armour, and even the occasional lululemon. "The lululemon stuff always goes fast," Watts says. "That's the thing—we're always getting things in, but we're always selling them, too. The merchandise changes frequently. I put out anywhere from 100 to 500 new pieces daily." 
Shopping at Just 4 You gives you the chance to find a deal, and it also helps provide a chance to give back: the store makes weekly donations to Springfield Victory Mission. "If there's stuff we won't be able to sell for one reason or another, we donate it to them," Watts says. "We know that they always put our items to good use."
OUR FAVORITE FINDS: 1. Chico's jacket, $24.95 2. Infant's onesie, $5 3. Miss Me jeans, $38 4. Chico's necklace, $12 5. House of Harlow bangles and earrings, $29.98 6. Michael Kors bag, $160 7. Robert Graham men's shirt, $20