Style
Springfield Leather Company
Take a look inside one of the nation's premier leather suppliers found right here in Springfield.
Written by Vivian Wheeler | Photos by Kevin O'Riley
Apr 2016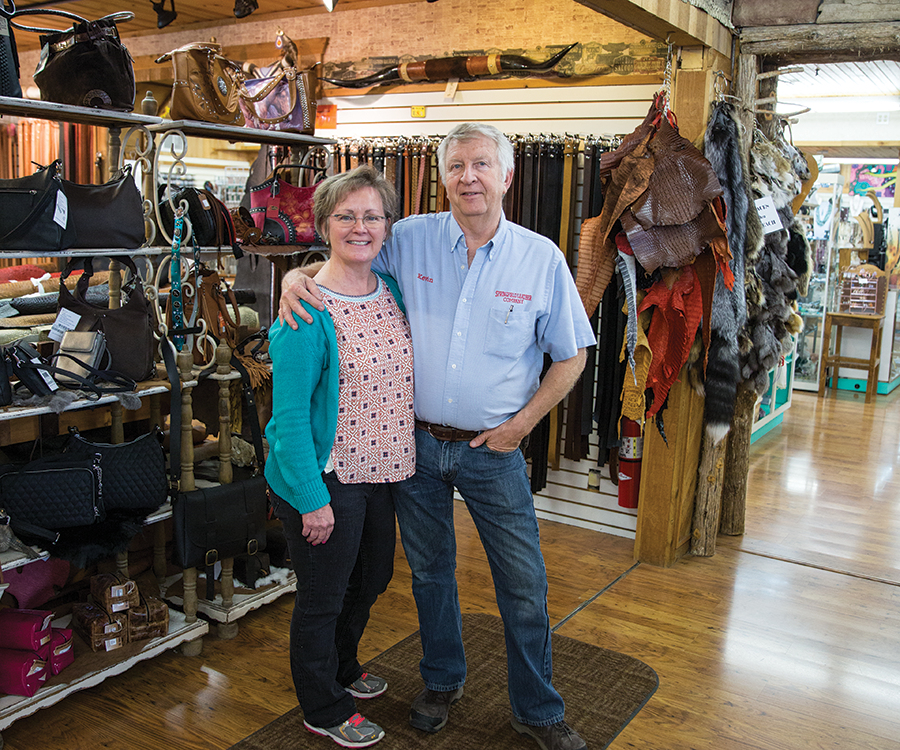 Springfield Leather Company
1463 S. Glenstone Ave., Springfield, 417-881-0223, springfieldleather.com
Open Mon.–Sat., 9 a.m.–6 p.m.
Stepping into Springfield Leather Company is stepping into a world of possibilities. Myriad varieties of leather and millions of beads fill the store just waiting to be transformed into endless treasures. It's surprisingly a great place to find a gift for that person in your life who already has everything, as Springfield Leather's skilled artisans make leather belts, purses and wallets on-site. But these items go fast, so if you spy something you like, snap it up while you can. Even with all of this, what you see in the retail shop is just the tip of the iceberg.
Springfield Leather was founded by Kevin Hopkins. Hopkins was a manager at Tandy Leather, and when it went out of business, he bought their Glenstone location. With that, Springfield Leather was born. Today, the store is one of the country's premier leather suppliers. Most of its business is done online. Walk through the back of the shop and you'll discover multiple workshops, a shipping department, a room solely for scrap leather, shelves full of kangaroo lace (they are the United States' largest supplier of it) and its own research and development department. In all, Springfield Leather employs more than 70 people. 
Hopkins still owns the store, but he's also taken on the informal role of leather guru. There isn't much he doesn't know about leather. He even makes his own instructional YouTube videos and has an "Ask Kevin" email service. On Saturdays, the staff will teach you just about anything about leather making for free. You simply have to ask. 
All of this stems from Hopkins' earnest desire to help his clients make money. Many customers use the supplies to support some sort of business endeavor. If you are reselling your crafts, Hopkins only charges you the wholesale price. During the 2008 recession, he saw an uptick in sales. People were looking to make money any way they could, and Hopkins and his team worked to support them.
Springfield Leather also accommodates hobbyists by catering to projects of any size. "We're about the only place in the country where you can buy a piece of [leather]," Hopkins says. "The other major players in the leather world today require you to buy a full side." And a full side of leather can cost anywhere from $100 to $200. The variety of leather available also sets the store apart. They offer everything from hard leather used for riding saddles to buttery soft deer skin leather that was originally ordered by the luxury-goods company Hermès. So, whether you are a leather crafting pro or a weekend dabbler, Springfield Leather offers a little something for you.
Q&A with Springfield Leather Company's owner Kevin Hopkins 
417 Magazine: What's trending in leather right now? 
Kevin Hopkins: Bracelets and cuffs are the hottest thing in leather right now. Minimalist wallets are also very popular. We can hardly keep them stocked. 
417: What's one thing in the store people would be surprised to find you carry?
K.H.: The amount of rock specimens and mineral specimens that we have. There is no good reason for me to have those things. None at all other than the fact that they look neat. And fossils. Fossil teeth from a Mosasaur. 
417: Can you recommend any unusual or unique gifts people can find in your store? 
K.H.: It depends on who you're buying for, of course. If you wanted to buy something for a little boy, little boys loves rocks. We have some really cool rocks here that kids would like. If it's a little girl, the beads are endless here. Everything from bracelets to necklaces to all the supplies to make something yourself.