Life
Ticket to Ride: Marty Scott of Liverpool Legends
Marty Scott shares his story of the long and winding road that led him to stardom as George Harrison in Branson's Liverpool Legends.
Written by Jeff Houghton | Photo by Chuck Travers
Jan 2017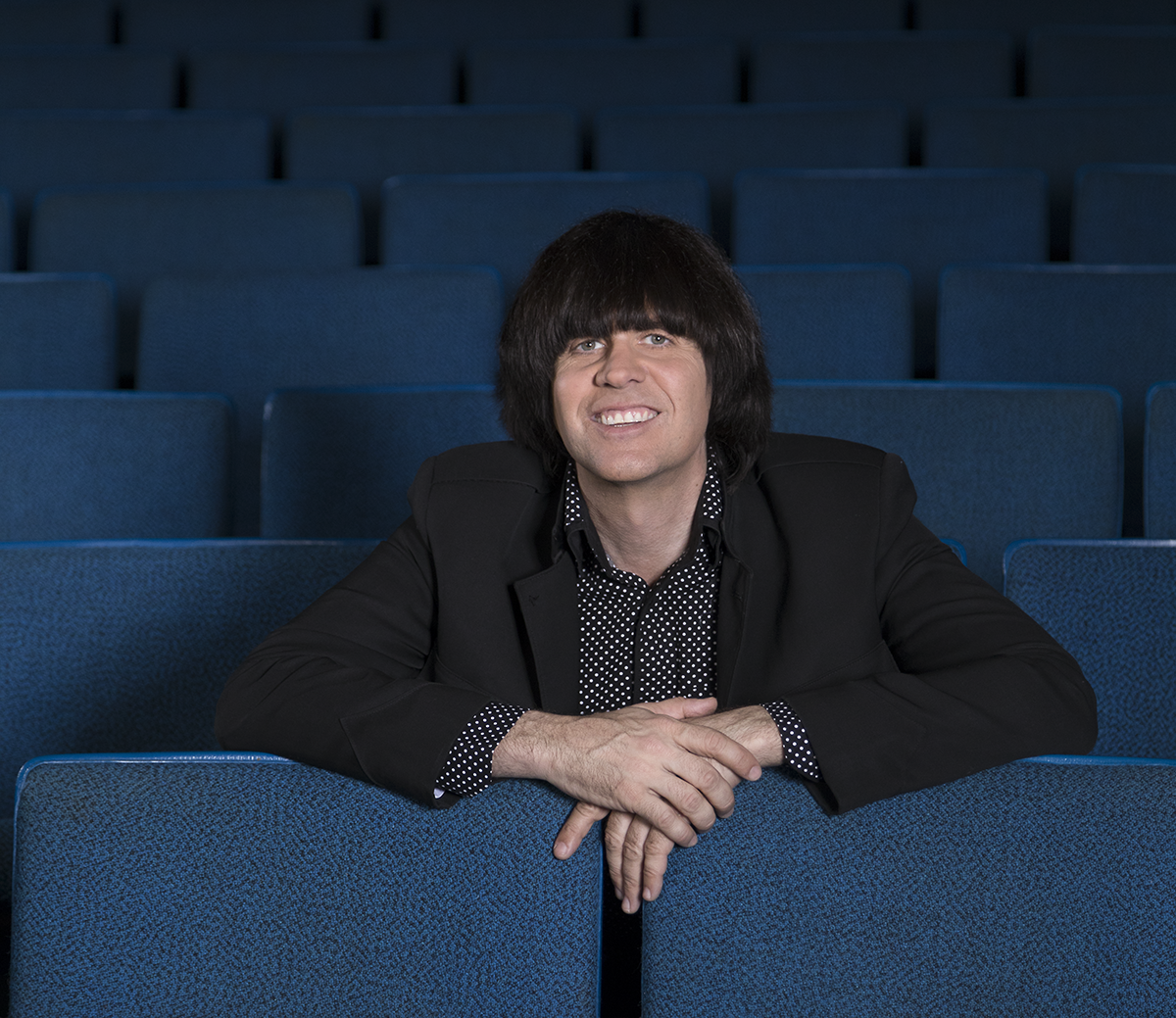 Marty Scott found himself sitting on a couch wedged between Paul McCartney and Louise Harrison, George Harrison's sister. Squeezed beside one legendary Beatle and the sister of another would feel surreal to anybody, but especially to Scott because he had recently begun playing George Harrison in a Beatles tribute band.
"I'm thinking, 'This is weird,'" Scott recalls. "I'm still freaking out that I'm with her, you know? We sat with Paul for like 45 minutes on the couch. It was a cool time in my life, just bizarre. I got to sing with him for a second. It was the coolest day ever."
Scott and Harrison had recently become friends when she spotted him performing as George Harrison in a festival in Chicago just a few months after George had passed away. "This figure comes out on stage looking exactly like my brother, singing a song ['While My Guitar Gently Weeps'] sounding exactly like my brother, and for the first time since he had died, the tears just streamed down my face," remembers Harrison.
IN CHARACTER: Scott assumes the role of George Harrison in the tribute band.
It was then that they struck up a friendship and eventually a plan to work together. Scott ended up starting a new band that he named the Liverpool Legends with Harrison as an integral part. A Beatles tribute band is not the easiest thing to assemble. You have to get people who look and sound like the person they're playing, have the skills to play an instrument and like the lifestyle of playing in a touring band.
After assembling a band that checks all of those boxes, they still had to book shows. "We just have this new band, and I'm on the phone with a booker, and I say 'We have this new band. It's really great. Can we send you our video?'" Scott says. "And they're always like, 'He's on the phone right now. Can I take a message?'
"I wasn't really breaking through, so I said, 'Hey, Lou. Call this guy and say you're the manager of the band.' So she calls the same company and says, 'Oh, I got this band.' She'd get the 'He's on the other line,' and she says, 'Well, tell them this is George Harrison's sister, and this is my band.' They'd say, 'Wait, he just got off the other line.'"
DRESSING THE PART: The band is fully dedicated to keeping The Beatles alive, including performing shows as Sgt. Pepper's Lonely Hearts Club Band.
EIGHT DAYS A WEEK
Scott sits relaxed in a back room of the Caravelle Theater, the Liverpool Legends' Branson home, wearing modern clothes fixed below a classic Beatles mop top. His life is always straddling the divide between worlds, whether it's real life and performance, or having fun and taking care of business. He speaks with both a boyish enthusiasm about what he gets to do and the determination of an entrepreneur thinking about what he's going to do next.
"Being on stage, that's the easy stuff. That's the fun part. It's singing and playing for me. I spend a lot of time on the phone and booking the flights," Scott says. "So I'm booking the shows, I'm the travel agent, I do the accounting, I do a lot of stuff more than play.
Scott in full costume for Sgt. Pepper's Lonely Hearts Club Band.

"It's funny we thought when we came to Branson, 'This is great. We never have to set up. We never have to tear down.' We play for two hours, and then we have 22 hours to ourselves. We can go fishing every day," Scott explains. "I've gone fishing like twice in the 11 years that I've been here.
"The first thing we learned here was how to put on a show. When we first came here, we were a band. We really didn't have a show. When you do a show every day, you learn, 'Oh, I've got to be here because that's where the light is,'" Scott says. "You learn how the show happens between the songs, and you develop it from five shows a week for years and years and years. You learn what works and what doesn't work."
BACKSTAGE ACCESS: Louise Harrison watches from the wings as Liverpool Legends plays a sold out show in front of 17,000 fans in Mexico City.
The Beatles spent their "Hamburg years" in Germany playing for hours and perfecting their craft while unknowingly preparing themselves for something bigger. The Liverpool Legends' Hamburg years were in Branson. Since their early days there they have become so much more—a testament to Scott's creativity and relentless work. They've now played Carnegie Hall, have an annual gig for the largest 4th of July celebration in the U.S. at the Rose Bowl, have toured the world and have sold out arenas in Mexico—amazing stuff for any band but miraculous stuff for a tribute band. They're a tribute band that's truly a worldwide hit. In fact, of their approximately 180,000 fans on Facebook, Scott estimates that 100,000 of them are from Mexico.
Scott got a call from a promoter about booking a show in Mexico. "They were booking Ringo Starr and figured they would make it a Beatles week," he says. "Sometimes when you go into a country, you don't know much. 
Scott sings with Louise Harrison, George Harrison's sister, at Carnegie Hall. 
I just thought it was just a regular show. I thought, 'This would be fun. Let's go to Mexico.'
"Then I'm starting to see some of the marketing, and they had to move the show. We ended up outselling Ringo by like 7,000 seats, which is absolutely bizarre. The arena is Arena Ciudad, and I'm looking at who else is playing there, and it's like U2, and I'm thinking, 'What?'
"So we get there, and there's like flea markets of tents selling bootleg Liverpool Legends stuff—everything you can think of. I wanted to buy it all. If it happened all the time, I'd be pissed off because we brought our own t-shirts and we didn't sell anything. Honestly, it was kind of exciting because I ended up with some great t-shirt designs because these people were just crazy creative."
Love Me Do
At this point, The Liverpool Legends have more than one touring group to handle all of the booking requests, often playing the same day in different places, yet at the center of it all remains Scott. Kevin Mantegna, who plays John Lennon, has been friends with Scott since childhood. "He's just got that certain something that can make things happen, and a lot of people seem to embrace him with his ideas, and he embraces them back with their ideas," Mantegna says. 
"He has such a tremendous personality in the same way that George did—a very magnetic personality that people want to be around," Harrison adds. "He's very personable, very caring. That's very much the way my brother was."
Scott can see the comparisons to George Harrison, but Scott likes to make a distinction. "A lot of impersonators out there get so wrapped up in it that they think they're the person, and we're not like that at all. I don't think I'm George. We're not delusional about it at all. I want to do a show and make people happy and try to expand this."
Long and Winding Road
Scott takes nuggets from each new experience to inform what he wants to do next. "My whole thing is, 'Where am I going next year?' because this year was a great one." They might play Ecuador next year and were just reached by someone in Armenia interested in a show, all while holding down a theatre schedule in Branson.
FAN FAVORITES: Liverpool Legends actually has two touring bands to keep up with the demands of Branson shows and worldwide shows. 
"It's been a really neat adventure, and then we come back home," Scott says. "I bought a house here, and I like it here. I love my neighbors. I have this one lady, she'll make me dinner. She'll be like, 'I know you have a show tonight, but you can eat it after.'" So after a show, Scott ventures home to heat up a dinner from his neighbor a short distance away from the theatre—and a world away from a sold-out arena—where he'll sit down to eat and think about what's next.
During his career, Scott has met Paul McCartney (left), played at Busch Stadium (center), and been interviewed on the red carpet at the Grammys (right).
6 Most Memorable Moments
1. Playing at Carnegie Hall
"We did really well. We sold 2,000 seats, and we learned a lot about New York City business because we sold 2,000 seats and barely broke even, but I'd do it again. I learned that you really don't play Carnegie Hall to make money. You play Carnegie Hall to make a recording. So many people have done albums there. They still have the Beatles poster from when they were there. Louise was there with us, and she was there with them."
2. Sitting with Paul McCartney and Louise Harrison
"First of all, I was freaking out that I was still with her at the time. Now, it's funny because we fight all day. She's like my sister or my whatever, but back then I was still thinking, 'Oh my God. This is George's sister. This is crazy.' That was a real conversation with Paul. I made him laugh a few times."
3. Jamming with Heroes
"We got to do...a charity show with the whole Wings horn section. Pete Best, the Beatles first drummer, played drums. Denny Laine played; he was Paul's John Lennon with Wings all through the '70s. So to me, he was almost equal to John Lennon. [I] played with him and Joey Molland, the guitar player from Badfinger, as well as Spencer Davis. I was surrounded by excellence, and we were trading solos. I wasn't worthy."
4. Getting to Second Base
"We played on second base [at Busch Stadium]. I was born in Chicago, but I lived in St. Louis from 5 to 13, so most of my childhood I was growing up as a Cardinals fan. We played right before the game. So for the first few songs, people are still coming in, but for the last few songs, it was packed. During the game, I'm sitting there having a Budweiser with the group sales manager, and he said, 'Marty, you're not going to believe this, but Tony La Russa called me from the dugout. He's never done this.' Tony said, 'Hey, I want those guys to hang out after the game. I want to talk to them.'"
5. Recording at Abbey Road Studios in London
"The piano was still there that the Beatles used on 'A Day In The Life,' so playing the big E chord at the end of that song still makes my hair stand up on my arms when I think about how cool that sounded in that room."
6. Snagging a Grammy Nomination
"We recorded a project in 2012. It was a CD about Beatles and their fans called Fab Fan Memories. We recorded all the Beatles songs on the CD, and Louise narrated it. It ended up being nominated for a Grammy in the spoken word category. Louise and I got to go to the Grammys and did interviews on the red carpet. It is maybe my coolest and most surreal memory."