Health
Get Fit: Ice Skating
Digital Director Dayle Duggins tried ice skating and was actually kind of good.
Written by Dayle Duggins | Photos by Kevin O'Riley
Jan 2017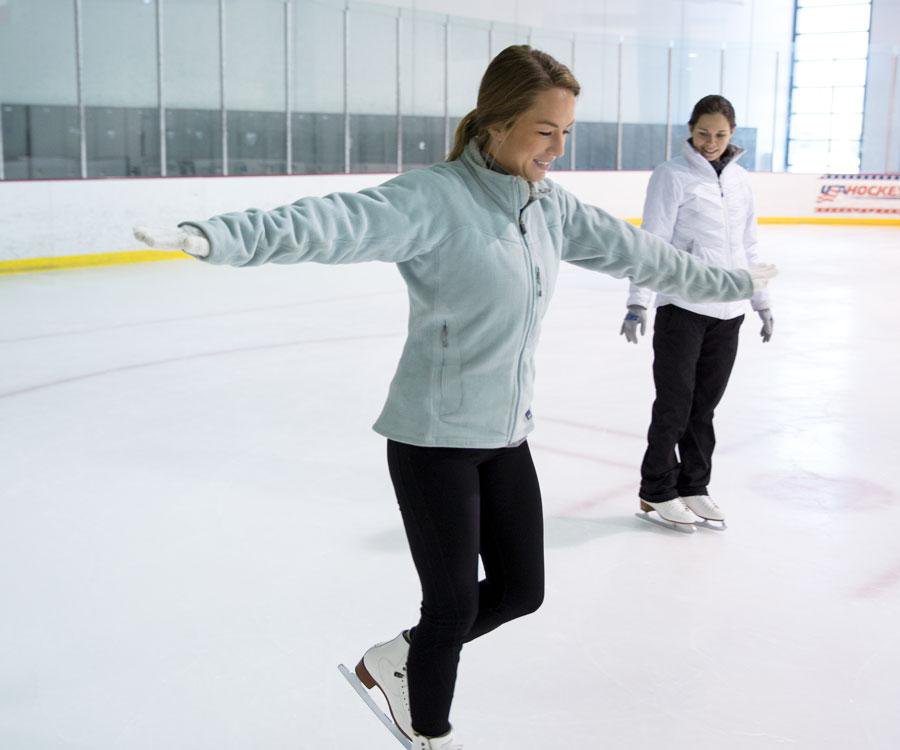 If there's one sport that knows how to make a fashion statement, it's ice skating. How can you not love beading, bedazzling, chiffon, velvet and ruffles? When I was told my next Get Fit would involve a beginner lesson at Mediacom Ice Park, I envisioned myself skating flawlessly around the rink donning a rhinestone-encrusted ensemble that would bring Johnny Weir and the cast of Blades of Glory to their knees.
Stoning a leotard never made it to the top of my to-do list, so I instead went to my private 45-minute lesson in well thought-out layers of workout clothes. Jolyn Hecht, the Springfield–Greene County Park Board figure skating director, would be showing me the ropes of the Learn to Skate program during a private lesson. She greeted me at the door of the massive building and helped me find the perfect pair of ice skates. I somehow scored the fancy white ones—I usually always get tan—and wore my usual size. "Sometimes you go down a size or a size-and-a-half," Hecht says. "The skates should fit like a glove for ankle support."
I learned that Hecht, an East Coast native and competitive skater, has been skating for 29 years. "I got skates right before my second birthday," she says. "A lot of people in Boston know how to skate—they might not skate regularly—but they know how."
Excited that I was in the presence of a figure skating goddess, I laced up my white wonders and hit the ice.
Halfway through the lesson, Hecht teaches Duggins the art of spins.
THE RINK
Mediacom Ice Park is in the heart of downtown Springfield right next to Jordan Valley Park. Built in 2001, it's owned and operated by The Park Board and is home to the Missouri State Ice Bears, the Springfield Express Junior-A Hockey Team, the Springfield Youth Hockey Association and the Jordan Valley Figure Skating Club. "Our skating community is young, and it's growing really fast," Hecht says, noting the number of skaters participating in the most recent holiday exhibition doubled from the previous year. The ice park has two NHL-sized ice rinks, and my private lesson was in the west rink. I had only ever been in the east rink, so I felt pretty special.
The ice park has activities for recreational and competitive skaters ages three and older. "If you can walk, you can learn to skate," Hecht says—promising words to hear. Along with the Learn to Skate program, there are regularly scheduled public sessions, freestyle sessions and a number of hockey programs.
Spinning, for obvious reasons, was very entertaining. Unfortunately, this is where I fell twice, and I never completely mastered my 180-degree spin on ice, so a spin flying through the air wasn't even an option.
THE LESSON
Before I could throw a triple axel, Hecht wanted me to learn how to sit on the ice and stand up so that I knew how to properly recover from a fall. "Falling means you're learning," she says. Instead of pulling up on the rink wall or fumbling to get up, the technique made perfect sense: go to your knees, prop one knee up and press your hands into that knee to pop yourself up. Side note: I only had to use the super-official pop-up twice!
Now that I conquered standing up, I got to move onto the fun stuff: marching, gliding, dips, swizzles, snowplow stops, hops, stroking, spins and more. Skating around the rink casually is one thing, but learning standard agility, balance, coordination and speed skills is a whole different ball game. I loved how challenging the sport's basic moves were, and Hecht was surprised by how rapidly I was moving through the levels. Having a good sense of balance and some strength definitely played to my advantage. 
Before landing a triple axel, Duggins tested her balance and coordination with spins.
Throughout the lesson, I learned that swizzling and spins were my favorites. Swizzling is so fun, and it's similar to what's called scissoring while roller skating. To swizzle, you put your skates in a V shape, bend your knees and let your blades glide over the ice in a football shape. The goal is to get your toes to come back together or make your toes kiss. Spinning, for obvious reasons, was very entertaining. Unfortunately, this is where I fell twice, and I never completely mastered my 180-degree spin on ice, so a spin flying through the air wasn't even an option. 
"I think there are a lot of life lessons to be learned in this sport," Hecht says. "Kids work on their programs for 10 months to a year. You're constantly trying to better yourself from that original skate and score all season." Unlike a soccer game that never plays out the exact same way, you try to perfect your exact program every time in figure skating and how well you do is all up to the judges. I can only imagine how judges would've scored my lesson. While I made it through a lot of skills, none of my moves were beautifully executed. In other words, judges probably wouldn't have even bothered scoring me. When I go back to the skating rink this winter, Hecht recommends I do a little work on stopping and shifting my weight. And never forget, knee bends are your friend.