Travel
Off the Beaten Path in Sunny San Diego
Leave the winter chills behind for a little urban adventure in sunny San Diego.
Written by Joan Whitaker | Photos courtesy Shutterstock, Historic Tours of America, Hyatt Hotels and Resorts
Jan 2017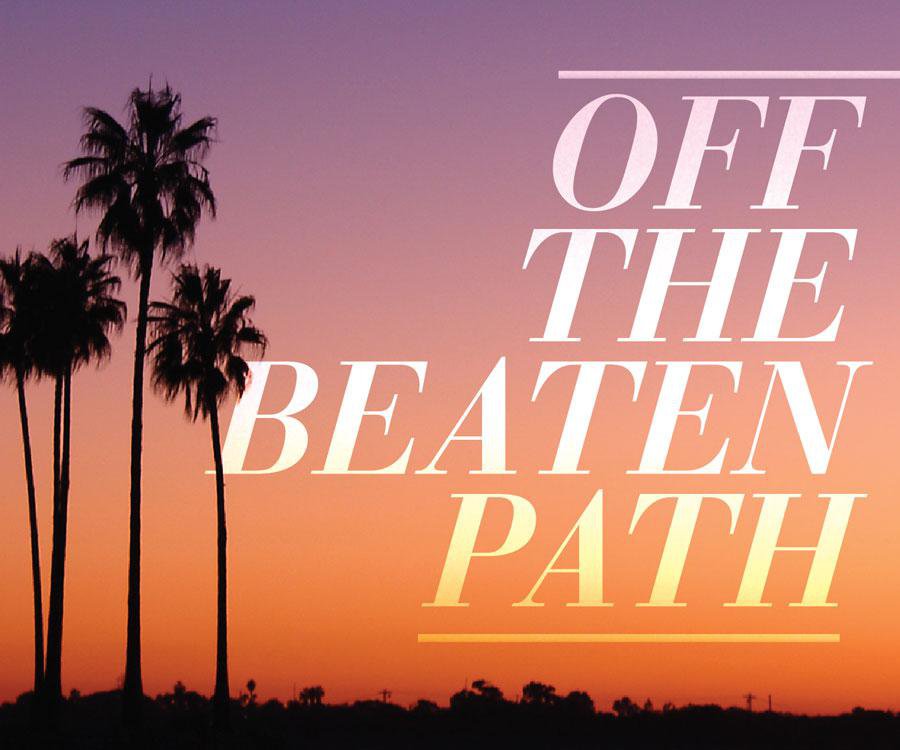 When it's cold and dreary in 417-land, the sun's a-shining in SoCal. Someone once said in all seriousness they moved from San Diego because they just couldn't take another perfect day of sun and 70 degrees. Shut. The. Front. Door. 
If you're looking to escape winter for balmy temps, San Diego isn't your place. Think blinding sunshine, brilliant blue skies, highs in the low 70s, lows in the high 40s. It's a dress-in-layers kind of climate.
Assuming you've been to San Diego before and toured its world-famous zoo, let's take you on an off-the-beaten-path getaway that offers great food, a little city, a little surf and a whole lot of wind in your hair.
GASLAMP QUARTER: Find great dining a bit of unique charm in San Diego's Gaslamp Quarter.
GET SETTLED
Book a room in San Diego's Gaslamp Quarter district at the ultra-chic Andaz, a Hyatt property, for two nights. Make sure to set aside time for the rooftop bar and pool. It's a trendy kind of place with a great view. Cozy robes in your room make a nice, warm poolside cover-up.
Gaslamp Quarter is filled with really good restaurants and bars peppered in between tattoo parlors, payday loan stores and homeless people. It sounds seedy—and it is, but in a fun way.
For the best Mexican food, go to La Puerta, a local favorite. The one-pound carnitas traditional burrito with red and green sauce will have you dreaming about it years from now. Split it. It's one pound! For a more upscale experience, visit the wine angel at Osetra Fishhouse. A pretty, scantily clad girl with angel wings on her back effortlessly glides along a three-story tower of wine collecting bottles to be served to diners. Oh yes, they also have food—really good food. You'll love the raw bar that serves up oysters so fresh you can taste the salty water from which they were just plucked.
Gaslamp Quarter is filled with really good restaurants and bars peppered in between tattoo parlors, payday loan stores and homeless people. It sounds seedy—and it is, but in a fun way.
To tour the area, you can do so on foot or take the free trolley to move around a little faster. If you're looking for a full, narrated tour of the city and Coronado Island, the Old Town Trolley is your best bet. Uber it to Old Town to catch the trolley at the very beginning of the tour. This is a hop on, hop off trolley, and tickets are good for all day. Expect to pay $35 online and $39 at the ticket booth.
Relatively new on the San Diego restaurant scene is Coasterra perched on the tip of Harbor Island. It's part of the Cohn Restaurant Group, which owns several of the best restaurants in San Diego. Be sure to sign up for their e-cuisine club to receive freebies. Warning: Coasterra is going to make you wish you lived in San Diego.
OLD TOWN TROLLEY TOURS: Hop on for a trolley tour of San Diego, then hop off whenever you want. Tickets are good all day long.
NEXT STOP: LA JOLLA
Just a couple of blocks from the Andaz you'll find an Avis Car Rental office. Call them directly. Do not book online. The staff (ask for Phillip) is the nicest, most accommodating group of people you'll likely find anywhere. See if they'll upgrade you to a convertible. If they won't, pay the extra money. It's worth it. Instead of having to valet our car, they let us keep our red Mustang in their garage, which saved us $40 a night.
Check out of the Andaz, plug La Jolla, California, in your GPS and head north on the 5. To us, that would be I-5, but Californians put a "the" before all their highway numbers, so act like a local and jump on the 5. La Jolla is home to sea lions, shopping, the Birch Aquarium and the famous Torrey Pines Lodge and Golf Course. Check in to the Lodge for two nights. 
ANDAZ HOTEL: With chic décor and killer views, this is the perfect place to rest your head for the night. 
Assuming you're able to get a tee time, you'll definitely want to play this famous and historic course if for no other reason than to say you have. Buy a shirt or visor in the pro shop to prove it. Take a drive around town to the Glideport to see the hang gliders soar off the cliffs and circle over the sparkling blue Pacific below. 
Take your binoculars to spot migrating gray whales mid-December through mid-April. Visit the Birch Aquarium. If you go during the month of February, you can pick up a museum pass at any Macy's for half- price admission at most every museum except the San Diego Zoo. 
One not-to-be-missed dining experience in La Jolla is the Marine Room. There you can book a window table at high tide and enjoy the waves crashing on the windows while you dine in the elegant dining room. It's a very special and memorable experience. In downtown La Jolla, go to the La Valencia Hotel's The Med for lunch. Snag a corner table on the patio to enjoy the ocean view.
A LEISURELY DRIVE
Check out of Torrey Pines and go north on the 101. Your destination is Oceanside, California, but take your time. The joy is in the journey. The 101 will take you through upscale and funky beach towns: Del Mar, Solana Beach, Cardiff by the Sea, Encinitas, Carlsbad and Oceanside, each with its own vibe.
Solana Beach is where you'll find the Belly Up Live Music & Event Venue. Check for performances in advance and take in a show if at all possible. For really cool home decor ideas, check out the town's design district. Try to be in the area on a Tuesday night to experience Taco Tuesday at Brigantine. It's the local hangout. For possibly the best view of the ocean and place to watch surfers, go for lunch or at sunset to Ocean Pacific Grill. Eat and drink slowly to savor every minute.
In Encinitas find a place to park along the 101 near Swami's Self Realization Fellowship Hermitage and Meditation Gardens. Doesn't that sound so California? The grounds are beautiful, and it really is a beautiful place to meditate or just relax as you listen to the crashing waves and watch the surfers glide along the water. Get your zen on.
All along this highway you'll want to pull over every chance you get to see the ocean and take a stroll on the beach. Do it and hum "Surfin' Safari" while you're at it.
In Oceanside if you are a Wyndham member, the Wyndham Oceanside is a beautiful place to stay. If not, the Best Western is probably your best bet if you want to be close to the water. Oceanside hosts one of the longest piers on the West Coast, and it's worth the walk to the end for the view and for Ruby's, the burger and shake restaurant at the very end. You can also rent a pole and fish for your supper if you're into that kind of thing, or rent a bike and cruise The Strand. Thursdays are the big day in Oceanside with a morning farmers market and a sunset market from 5 to 9 p.m. Want to try some new foods? This is your place. 
Two not-to-miss restaurants in Oceanside are Pacific 333 and Flying Pig Pub & Kitchen. Pacific 333 is upscale, and it is part of the Cohn Restaurant Group. The Flying Pig Pub & Kitchen is an eclectic farm-to- table local hangout. Let the knowledgeable waitstaff there recommend a bottle of wine.
BIRCH AQUARIUM: Explore the aquarium to see more than 60 ocean creature habitats.
HEAD ISLAND
After you've gotten your fill of the beach (as if!), take a little inland adventure to Fallbrook, the Friendly Village. That's what is says on the welcome sign. It also says it's the avocado capital, so be sure to try some. The real hidden jewel here is the Grand Tradition Estate & Gardens. It's a botanical wonderland that happens to have a really good restaurant for weekend brunch. Reservations are a must. Call them directly. Don't want a formal brunch? No worries. Order a picnic basket and stroll the grounds to find your perfect picnic spot. Very romantic.
MARINE ROOM: Enjoy a meal while waves crash against your window.
Sadly, it's time to head back to San Diego, but cheer up; there's more fun along the way. Retrace your Highway 101 route and meander your way to Mission Bay and then on to Shelter Island, making stops along the way to take in the views. After Shelter Island, plug the Hotel del Coronado into your GPS. The bridge to Coronado Island is spectacular. Make sure the passenger in your car has a camera ready to snap a pic of the postcard-perfect San Diego harbor and skyline. Staying at The Del is something everyone should experience at least once. It's a special kind of place. Even if you don't stay there, be sure to enjoy a libation—or three—at the Sun Deck Grille. Fine dining abounds throughout the hotel property.
Tired of 70 degrees and sun? I didn't think so. But 417-land misses you. In the meantime, we'll search out more sunny San Diego adventures for you. Until next time…
TRAVEL RESOURCES:
Andaz: 600 F Street (Between 5th & 6th Avenues), San Diego, CA, 619-849- 1234
La Puerta: 560 4th Avenue, San Diego, CA, 619-696- 3466
Osetra Fishhouse, 904 5th Avenue, San Diego, CA, 619-239- 1800
Old Town Trolley Tours, 4010 Twiggs Street, San Diego, CA, 619-298-8687
Coasterra, 880 Harbor Island Drive, San Diego, CA, 619-814- 1300
Avis Car Rental, 640 Broadway, San Diego, CA, 619-544- 0438
The Lodge at Torrey Pines, 11480 N Torrey Pines Road, La Jolla, CA, 858-453- 4420
Birch Aquarium at Scripps Oceanography at UC San Diego, 2300 Expedition Way, La Jolla, CA, 858-534- 3474
Marine Room, 2000 Spindrift Drive, La Jolla, CA, 858-459- 7222
La Valencia Hotel, 1132 Prospect Street, La Jolla, CA, 858-454- 0771
Belly Up, 143 Cedros Avenue, Solana Beach, CA, 858-481- 8140
Brigantine, 3263 Camino Del Mar, Del Mar, CA, 858-481- 1166
Pacific Coast Grill, 2526 S Coast Highway 101, Cardiff, CA, 760-479- 0721
Swami's Self Realization Fellowship Hermitage and Meditation Gardens, 939 2nd Street, Encinitas, CA, 760-436- 7220
Wyndham Oceanside Pier Resort, 333 N Myers Street, Oceanside, CA, 760-901- 1200
Best Western Oceanside, 1680 Oceanside Boulevard, Oceanside, CA, 760-722- 1821
Pacific 333, 333 N Pacific Street, Oceanside, CA, 760-433- 3333
Flying Pig Pub & Kitchen, 626 S. Tremont Street, Oceanside, CA, 760-453- 2940
Grand Tradition Estate & Gardens, 220 Grand Tradition Way, Fallbrook, CA, 760-728- 6466
Hotel del Coronado, 1500 Orange Avenue, Coronado, CA, 619-435- 6611