Reviews
Say Aloha to The Big Island Grill Hawaiian BBQ
The Big Island Grill Hawaiian BBQ offers up tropical tastes with an Asian flair on a menu that's packed with a local take on Hawaiian fare.
By Katie Pollock Estes | Photos by Abby Gust
Jan 2017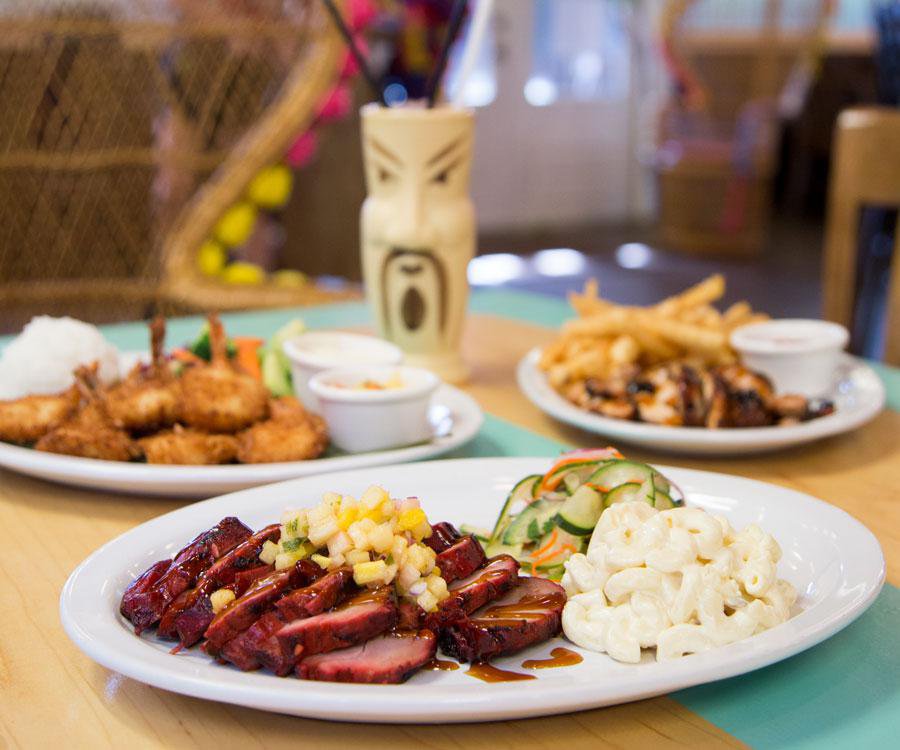 While Springfield's dining scene is impressive for a city its size, I get excited when something new opens up that is different than everything else. That's why my husband, Eli, and I raced in when we found out about The Big Island Grill Hawaiian BBQ.
I'm always a little uneasy taking my kiddos with me to a new restaurant before I've tried it myself—just in case it's not very kid-friendly or is a little too quiet for dining with a 4-year-old. But we winged it and brought Oliver and his baby sister Eloise with us for dinner on a recent weeknight. Although the restaurant was full and only one other table included kids, the spot was plenty kid-friendly. There are fun Hawaiian decorations throughout, and the staff greets you at the front door with a smile and a plastic lei (a detail Oliver really appreciated).
The Maui Style Ahi Poke Salad Bowl is a texture party, with crunchy wonton chips complementing tender tuna and rice. 
While my stomach rumbled, I got acquainted with the cocktail menu to get the meal started. I ordered a POG Punch, served in a little round tiki glass filled with passion fruit, orange and guava juices that are mixed with champagne and rum. It was a bright and fizzy sort of sweet thanks to the tropical juices, but it wasn't overly sugary. I could have made a night of it sipping that easy little drink. Eli opted for the Kamanawanleiya (say it out loud if you want in on the joke). Also served in a tiki glass, it packed a little more punch than my drink.
I was excited to see poke on the menu, a dish that is having a moment in places like New York City but is hard to find in the Midwest. You can get it as an appetizer, but I wanted it all to myself, so I ordered the Maui Style Ahi Poke Salad Bowl. The dish comes layered, with sushi rice on the bottom that's topped with a tangy cucumber salad and a bit of seaweed salad. Over that is the poke, a concoction of raw ahi tuna that's chopped and topped with red onions and sesame-nori seasoning. And for crunch, there was a hefty handful of wonton chips on top. Taken together, it offers a variety of textures, and flavors that range from lip-smacking umami to tangy freshness. The serving didn't look very big for a $15 entree, but I ended up not being able to finish it. Every component was filling but not heavy, so I came away satisfied.
When it came time to flambé the pineapple, the flame shot up higher than our heads and delighted everybody from Oliver to the older couple seated a few tables away who gave a little applause when it was over.
Eli ordered the Big Island BBQ Charsiu Pork entree, which would be the perfect dish for anyone who is a fan of sweet plus meat. (I'm not one of those people, but Eli is. He loved it.) The pork was grilled and perfectly tender, with a sweet hoison barbecue sauce glaze and a little bit of fresh pineapple pico de gallo. You can pick side dishes to go with it, and Eli had macaroni salad (a mayo-based picnic-style salad) and a cucumber salad that's dressed with soy vinaigrette. There are a few kid's meal options as well, and Oliver chose to try the Huli Huli BBQ Chicken dish (grilled chicken marinated in soy and brown sugar) with French fries. I snagged a bite, and it was delish.
Fresh pineapple is flambeed tableside for a little flaming wow factor with your dessert.
There is only one dessert on the menu, but it's a doozy if you're a fan of tableside cooking. The Flaming Pineapple Flambé was prepared right in front of us by a friendly staffer who chatted up my son the entire time and made him feel like an extra-special guest. When it came time to flambé the pineapple, the flame shot up higher than our heads and delighted everybody from Oliver to the older couple seated a few tables away who gave a little applause when it was over. The pineapple is served over vanilla bean ice cream with caramel and macadamia nuts.
Tiki drinks like Kamanawanleiya and POG Punch bring refreshing fruitiness to the cocktail menu.
A week or two later, I came back for a second visit, this time for lunch with my co-workers. I decided to indulge in one of my all-time favorite not-so-healthy foods: coconut shrimp. The ones at Big Island Grill did not disappoint. They were crunchy, tender and just the right amount of sweet. I got them with a side of steamed rice and stir-fried mixed veggies, and even though the sides were fine, they were nothing to write home about. I'll take it though, if it comes with coconut shrimp.
With prices that are pretty affordable, an atmosphere  that works for grown-ups or kids, and a dining room that channels the islands, this spot is a great place to escape the winter doldrums and dream about summer—POG Punch in hand.