Health
Bounce Off Calories at The Studio's Moon Boot Class
Boots, bands and bouncing—Digital Director Dayle Duggins indulges her out-of-this-world fitness fantasies at The Studio's All The Way UP moon boot class.
By Dayle Duggins | Photos by Brandon Alms
Jan 2018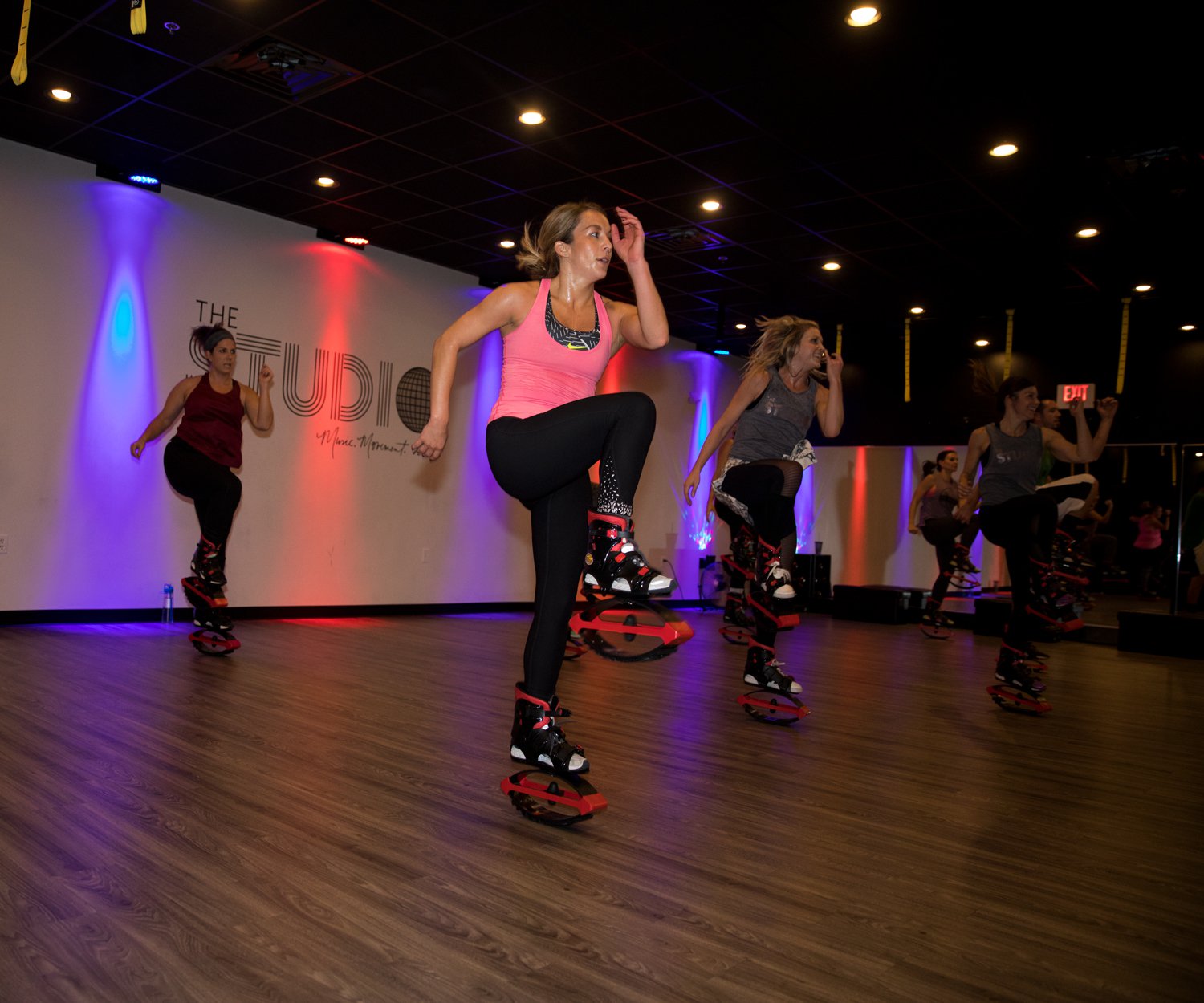 Who hasn't dreamed of walking—or bouncing—around on the moon? You zip up your space suit, slide on your moon boots, then explore the gray surface while barely being bothered by gravity. I picture myself skipping around, doing split jumps and perfectly executing slow, weightless cartwheels where the Man on the Moon resides. But being an astronaut is serious business for which I am absolutely unqualified, so I decided finding a similar experience on earth would be a better idea. As I was scrolling through Facebook one day, The Studio, a workout spot in southwest Springfield, divinely delivered on my dreams to moon walk close to home. 

Jamie Kinkeade, the owner of The Studio, literally bounced into my feed in a video showing off one of her newest classes called All The Way UP. In her post, she said the new class "combines rebound boots, plyo boxes and anti-resistance bands for the ultimate anti-gravity experience even Peter Pan couldn't resist." I messaged her immediately and told her I had to try it. Before I knew it, I had slipped on my earthly version of a space suit and was sliding my feet into bright red anti-gravity moon boots.

THE STUDIO
Like a few other workout joints in 417-land, The Studio (The Studio, 1440 W. Republic Road, Suite 132, Springfield, 417-689-4461, empower417.fit) offers a variety of classes like buti yoga, high-intensity interval training and cardio dance classes to its mostly female membership. Unlike most other workout joints in 417-land, The Studio has a non-negotiable for all of its classes: It's gotta be fun. "We make working out feel like a party," its Facebook says. And with Kinkeade spearheading this mission, each session is a bash for the books packed with incredibly high-energy enthusiasm. In addition to the mixture of classes, The Studio boasts a killer sound system, amazing music, nightclub lighting, showers and childcare.

THE MOON WALK
I drove to The Studio on a Sunday afternoon so I could get acquainted with the anti-gravity boots and bands. Surprisingly, I was able to keep my tennis shoes on—I expected to be shoeless for some reason. Once I strapped myself into the unfamiliar footwear, I made my way to a standing position in a very wobbly fashion. The boots felt pretty rigid, so I was happy I had been told to wear long pants and high socks. Kinkeade encouraged us to walk around to get more comfortable, which transitioned into us jogging and bouncing around for a warmup, then learning several movements like jumping jacks and country kicks. We spent the remainder of class using the anti-gravity bands. It was basically a dress rehearsal for the real deal that allowed us to get familiar with the concept and push some fear aside knowing that we weren't expected to master the movements immediately. I left the intro session sweaty and ready to try the full class.

I returned a week later knowing what to expect and excited for the workout. Unlike in the intro session, in the workout, each song focused on certain choreography then built upon those moves to string a series of motions together. By the end of it, we had done 16 moves to super high-tempo songs. Kinkeade, of course, went all out and showed us the more intense versions of each move in case we wanted an extra challenge. The music was loud, and the choreography was simple enough for me to easily keep up with because most of my workouts consist of cross-training, running and lifting weights. Kinkeade and Jennifer Miller, who teaches the majority of All The Way UP classes, kept the energy flowing with every bounce.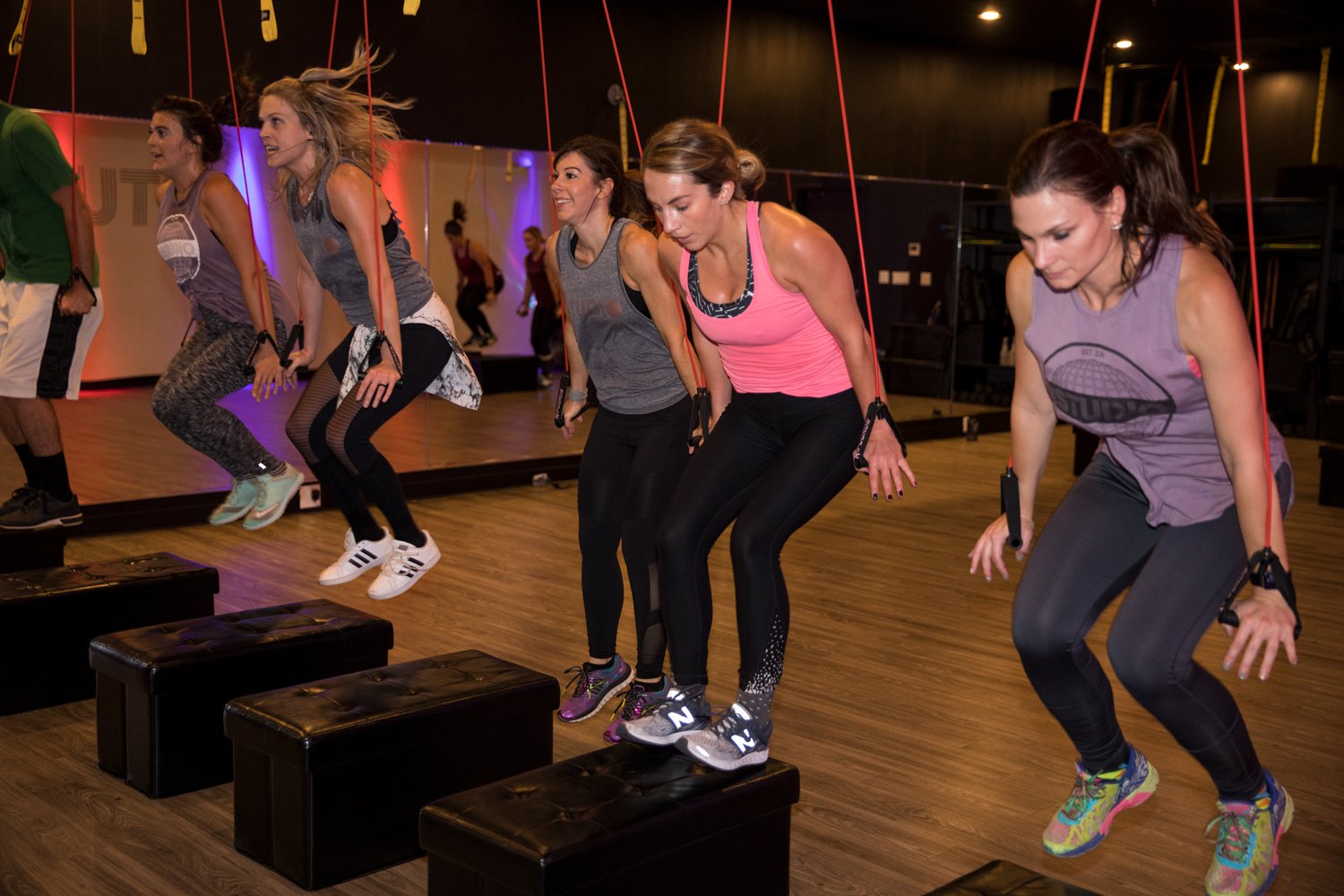 Thirty minutes flew by, and, before I knew it, we were putting our boots up and pulling out resistance bands for the second portion of class. We tossed our resistance bands over TRX bars and started springing from the ground to the top of black plyometric boxes doing alternating step-ups, box jumps, hop-overs, squat jumps and more. I was super surprised by how much extra bounce the bands provided. During all of this, we had the bands pulled down to our sides, so our triceps were super engaged. Although the majority of the focus of the band exercises was on lower body plyometrics, there were a lot of innovative upper body and core moves sprinkled in that are designed to set your muscles on fire. 

THE EFFECTS
All The Way UP wasn't the hardest class I've ever tried, but it wasn't the easiest, either. "It's more of an entry- to medium-level class," Kinkeade says. "You should be sweaty and out of breath." As you can see by the pictures, I definitely broke a sweat—mostly in the boot portion of the class because of the quick, cardio-based choreography. 

Because it's so different from the classes and workouts I usually do for exercise, I enjoyed it more than the band portion. The only downside of the boots are little pinches, similar to ski boot pinches, that are easy to forget about once you start bouncing around the room. Although the boots had my heart, I felt the majority of my soreness the next day in my shoulder blades because of the resistance bands. 

I went into the class thinking I'd be springing out of control all over the room, but that wasn't the case. "After five to 10 minutes, people say 'Oh my gosh, this is so much easier than it looks,'" Kinkeade says. "When you put on the boots, you feel like a kid and you get to have fun." 

All The Way UP was basically a sweaty, high-energy party where I could literally dance like no one was watching with a little added weightless spring in my step. Now all you have to do is put your fear aside, slip on your boots and hit the dance floor.