Life
Neighborhoods We Love in Southwest Missouri
Southwest Missouri is a wonderful place to live, and we've rounded up some of the best neighborhoods for planting your roots.
By Savannah Waszczuk | Illustrations by Abby Gust
Jul 2015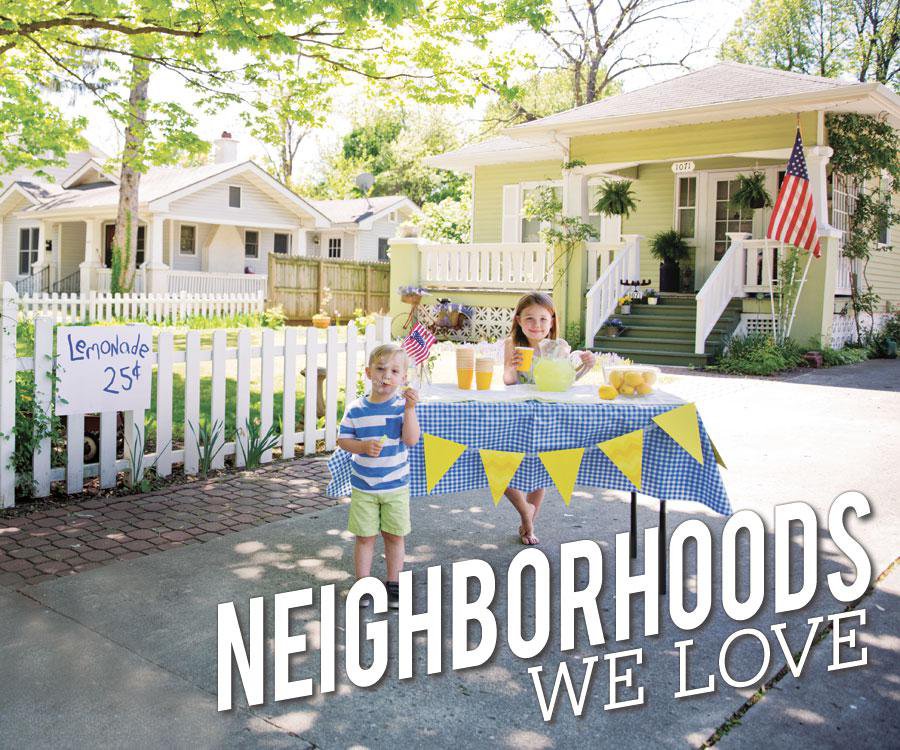 Southwest Missouri is dotted with friendly neighborhoods where everyone is like family. Kids march hand-in-hand in Fourth of July parades, and proud parents share recipes at poolside potlucks. Volunteers organize back-to-school bashes and fall hayrides. Neighbors have block parties. They carpool to school. They have one another's back. And with so many loving, caring people so close by, people are happy. They love where they live.
We talked to some of these neighborhood-loving residents, and we also worked with the Greater Springfield Board of Realtors and Ozark Gateway Association of Realtors to gather facts and statistics for each spot. Whether you're looking to move or you want to improve your own neck of the woods, this story has something for you. Get a glimpse into the friendliest neighborhoods in 417-land, then use the ideas and tips to transform your own community into a place you love to call home. 




Photo by Brandon Alms. After growing up in Springfield's Rountree neighborhood, Jim Lohmeyer raised his daughters there. Today he enjoys the picturesque community with his grown daughters, sons-in law and grandchildren.  
Generations of Families: Roundtree

Most people are pretty impressed when they learn Jim Lohmeyer has lived in Central Springfield's Rountree neighborhood his entire life. But it's what he tells them next that really blows them all away. "I've actually lived on the same street, Weller, for 45 years," Jim says. 
Jim's parents, Robert and Carol Lohmeyer, moved to Weller Avenue when Jim was 4 years old. He then moved to another home on Weller as an adult, and then yet another—the American Foursquare where he and his wife, Jill, still reside today—22 years ago.
While the couple's three daughters are all grown and out of the house, Jill still takes care of their grandkids two days a week. This means they are able to enjoy the many charms of Rountree with their grandkids, just as they did with their daughters some 20 years ago. "Rountree is really well-known for Halloween and its big parade," Jim says. "That parade actually ends in front of our home and the neighbor's home. Now the girls and their kids all come over to watch it. Halloween in Rountree is a very big deal. It's a very special time." 
But the fun doesn't stop there. The neighborhood has a great location near the center of Springfield, situated  between Glenstone Avenue and National Avenue north of Bennett Street and south of Elm Street. It's known for its walkability and character, and the homes here range from large, historic American Foursquares, just like the Lohmeyers', to cute little Craftsman-style and bungalow homes, and many people buy to renovate. Just like the residents, the homes in Rountree have character, and people love to walk around and take it all in. "It's phenomenal how many families are always walking outside with dogs and their strollers," Jim says. "A lot of people ride bikes here, or just sit out and enjoy their front porches." 
And whether he and Jill are taking the grandkids to Elle's Patisserie for ice cream or simply wandering the familiar streets and enjoying some exercise, one thing is for sure: Jim feels happy and at home. "You could say Rountree is in my blood, I guess," he says. "We love it here."


ROUNTREE STATISTICS
Number of homes 1,371
Median home list price $219,900
Average days on the market 80
Schools Rountree Elementary School, Jarrett Middle School, Parkview High School

A Focus on Families: Emerald Park
There's no arguing that Emerald Park is a beautiful place. The streets are lined with gorgeous stone and brick homes, well-manicured lawns, blooming landscaping and plenty of trees in the background. The location is also prime, with a park, gym, grocery store, Sam's Club, Harter House and access to Highway 65 all within a few-minute drive. And you can't forget to mention the pool or tennis courts available to all the residents.
Robin Hall and her husband, Bryan, know this firsthand. The couple has called Emerald Park home for the last dozen years, and they've watched it grow. Robin has even helped many new families feel welcome with her role as the Children's Social Event Coordinator. "I hand-delivered 343 holiday party invitations last year," she says. 
With crafts, gifts, food and an appearance of Santa and Mrs. Claus, this Christmas celebration is just one of a handful of annual events that take place here. 
"We also have a huge spring party with an egg hunt," Robin says. And fall in Emerald Park features another shindig, this time with a bounce house, pony rides, a petting zoo and hayrides.  
The Halls have five kids, including 8-year-old Kendall and 10-year-old Karlee who still live at home, so they've had plenty of chances to take advantage of the kid-focused community. And this perk goes much further than the neighborhood-wide events. "We have a dry creek in our backyard where the girls love to play," Robin says. "All of the neighbor kids like to go down there, too. Everyone is friendly. I just really feel that this is a great, safe neighborhood to raise kids."


EMERALD PARK STATISTICS
Number of homes 355
Median home list price $459,999
Average days on the market 95
Schools Wilder Elementary School, Pershing Middle School, Glendale High School


Photo by Brandon Alms. The paved walking trail at Phelps Grove Park is a popular spot for exercise. 
Our Favorite Neighborhood Parks:
Explore three local parks that all play a huge part in the communities where they're located. Bonus: If you don't have your own neighborhood park to enjoy, you're welcome to check these out!


1. Phelps Grove Park, Springfield
With playground equipment, lighted tennis courts, blooming gardens and plenty of grassy picnic areas, Springfield's Phelps Grove Park is always buzzing with activity. The park also boasts a prime location situated not far from the Springfield Art Museum near National Avenue and within walking distance of several of Springfield's picturesque centrally-located neighborhoods. Unlike many area parks, Phelps Grove is home to several majestic trees, which is a definite bonus, and it's lined with a 7/10-mile walking trail that's a great place to fit in some exercise any time of the year.
2. Cunningham Park, Joplin
Complete with basketball courts, a playground, horseshoe pits, tennis courts, a pond and a walking trail, Joplin's Cunningham Park is the perfect spot for families to enjoy some fun in the sun. There are also grills, picnic tables and a pavilion here, so guests can bring their food and spend the day. It's located at 26th and Maiden Lane and welcomes both residents who live nearby and plenty of guests. 
3. Finley River Park, Ozark
Situated in a scenic grassy plot along the Finley River, Ozark's Finley River Park is the perfect picturesque park to enjoy a sunny afternoon. The park is easily walkable for residents who live in Stone Ridge, Apple Creek and other surrounding neighborhoods, and it's just a quick drive away for all other Ozark residents. With baseball fields, walking trails and three pavilions available for reservation, the riverside park is one of the city's most happening hangouts. 


Photo by Brandon Alms. The Howard family loves the many amenities of Ozark Heights, including its lake and walking trail.
A Nearby Escape: Ozark Heights
Every year around December 25, Stacy and Eric Howard's home in Ozark Heights is among the brightest on the block. "The neighborhood has a Christmas light contest every year," Stacy says. "My husband always gets really into it. He has won several years." 
This holiday contest is one of many reasons Stacy and Eric love living in Ozark Heights, where they've been since 2001. "Our first home here was a spec home," Stacy says. After discovering the many perks of the neighborhood, which boasts some 160 beautiful brick homes, they decided to upgrade. "We built our own custom home here," Stacy says. "Our house sits along the neighborhood lake."
As president of the Ozark Heights Homeowners Association, Stacy is well informed of all of the neighborhood events. "We have an annual summer picnic at the neighborhood park," she says. Home to a pool, tennis and basketball courts, a playground, a pavilion and a walking trail, this park is one of the neighborhood's hotspots. "The trail goes behind our house, and we see people running and walking all the time," Stacy says. 
The fun continues on Halloween, when neighbors surprise one another with treats. "We'll pass around a little bag of goodies along with a note that says, 'You've been boo-ed,'" Stacy says.  
In addition to the friendly community feel, the neighborhood has a prime location. "It's in northwest Ozark not far from CC and 65," Stacy says. "We can be on the highway within minutes." But more than anything else, the Howards love that Ozark Heights is the perfect spot to raise their daughter, 11-year-old Kylie. "She has several friends who live throughout the neighborhood," Stacy says.

OZARK HEIGHTS STATISTICS
Number of homes 160
Median home list price $347,400
Average days on the market 69
Schools Ozark West Elementary School, Ozark Middle School, Ozark High School
\

Photos by Brandon Alms. Impromptu block parties are one of many perks in the Olde Ivy neighborhood.


Front Yard Culture: Olde Ivy
Pull into the parking lot at Farmers Market of the Ozarks on a Saturday morning, and you'll likely spot a golf cart or two filled with residents of Olde Ivy. "A lot of people in the neighborhood have golf carts, and they'll cruise over to Farmers Park for the market," says Layne McBride, who lives in the neighborhood with her husband, David, and their children, 2-year-old Oliver and 11-year-old Emma. 
Golf carts puttering along the streets is just one of many charming things about this southeast Springfield neighborhood, which is currently experiencing a boom in construction. And it's a place that's becoming more and more known for its front yard culture. "Families here are always outside," Layne says. If they aren't hosting their neighbors for an impromptu barbecue, which Layne and David say happens regularly, you may spot an Olde Ivy family lounging at the neighborhood pool or walking to the nearby Springfield Nature Center. "We also have a natural spring behind our house," Layne says. "The kids call it the river. They like to play out there sometimes." 
Many of the kids who live in Olde Ivy enjoy an annual Christmas party, a summer barbecue at the pool and a huge hayride every Halloween. And of course, there's the regular outside playtime at many of the neighbors' homes. "Several of us here are open to letting our kids walk to their friends' houses in the neighborhood," Layne says. David feels equally comfortable, and notes that the neighbors are the best part of the small Springfield community. "Our absolute favorite thing about Olde Ivy is the people," David says. "We appreciate the feeling of having so many friends close by."


OLDE IVY STATISTICS
Number of homes 106
Median home list price $482,450
Average days on the market 54
Schools Field Elementary School, Pershing Middle School, Glendale High School


Photos by Brandon Alms. Michael and Natalie Mardis love raising their daughters in Springfield's historic Midtown neighborhood.


Home to Historic Charm: Midtown
The historic Midtown district is Springfield's largest nationally registered historic district. A lot comes with this title, including many beautiful historic homes and a nice variety of residents who have moved into them over the years. And this variety of residents is a favorite factor of Michael and Natalie Mardis, who moved into the area 10 years ago. "We knew from going to Drury that this is the area we wanted to live in, mostly because of the diversity," Natalie says. "Our kids are both adopted and are different races than us. We wanted to be in an area where there are varying types of people with varying backgrounds. There are other families here who have adopted or have foster kids, and we love that." 
Now that the Mardises have lived in the neighborhood for a decade, they know all about its benefits, including a great location. "I can walk the kids to school or walk them home," Natalie says. The couple's older daughter, 8-year-old Stella, participates in swimming at Drury, and the family rides their bikes to her practices. "Most of the time when we're riding, we run into people we know," Natalie says. The family also loves spending time at nearby Washington Park. 
Midtown has the active Midtown Neighborhood Association, and Michael is a member. "He helped with the neighborhood cleanup last weekend," Natalie says. The association also plays a part in Midtown's annual Victorian Christmas Homes Tour. From these very historic homes to the friendly folks who live in them, Midtown is a close-knit and charming community. "We love that everybody here has a different story," Natalie says.


MIDTOWN STATISTICS
Number of homes 777
Median home list price $67,900
Average days on the market 93
Schools Boyd Elementary School, Pipkin Middle School, Central High School


Photo by Colby Moore Photography. With bustling streets and a happening nightlife, living downtown is perfect for those who prefer a lively lifestyle. 
Urban Oasis: Downtown
After graduating from Drury University, Willard native Benjamin Hall moved to downtown Springfield and hasn't looked back. He shares a loft at Oliver's Garage with roommate Mat Stockstill, and he works as an architectural designer at Casey Architecture, a firm located on Park Central Square. "I moved here because it was so close to everything," Benjamin says.
Benjamin walks to work every day, and he often walks to a variety  of downtown businesses in the evening to meet up with members of For Burkina, a non-profit he belongs to. He regularly treks to Scotch & Soda, Falstaffs Local, Skinny Slim's Public House and a number of other spots for a drink. He'll take a stroll to The Coffee Ethic for a morning pick-me-up, and he has a standing brunch date at Springfield Brewing Company with his old friend Alex Wiley every Sunday. Hall even gets his hair cut downtown, goes to church downtown and goes to the doctor downtown. And he goes to the movies there, too. He walks nearly everywhere. "I love not having to use my car much," Benjamin says. "During weekdays, I typically don't drive at all." 
In addition to the fact that residents can get around on foot, downtown Springfield also offers friendly vibes. "In all of the places I go, I almost always know someone who works there, and I always know people who are hanging out," Benjamin says. "Downtown definitely has a community feel to it." 
Because his loft building doesn't allow college students, Benjamin is surrounded by many other young professionals, but he doesn't have to go far for a bit of variety. "Downtown generally has a nice mix of people," Benjamin says. "It's really picking up on the college crowd with some new developments, and it has a strong creative and entrepreneurial culture as well." And regardless of where he is, he likes the fact that he's never really alone. "Living in a loft is very lively," Benjamin says. "There are always people around you downtown. For me, that adds a safety net."


DOWNTOWN STATISTICS
Number of homes 418
Median home list price $145,000
Average days on the market 27
Schools Rountree Elementary School, Jarrett Middle School, Parkview High School
---
3 Ways 
to Make your Neighborhood Better
Looking to improve your neighborhood? Consider these three ideas, and you'll be loving the camaraderie in your community in no time flat.
1. Get to know your neighbors
It's impossible to enjoy a friendly chat over the fence if you don't know the neighbor who lives there. According to research on
actionforhappiness.org, getting to know the people who live near you helps create a sense of belonging and shared identity and results in community trust and happiness. Whether they just moved in or they've lived alongside you for years, consider baking them a fresh batch of cookies, ringing their doorbell and asking for a lunch date upon delivery. Chances are, the happiness will spread from home to home, and you'll be hosting a neighborhood block party before you know it. 
2. Organize a Dinner Club 
Residents of Millwood, Teresa and Ken Schwab meet up with a group of their close-knit neighbors for dinner every couple of months. "There are many social events we attend together as well, but we try to make our dinner club nights special," Teresa says. In an effort to create a more intimate evening, the group takes turns hosting dinners in their homes and often greet guests with formal place settings, candles, multi-course meals and some special wine selections. If you want to start something similar yourself, Teresa suggests making it a priority, scheduling it far in advance and, of course, following through.
3. Be a Good Neighbor
The City of Springfield is all about creating great neighborhoods, and it shares many ideas for reaching the goal on its website (springfieldmo.gov). The No. 1 thing that it suggests is starting with yourself and being a good neighbor by keeping up with your home. No one wants a messy community! Make sure you are mowing and maintaining your yard often, and also be sure to trim your hedges and trees. Everyone wants to live in a clean, active neighborhood, but this can only happen if everyone pitches in. So don't be the person who doesn't! 
---



Photo by Brandon Alms. Just minutes from busy Battlefield Road, Brentwood South is a charming east Springfield neighborhood where many of the children play together.


A Great Place for Kids: Brentwood South
Brentwood South is a hot neighborhood for several reasons, among them a top-notch location in southeast Springfield. Situated east of Glenstone Avenue, west of Lone Pine Avenue, north of Battlefield and south of Barataria Street, there is a plethora of shopping and restaurants right around the corner, and there's even a walking trail that leads to Sequiota Park. It only takes a couple of minutes to get onto Highway 65. 
This location is a favorite thing to many residents, including the Ahos, who are the new kids on the block. "We moved here a year ago," says Carrie, who lives there with husband, Kyle, and children, 3-year-old Evan and 8-year-old Grant. But despite their short time in the area, the family is already head-over-heels. "We really wanted to buy a house that was in the Field school district," says Carrie, who's a teacher at Field Elementary. "We ended up here, and we couldn't be happier about it." 
But they love it even more for all of the kids who live there. "A lot of people are saying that the neighborhood has turned over," Carrie says. "There are younger people where there used to be older families." Their oldest son, Grant, takes advantage of this. "His confidence has grown so much since being here," Carrie says. "He is outside all of the time, playing with his friends, climbing trees, playing with NERF guns and running around," Carrie says. "It's exactly what I wanted him to be doing as a little boy. It's priceless." 
The kids who live in Brentwood South are also the kids who Grant goes to school with, so it extends his connections even further. And Carrie and Kyle have made friends, too. "All of our neighbors have been so warm, caring and friendly," Carrie says. They teamed up for some fun on Easter, when they joined a couple of neighbors in hosting an Easter egg hunt on multiple lawns. "There's that kind of energy here," Carrie says. "We want to make it magical for the kids. Everyone tries to contribute to that feeling." 


BRENTWOOD SOUTH STATISTICS
Number of homes 171
Median home list price $225,000
Average days on the market 39
Schools Field Elementary School, Pershing Middle School, Glendale High School


Photo by Chuck Travers. Lynn Brown and Dieter Beam sing a duet at Wednesday night karaoke, a weekly event in StoneBridge Village. 


A Spot to Settle Down: Stonebridge Village
Dale Russell knew he wanted to live in a place where he could golf when he retired. Now that he lives at StoneBridge Village, a gated golf community in Branson with condos, townhomes and single-family residences, he enjoys much more than just teeing off on a regular basis. 
"On Mondays we have Breakfast with the Stars, and on Wednesday nights we have karaoke at the clubhouse," Russell says. He and his wife, Kay, partake in these social activities, as well as many others, most often with their many neighbors and friends. "We'll also get together and play cards a lot." 
While StoneBridge Village is home to many retirees, Russell says it's growing. "Most of our residents are retired—and many of them from out of town—but we seem to be getting more families that are moving in now, too," he says. 
The amenities at StoneBridge Village appeal to all age groups, with tennis courts, three swimming pools, a sand volleyball court, a basketball court and a fishing pond on the list of things to do here. "We have a little bit of everything," Russell says. 
And even more than its prime location, which sits next door to Silver Dollar City and is only a 10-minute drive from Table Rock Lake and 15 minutes from countless entertainment options, Russell says he loves StoneBridge Village for its strong sense of community. 
"My favorite thing is that everybody cares about everybody here," he says. "I was born and raised in Branson, and I have always lived in a way that neighbors take care of neighbors. That's what happens here."


STONEBRIDGE VILLAGE STATISTICS
Median home list price $142,000
Average days on the market 175
Schools Reeds Spring Elementary, Middle and High Schools


Photo by Brandon Alms. The Russo family loves spending time in their backyard, which they expanded a couple of years ago. 


Buzzing with Energy: Phelps Grove
The Phelps Grove neighborhood, located in Central Springfield, is always alive and buzzing with energy. Nick Russo, who has lived in the same house there for 25 years, says this is one of his favorite things about it. 
"Especially when spring comes around, you'll see a large population outside running, walking, bicycling, skateboarding," Nick says. "There's life out there. I like that characteristic. I like that I can always see people moving outside of my house." 
Nick's wife, Jenny, has shared the Phelps Grove home with him for the past 19 years. "Nick lived here for several years before we even got married," Jenny says. The two had their three sons while living in the home, which is located one block west of Phelps Grove Park.
"Being that close to the park has always been great, especially as the boys were growing up," Jenny says. And Nick agrees with her. "I have always utilized that park as a very large backyard for me," he says.
And even though the boys are older now—Joseph is 18, Austin is 14 and Michael is 12—the family still regularly takes advantage of their prime location. "The boys don't play at the playground anymore, but they use the track for speed work," Jenny says. 
As an avid runner herself, Jenny also regularly runs throughout the neighborhood and at the park, often with a group of neighbors. On some weekends, Nick takes a jog to St. Michael's, the restaurant he and Jenny own.  And the boys join in on the fun sometimes, too. "Nick and I and our two older sons did a relay marathon in the park last winter," Jenny says.
Aside from the great location, the neighborhood is home to a variety of styles of homes, as well as a nice mix of young and old residents. 
"There are some younger people moving into the neighborhood, and that's rejuvenating," Nick says. And Nick also loves the friendliness of the people, and the fact that he has a huge backyard where he can enjoy morning coffee or relax with his family in the evenings. 
He likes it so much, in fact, that he may never leave. "I can't imagine living anywhere else," he says.


PHELPS GROVE STATISTICS
Number of homes 1,028
Median home list price $139,500
Average days on the market 65
Schools Sunshine Elementary School, Jarrett Middle School, Parkview High School


Photo by Kevin O'Riley. The Flinn family loves the plethora of outdoor fun available in Villages at Wicklow.


Nixa's Urban Escape: Villages at Wicklow
With bright blooming flowers, lush green lawns and beautiful French Country-style homes lining the streets, Nixa's Villages at Wicklow neighborhood looks like it belongs on the set of a movie. Many of the kids here play at one another's homes, and they even march alongside each other in an annual Fourth of July parade. "The No. 1 thing we like about Wicklow is the sense of community in the neighborhood," says Nici Flinn, who lives there with her husband, Jared, and their three children. "It's very family-friendly, and most families here spend the majority of their time outside as soon as the weather is anywhere near decent." 
A summer kick-off party happens every Memorial Day at the neighborhood pool, and a Fourth of July Parade and Potluck gives residents a chance to mingle in mid-summer. "The kids decorate their bikes or scooters for the parade," Nici says. "Several of the neighbors have golf carts, and they'll decorate them in it, too." The parade ends at the pool, where residents swim and enjoy one another's company. "The neighborhood association has an ice cream truck come," Nici says. 
Outdoor fun continues at the neighborhood's stocked ponds, where residents are welcome to catch their own fish. They also enjoy walking trails that cut through the woods and seeing farm animals that live down the road. "You are still in town, but you get a feeling that you're removed from it all," Nici says. "There is a lot of nature around you here. It's easy living."


VILLAGES AT WICKLOW STATISTICS
Median home list price $334,900
Average days on the market 118
Schools High Point Elementary School, Summit Middle School, Nixa High School


Great for Golf Course Living: Rivercut
Snow days are an extra-special occasion for a group of kids in southwest Springfield's Rivercut. "A lot of times when school is canceled, a group of us will meet up on the hill together to go sledding," Sarah Moses says.
Sarah and her husband Jim have three daughters, 15-year-old twins Gabrielle and Madalyn and 11-year-old Casaundra (all pictured). "My kids always say that the snow day parties are one of their favorite things about our neighborhood," Sarah says. "After sledding, they'll usually all gather at a house for hot chocolate and games. Sometimes we'll even do a potluck-type dinner at the end of the day." 
From those cold winter days when the golf course community is blanketed in snow to the sunny summer afternoons when the trees are full and green, the neighborhood is absolutely beautiful. This is in large part due to the gorgeous homes, which range in style from Old World to French Tudor. It's also thanks to its slightly-out-of-town location in southwest Springfield, which reflects a bit more of a rural feel than most Springfield neighborhoods. 
"We have the James River and trails close by and, of course, the golf course," Sarah says. "Also, I feel that being a bit rural gives us a bit more privacy." 
This privacy, along with the general friendliness and safe feel of the community, is one of the neighborhood's best features. It also boasts a great list of amenities, among them a great neighborhood pool and access to The Riverhouse, Rivercut's exquisite clubhouse and recreation center. "It's just a very warm, welcoming Midwestern neighborhood," Sarah says.


RIVERCUT STATISTICS
Number of homes 374
Median home list price $434,900
Average days on the market 70
Schools: McBride Elementary School, Wilson's Creek Intermediate School, Cherokee Middle School, Kickapoo High School


Photo courtesy Jane Cage. A group of North Town residents enjoying the neighborhood's Flag Raising Ceremony in 1964. The annual event is one of the community's most-treasured celebrations.


Steeped in History: North Town
Unlike many neighborhoods, the homes in Joplin's North Town neighborhood don't have a consistent look and feel. Jane Cage, who has lived in two different homes in the area (also known as Roanoke) since 1993, says this is one of her favorite things about it. "I live in a cottage-style house," Jane says. "There's a colonial-style home across from me, and a Spanish home next door to me. There's also a tudor home down the street. I think people like that it's not a cookie-cutter neighborhood where every house has the same look and feel." And Jane's street, Jaccard, also has a distinguishing feature: she lives on a block with vintage street lights. 
Adding to the neighborhood's variation, the residents include both older and younger families. They all mingle at a handful of social events, including a Fourth of July flag raising celebration that's been happening for more than 50 years. "The event takes place in a small park in the neighborhood," Jane says. The fun-filled occasion includes a parade, the raising of the flag, saying the Pledge of Allegiance, listening to a guest speaker and even crowning a little lady as Ms. Liberty. "It's a neighborhood event, and it has become a family event," Jane says. "Many former residents come back every year." 
Halloween is also a good time in North Town. "I'd estimate that on my street alone we have well over 1,000 trick-or-treaters," she says. "It's convenient because our houses are close together. We have a reputation for giving out good candy, dressing up and decorating our houses." 
And the rest of the year, families make small talk when they see each other out. "I describe it as a Leave it to Beaver neighborhood," Jane says. "There's a nice feel here. We look out for one another."


NORTH TOWN STATISTICS
Median home list price $166,230
Average days on the market 79
Schools Columbia Elementary School, North Middle School, Joplin High School


Photo by Brandon Alms. The Broekhovens love the distinctive architecture found in Southern Hills, and they were particularly drawn to their home's California contemporary style.


Architectural Wonderland: Southern Hills
Jeff and Natalie Broekhoven are more than familiar with the giant hills and curvy streets that weave throughout Southern Hills in east Springfield. "This is actually our third house in Southern Hills," Jeff says. "We love the neighborhood a lot." 
Each with backgrounds in architecture, the Broekhovens were initially attracted to the range of '60s- and '70s-style ranch homes that line the streets in this quaint area, as well as the range of people who live there. Even more specifically, they were drawn to their most recent home for its rare mid-century modern style. "There are about a dozen of these style homes in Southern Hills," Jeff says. "Our home is a California contemporary. They're rare in Springfield." 
In addition to their sprawling ranch home that's perfect for their family—which includes two kids and one on the way—Jeff and Natalie love the neighborhood for its location. "The trailhead to the Galloway Creek Greenway trail is a block and a half from our door," Natalie says. "It goes all the way through to Sequiota Park, and eventually to the Springfield Nature Center." There are also three lakes in the neighborhood, which create an abundance of wildlife in the middle of town. "Our backyard dead-ends at one of the lakes," Jeff says. "We have a fox that lives on our property." 
The Broekhovens are friends with other families in the area, many of whom are involved in neighborhood activities like walking and biking clubs. "Last summer, I started a girls' science club with a group of moms because we all had daughters around the same age," Natalie says. "A lot of people assume there aren't many kids here, but there are a ton of children." And the future of Southern Hills is looking bright "We are planning on lots of neighborhood barbecues and parties as the weather gets nicer," Jeff says. 


SOUTHERN HILLS STATISTICS
Number of homes 430
Median home list price $179,900
Average days on the market 68
Schools: Pershing and Wilder Elementary Schools, Pershing Middle School, Glendale High School


Photo by Brandon Alms. Dwayne Holden and Beth Yarbrough's home is one of many Highland Springs homes with a spectacular view.
Three Neighborhoods with a View
Looking to buy or build? These three 417-land neighborhoods offer million-dollar views along with their gorgeous homes.
1. Highland Springs
Perfectly manicured lawns, jaw-dropping custom homes and rolling green hills make up the beautiful golf course community of Highland Springs. This neighborhood has a prime location in east Springfield and is just minutes from Highway 60, but the oversized lots and sprawling golf course make it feel many miles from anywhere. From the clubhouse and the pool to the homes' many decks, patios and outdoor areas, residents of Highland Springs are never without an amazing view. 
2. Saddlebrooke
Tucked away just minutes north of Branson, this master-planned community is among the most picturesque spots in all of 417-land. Residents regularly enjoy breathtaking views of the rolling Ozark mountains and Bull Creek. If you live here, you'll likely spot wildlife in the surrounding woodlands. The neighborhood is also near additional creeks and the Mark Twain National Forest, making it great for nature-lovers. 
3. Emerald Pointe
What could be better than looking out to a lake every morning as you sip your cup of coffee? Many of the residents in Emerald Pointe, a Hollister neighborhood known to be a hotspot on Table Rock Lake, can enjoy just that. As if a view of the water isn't picturesque enough, the beautiful neighborhood is situated on more than 600 acres of wooded property. Residents also enjoy marina and dry-dock storage and golf courses, among many other amenities.