Profiles
11 Questions with Apollo Robbins
Meet the world-famous pickpocket who got his start as a performer right here in Springfield.
Written by Vivian Wheeler | Photos courtesy Apollo Robbins
Jul 2016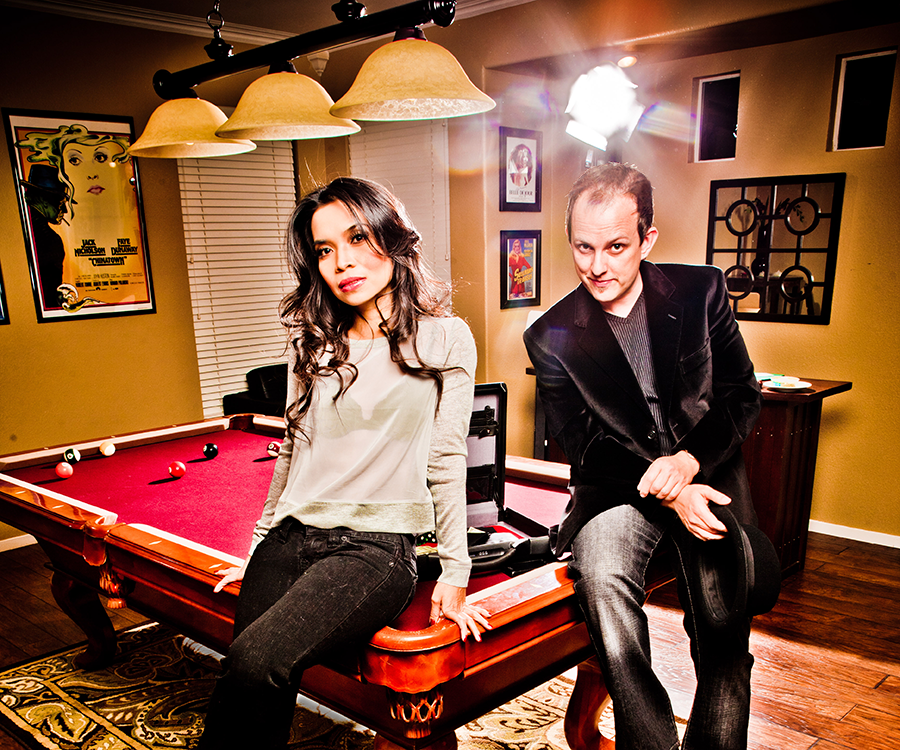 Springfield Little Theatre alum Apollo Robbins is considered by many to be the world's greatest professional pickpocket. But don't worry, he only uses his powers for good and always returns whatever he's filched. Robbins has made a career as a theatrical pickpocket, but his talents have expanded to include an ever-broadening scope of projects. Through the years, he has worked with movie stars, lectured at Ivy League universities, produced and co-hosted a TV show on National Geographic, filmed a popular TED talk and appeared on The Today Show, which resulted in a YouTube video that received more than 8 million views. These days, Robbins splits his time between Las Vegas and Los Angeles, but he was recently back in Springfield as the surprise guest at the Underwriter Appreciation Night for The Springfield Little Theatre on June 23. We thought it would be a good time to catch up with Robbins, find out a little bit more about him and see what kind of trouble he is getting into these days. 
417 Magazine: What do you remember most about growing up in Springfield?
Apollo Robbins: I spent a good chunk of my time at a little old magic shop downtown on Pershing Street called Mr. E's Magic & Novelties. The owner, Ben Stone, was like an adopted grandfather. Playing the part of a wise old sage, he redirected my juvenile delinquency into the  productive application of deception for entertainment: magic.
417: How were you involved with the Springfield Little Theatre? 
A.R.: I auditioned for the Springfield Little Theatre Y.E.S. Troupe when I was a sophomore at Hillcrest High School. It was a great opportunity to learn the practical side of theater, whether it was live performances, collaboration or assisting behind the scenes. I still owe Beth Domann for many of the life skills she taught me while I thought I was just learning improv.
417: What are you currently working on? 
A.R.: I just finished working as a producer and co-host for National Geographic's TV series BRAIN GAMES. Now, the majority of my time is spent speaking, consulting and training. Along with my partner (and wife), Ava Do, I have been collaborating with cognitive scientists to design immersive training workshops for law enforcement, military and business applications. Recently, I lectured at the MIT Sloan and Harvard Kennedy business schools on "The Illusion of Knowledge."
417: What made you made decide to focus on pickpocketing? 
A.R.: In the beginning, I collected a variety of skills. Pickpocketing was the most fulfilling due to the underlying psychology. For me, it became a vehicle to study human behavior.
417: Can you break down some of your favorite pickpocketing lingo for us?
A.R.: I believe language provides a window into a society. Cockney rhyming slang was originally a secret language for criminals to communicate covertly around their victim. The Yiddish word ganef means thief. In the 1700s it was shortened to the slang term gun. A high-level thief would be called a cannon. A team of cannons working together is referred to as a whizmob. Hence, my company was originally named Whizmob Inc.
417: What do you consider your greatest or most difficult feat as a pickpocket? 
A.R.: For me, it is stealing someone's eyeglasses off their face. It is requires a delicate balance of timing and technique along with a precise understanding of that person's awareness.
417: What was it like working with Will Smith and Margot Robbie for the movie Focus? 
A.R.: Will is authentic, considerate and even more likable in person than you would imagine. Margot is sharp, talented and hyper-focused. The characters they played were based off of a combination of people that Ava and I had worked with in the past. We took them on a tour of that world—meeting hackers, cannons, bust-out dealers, boosters and con men. Filming in New Orleans and New York for three months under a variety of situations allowed us an opportunity to get to know each other well. Later, I was asked to join Will and Margot to promote the film internationally. It was a surreal experience flying between press junkets and red carpet events in a private jet, surrounded by a little entourage of publicists and security details. While it was exciting and novel to see inside that bubble, it wouldn't be a lifestyle I could maintain. 
417: Who of the two was the better pickpocket? 
A.R.: Margot dedicated herself to the choreography and sleight-of-hand. Will focused more on the psychology. Both exceeded my expectations.

417: Your job sounds like so much fun, but if being a professional pickpocket weren't an option, what else could you see yourself doing? 
A.R.: These days I find myself picking pockets less and studying behavior more. I would probably be a social psychologist.
417: Can you tell us the story of the time you pickpocketed President Jimmy Carter's security detail? 
A.R.: I was performing at Caesar's Palace in Las Vegas at the time. My boss told me that Mr. Carter would be attending the show that evening and would be accompanied by the Secret Service. He invited me to step out of my role in the show if I'd like to target the Secret Service agents who were stationed around the theater. With a dose of youthful recklessness, I approached several of them, stealing their credentials, a couple of watches, the travel itinerary and the keys to the motorcade. Luckily, they were good-natured about it in the end. 
417: What has pickpocketing hundreds of thousands of people taught you about human nature? 
A.R.: In the last two decades, I've noticed a steep decline in situational awareness along with a proportionate increase in overconfidence. This creates an increasing gap between what we think we know versus what is real. This illusion of knowledge is partially due to the misapplication of technology not as a tool, but as a crutch. I believe we must balance our reliance on technology with a continued pursuit to increase our mindfulness and critical thinking.