Health
Zenith Climbing Center
Our digital director tries her hand at rock climbing by spending some time at the new and oh-so-lovely Zenith Climbing Center in Springfield.
Written by Dayle Duggins | Photos by Kevin O'Riley
Jul 2016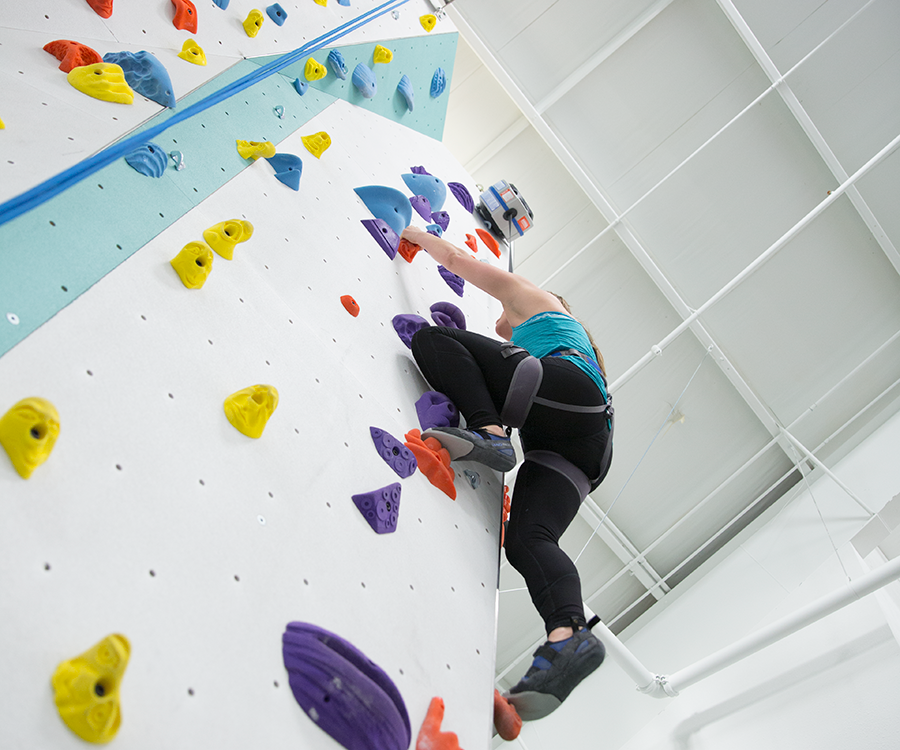 Zenith Climbing Center
3534 E. Sunshine St. Ste. 3, Springfield, 417-986-3869, zenithclimbing.com


I love putting together puzzles. The process is challenging, requires creative thinking and gives you something to devote your time to. When you think about it, pretty much everything is a puzzle in its own way, and rock climbing is no exception. Instead of coming together to create an adorable scene of kittens in a basket or a picturesque landscape, my experience resulted in calluses, humility and a new appreciation for the sport. 
Zenith Climbing Center is a hop, skip and a jump from the 417 Magazine office, and our entire staff had been anxiously awaiting its opening since negotiations for the space started in April 2015. I've never really rock climbed, so I marked my writing territory immediately and waited for the facility to open. I registered for Ropes 1 with Zenith Climbing Center co-owner Everett Pauls so I could learn more about the sport, get certified to climb and put my strength to the test. Knowing that I would learn tons of wacky climbing jargon was an added bonus.
THE CLIMBING CENTER
If you're looking for love at first sight, take a trip to Zenith. You'll experience all the symptoms of a seventh grade crush, including but not limited to jaw dropping, drooling and staring. It's just so darn pretty! When you enter, the first thing you see is massive floor-to-ceiling walls. While you revel in wonder, climbers dance their way to the top of these teal and white walls, using rainbow-colored holds to propel themselves up a little bit at a time. 
After your initial awe subsides, you'll see that there's much more to Zenith than the main climbing area for lead climbing and top roping, including two bouldering walls, a space for strength training, a kid's area complete with a slide, a yoga studio, showers, bathrooms, a hammock and a foosball table. Zenith has a variety of classes for adults and youth including yoga and aerial silk classes. The center even offers kids camps, has youth climbing teams and hosts birthday parties. If you're really lucky, a dog named Karen might grace you with her presence during your visit. It's a climbing center that is not only designed for climbing, but designed for chillin', too. 
Unlike my previous Get Fits, climbing very evidently has its own culture. It's laid back and exudes a community feel. People converse casually and root on complete strangers, as they attempt to conquer routes. It's unique, refreshing and inspiring.


After mastering the climbing basics, Dayle learned the ins and outs of equipment from instructor Everett Pauls.
THE CLASS
Everything is super-modern at Zenith, so I signed my safety waiver on a tablet then got set up with a harness, shoes and all the other necessary equipment, which was included in the $40 class fee. 
I plopped down to put my shoes on and immediately felt like one of Cinderella's evil stepsisters trying on a too-small glass slipper. They were tiny! I went back to the front desk to grab a bigger size, and was told the shoes are meant to be small so that there isn't any dead space, but not so small that your toes are curling. 
Once I got my shoe situation under control, it was time for class to start. Pauls introduced himself as the teacher of Ropes 1. Pauls has been climbing for nine years, holds competitive climbing records and is an American Mountain Guides Association Single Pitch Instructor. I had been chomping at the bit to climb all day, so I was pleased as punch when he kicked off class at the front bouldering wall. Bouldering is when you climb a rock wall without ropes or harnesses. Inevitably you will fall, so there are super cushy padded floors beneath you. 
Pauls pointed out the colorful, organically shaped holds that speckled the bouldering wall. The holds come in all different shapes and sizes and have weird names like slopers, jugs, pockets, crimps, edges and pinches. At the time of the story, the climbing center had nearly 5,000 holds scattered about that were purchased from So iLL, a climbing company out of St. Louis.
"Each color represents a 'problem' and problems are what you follow when you boulder," Pauls says. "Solving a problem is like figuring out a puzzle." Talk about a lightbulb moment! I had no idea that you followed a specific color all the way up a wall when bouldering. Each route is tagged with a grade rating, ranging from VB (very beginner) to V14 (professional level). I took a stab at an orange V0 problem, and made my way up pretty easily. The front bouldering wall is called a "top out" boulder, so when you reach the top you literally climb over it and walk down a set of hidden stairs.
Climbing without gear segued into equipment training, which was the longest part of class. With each piece of equipment, Pauls pulled out an impactful story to reinforce its importance. I learned how to tie a figure eight knot, which is the go-to knot for a climber to tie in to climb. I felt like a Girl Scout again as I practiced tying the knot repeatedly.
Pauls double-checked everyone's work, and asked us to partner up for toprope belaying practice. Belaying is when a person on the ground guides a climber safely up a rock and prevents them from falling. To do this, a belayer uses a belay device that provides friction and allows them to pull a climber's excess rope. He taught us the PBUS technique, which stands for pull, break, under, slide. I sucked at first but got the hang of it when we took turns scaling the wall while relying on our belay buddy to get us up and down in one piece and vice versa. Climbing to the top was harder than it looked, but letting go at the top and trusting that my belayer wouldn't let me fall to my death as I bounced down the wall was even harder. I broke a small sweat, but I think the majority came from the adrenaline pumping through my veins. If you don't have someone to belay for you, you can use an auto belay or pay for a pro belay, which runs $50 an hour for groups of one to four.
After my belaying partner and I had conquered the route several times, Pauls told us our techniques looked good and that we were certified, meaning I could toprope my heart out at Zenith! (In order to toprope or lead climb at the center, you're required to pass a test.)
THE EFFECTS
After getting the certification green light, I took my talents to the front bouldering wall to play around with some problems. I am not a girly girl by any means, but I strongly dislike my hands feeling dry. That being said, dipping my paws into a bag full of chalk to get a better grip for climbing tested my gag reflex and willpower. I was attempting to conquer a purple problem, and after a few runs at it I could feel my strength slipping and my hands started to hurt. I looked down at my chalky, grimy hands and noticed calluses had started to form and a patch of skin on my right ring finger had torn open. It didn't feel good, but climbing isn't a beauty pageant, after all. I was covered in chalk and I called it a night. 
The next day, the tops of my arms and triceps were sore from pulling my body weight around. I work out pretty regularly, so I can only imagine the damage would be worse if I wasn't active. It's a tough activity, and I love that. So much so that I plan on hitting up Zenith for occasional lunch-break climb sessions. In the name of the sport, my perfectly moisturized hands will have to be put on hold for an hour or two.