Reviews
5 Best Gyros
Looking for a hand-held meal that is not only savory, but affordable? It's all Greek to us.
By Katie Pollock Estes
Jun 2011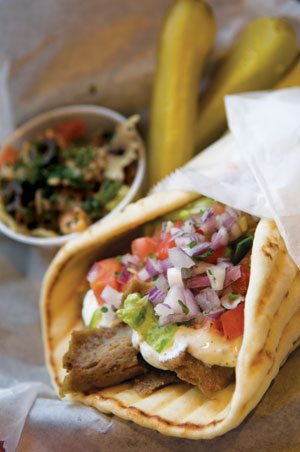 The basic ingredients are essentially the same: lamb-beef-combo gyro meat, pita, veggies, tzatziki. But each of our five favorite gyros in 417-land has its own tasty flair. Read on, to find out what makes each one stand out as a top gyro.


Vasken's Famous Gyros
Cost: $5.95
Get Them At: Vasken's Deli, 1015 Highway 248, Suite D, Branson, 417-334-9182, and 900 E. Battlefield Rd., Suite 128
Springfield
Why We Like Them: You can get this gyro made with the traditional lamb/beef meat, or with chicken if you're a little less adventurous. We recommend the lamb and beef. It comes topped with some fresh goodies: tzatziki sauce, lettuce, tomatoes and onions. The tzatziki (a cool, yogurt-based sauce that's traditionally served on gyros) is an extra-refreshing topping for a meaty sandwich.  There are plenty of Greek side dishes you can order to go with your gyro: stuffed grape leaves, tabouli, falafel… the list goes on and on.


Gyro Platter
Cost: $6.95
Get Them At: Greek in the Box, 2825 S. Glenstone Ave., Springfield, 417-877-0010
Why We Like Them: The beef and lamb meat is shaved off a huge cone-o'-meat and then placed in a warm pita. Served with a Greek salad, this gyro comes with lettuce, tomato and lots of tzatziki. The meat was surprisingly delicious for something from the Battlefield Mall food court (call us judgmental, but we just weren't sure what to expect), and it ended up being one of our favorite gyros.


Gyro
Cost: $7.79
Get Them At: Galloway Station, 1281 E. Republic Rd., Springfield, 417-881-9730
Why We Like Them: This is another spot that gives you meat options: "regular" or chicken. We ordered regular (lamb and beef). The chunky seasoned meat was piled high on the warm pita, and there was just enough lettuce, tomato and feta on top. The tzatziki is served on the side, and it's a little different than most: rather than tasting  really yogurty, it tastes more like sour cream and cucumbers.


Gyro Platter
Get Them At: Riad, 400 South Ave., Springfield, 417-720-1018
Cost: $13.99
Why We Like Them: This meal is big enough to share. The warm pita is served flat and piled with lots of meat and another pita, which I used for dipping in the hummus and babaganoush that came on the side. Chunks of tomato, white onion and tzatziki sauce come on the side, too. I used a healthy dose of meat and tomato, a touch of onion and tons of tzatziki. Riad's tzatziki has a  tart yogurt tang and a smooth coolness. Delish!


Gyros Sandwich
Cost: $7.50, $8.25 with feta cheese
Get Them At: Arris' Pizza, 1332 E. Republic Rd., Suite J, Springfield, 417-881-7260
Why We Like Them: We love that Arris' Pizza gives you the option of ordering your gyro on a wheat pita, so we did just that! The hearty chunks of gyro meat are stuffed into the pita with tomatoes and sweet red onions. The tzatziki here is homemade and delicious, with a lightness that contrasts well with the heavier meat.