Reviews
5 Best Falafel Dishes
These tasty little balls and patties of goodness are making appearances all over the place.
By Katie Pollock Estes | Photos by Kevin O'Riley
Oct 2014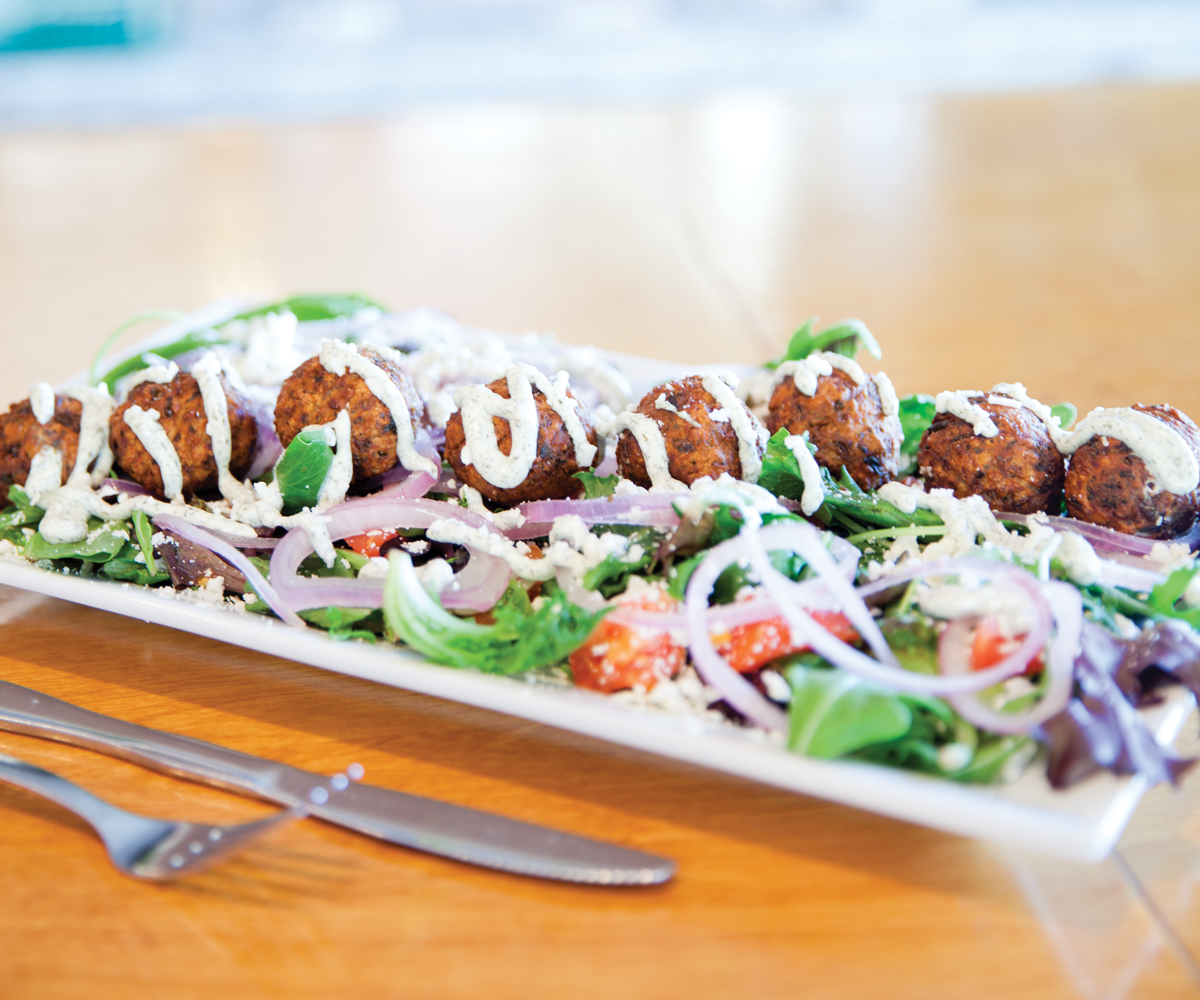 Remember the days when it was hard to find a 417-land menu that featured falafel—tasty patties made from chickpeas, herbs and spices and fried to crispy perfection? Those sad, dark days are long gone, and now these tasty little balls of goodness are making appearances all over the place. We rounded up five of our favorites. Ready to give it a try? Just dig in. 


1. Falafel Salad
Eagle Drive-In, 4224 S. Main St., Joplin, 417-623-2228
WHY WE LOVE IT: Major high-fives to Eagle Drive-In in Joplin for lightening up our favorite fried food by putting it on a fresh salad. Crispy, crunchy greens are topped with red onion, tomato and zippy feta. But the stars of the meal are the fried falafel fritters and tzatziki that give this light lunch a perfectly Mediterranean flavor.
2. Falafel  Sandwich
Vasken's Deli; 3200 Gretna Rd., Suite 100, Branson, 417-334-9182; 3522 S. National Springfield, 417-888-0083; vaskensdeli.com
WHY WE LOVE IT: The falafel is served inside a soft, chewy pita at Vasken's Deli, and it is doused with plenty of the restaurant's incredible house-made tahini sauce. Green leaf lettuce adds a little crunch, pickles add a little zip, and tomatoes freshen the whole thing up. It's a lovely lunch. Bonus: If you're not up for a pita sandwich, you can get the falafel and tahini sauce by itself as a side dish.
3. Falafel Flatbread Sandwich
Cecil's To Go, 1421 S. Glenstone Ave., Springfield, 417-597-5079
WHY WE LOVE IT: This little food truck serves up some big flavors, and the falafel sandwich is our favorite. The flatbread is oh-so-soft. The leaf lettuce is tender and sweet. The cucumber and red onion are perfectly crunchy. And best of all, the falafel and tahini sauce shine with a flavorful punch that just drives us wild. You can find this truck at the address above, and at Farmers Market of the Ozarks.
4. Falafel 
That Lebanese Place, 338 E. Commercial St., Springfield, 417-536-6677, thatlebaneseplace.net
WHY WE LOVE IT: Perfectly seasoned with a crispy outside and a soft center, the falafel croquettes at That Lebanese Place really hit the spot when we're hungry for these herbaceous fried balls. It's served with warm pita bread and tahini sauce for dipping (or for constructing your own mini sammie). Order it as an app, or in a larger portion as a dinner.
5. Falafel Burger 
Dugout Bar & Grill & Sports & Music, 1218 E. Trafficway St., Springfield, 417-866-2255
WHY WE LOVE IT: Another creative use of falafel: the main event in a big burger. The crispy falafel patty comes on a golden toasted bun and is topped with feta cheese and a zippy cucumber yogurt sauce. It's tremendous and packed with flavor, and it comes with some crunchy house-made chips on the side.