Springfield's Trivia Nights
Do you think you've got what it takes? Put your smarts to the test at one of Springfield's trivia nights.
By Jamie York Photos by Kevin O'Riley
Jun 2012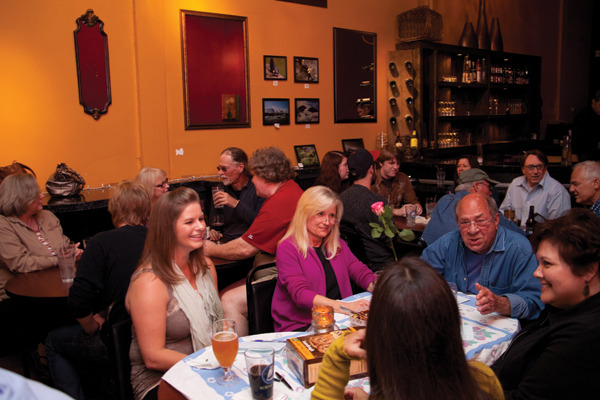 For all those people who find themselves shouting answers at the screen during Jeopardy!, several bars in Springfield are providing you with a chance to put your knowledge to the test. At each of their trivia nights, you face questions from any type of category, ranging from pop culture to stuff you learned in middle school. These trivia nights are meant for fun: Hosts sing and dance, players receive silly prizes, and everyone leaves wanting more.


Quizzical
Quizzical consists of five rounds, 10 questions each with increasing point values. The host, Joe Jerry, makes spectating a blast. He sings his own personal theme song to begin the night, plays the piano during questions and even researches the questions himself. "We all like competition, but in the end, it's all about having fun with your friends," says longtime participant Jim Jerry. Prizes include $5 Q Enoteca Bucks and Momma Bucks for Big Momma's Coffee.
Quizzical, free, 7 p.m., Wednesdays, at Q Enoteca, 308 W. Commercial St., Springfield. For more info on Quizzical, please call 417-865-9911.

Trivia Binge
Put your noggin to the test on Sunday evenings at Trivia Binge at Patton Alley Pub. If you are a real competitor who's serious about trivia, then this event is for you. Trivia Binge is a competitive event, featuring intellectual questions. The host, Kyle Jeffreys, makes sure to challenge his contestants. Prizes include gift certificates to Patton Alley Pub.
Trivia Binge, free, 7:30 p.m., Sundays, Patton Alley Pub, 313 S. Patton Ave., Springfield. For more information, call 417-865-1188 or look up Trivia Binge on Facebook.

Trivia with Ann and Tom
At Finnegan's Wake, trivia night participants play through six themed rounds containing general trivia, visual trivia, musical trivia and more. The winning player of each round selects an item such as a T-shirt, a bottle of hot sauce, underwear or another odd item. Prizes also include gift certificates for Finnegan's Wake.
Trivia with Ann and Tom, free, 8 p.m., Wednesdays, Finnegan's Wake, 305–307 South Ave., Springfield. For more information, please call 417-869-1500.