Dishes
Zaru Soba at Bibiya Fresh Kitchen
Plus six other things that passed the test of our taste buds.
By The Editors
Jun 2012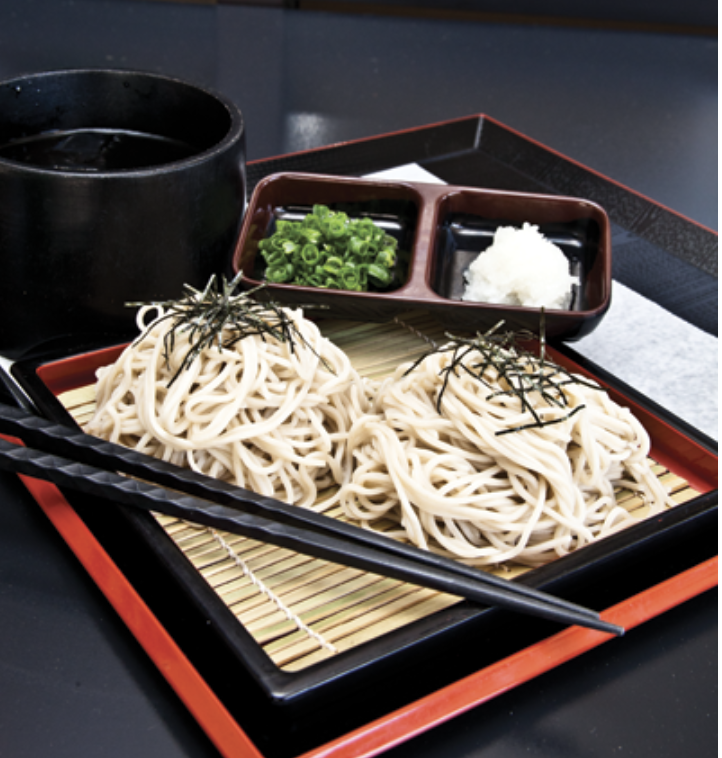 1. With summer starting up, we were looking for a cool bite. The zaru soba at Bibiya Fresh kitchen (4121 S. Fremont Ave., Springfield, 417-882-0077) fit the bill. Two perfect little nests of chilled soba noodles are served with a chilled broth packed with umami flavor. Once you get the hang of grabbing these slippery noodles, this fresh and cool dish is the perfect summer meal.

2. The South of the Border omelet at Chateau Grill (415 N. Highway 265, Branson, 417-334-1161, chateauonthelake.com) is hands-down the best omelet one of our staffers has ever eaten. It's loaded with chorizo, jalapeños, jack cheese and more. It's totally split-able at $11.
3. For a sweet tooth, we can't get enough of the salted caramel crepe at Aviary Café & Creperie (400 E. Walnut St., Springfield, 417-866-6378, aviarycafe.com). A generous amount of thick homemade caramel tops the soft crepe, along with sprinkles of sea salt.
4. A few staffers shared what they call "the most wonderful appetizer" at Table 22 (114 E. Main St., Branson, 417-973-0022, table22branson.com). It was the Latticini Cheese Tasting. The three cheeses presented weren't like anything any of them had ever had. And the quantity was such that they couldn't finish it. They had it boxed, and it made a nice little appetizer the next evening.
5. Sushi-lovers can't get enough of the Tuna Sampler at Haruno (3044 S. Fremont Ave., Springfield, 417-887-0077, harunosushi.com). It comes with five types of tuna nigiri, two that are barely seared and three that are completely raw.
6. Sometimes the only thing that hits the spot is a whole bunch of stretchy, melty cheese. For that, we love to order the classic fondue from Fedora Social House (300 Park Central East, Springfield, 417-832-9514, fedorasocialhouse.com). It's fontina cheese combined with white wine and garlic-infused oil. Perfect for savory dipping.
7. To fulfill an enormous nacho craving, we love the enormous nachos at Fuddrucker's (2920 S. Lone Pine Ave., Springfield, 417-655-1200). The chips were piled high with ground beef, beans, sour cream, guacamole and melted nacho cheese. Our favorite part: the guacamole.