Leisure Boats
Just in time for your long summer weekends at the lake, we found the best-selling boats at 417-land retailers. If you want to make some waves, ride some wakes and enjoy summertime in southwest Missouri, these top-notch rides are ready and waiting for you.
by Savannah Waszczuk | Photos courtesy Table Rock Boats, Sport Boats USA, Bass Pro Shops, The Ski Shack, The Harbor
Jun 2014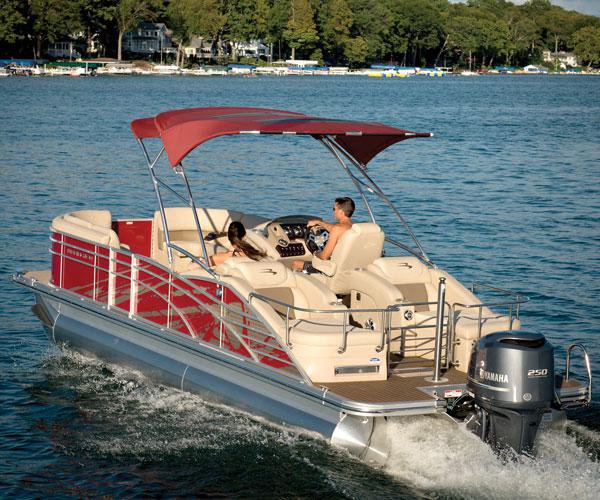 â–²Table Rock Boats
Located at Port of Kimberling Marina and Resort, 348 Nautical Circle Dr., Kimberling City, 417-739-5912, tablerockboats.com
Best-Selling Boat: 2500 Regal
Price: Starting at $76,000
Why You'll Love It: This bowrider boat comes with a 300-horsepower inboard/outboard motor, but you can upgrade to the 380-horsepower motor if you want more power (cue the Tim Taylor grunt). The boat is perfect for swimming, skiing and tubing. It comes ready to go with wakeboard towers and afirst-class stereo system. There's also a GPS in the dash and even an on-board bathroom.
â–²Bass Pro Shops/Tracker Marine
1935 S. Campbell Ave., Springfield, 417-873-5000, bassproshops.com
Best-Selling Boat: 2014 Tracker Pro Team 175 TXW 
Price: Starting at $15,995
Why You'll Love It: Many dazzling features have helped this fishing boat claim its No. 1 spot on the market. The Tracker Pro Team 175 features lots of interior room for maneuvering while you're out on the water, and a Minn Kota trolling motor with a recessed foot pedal ensures you'll always stay just where you want to be on the lake. There are two livewells, plus two fishing chairs and new dry storage containers on this model, plus a Tracker-exclusive all-welded Revolution hull with Smooth Ride Guarantee and PowerTrac set-back transom. 
â–²Sport Boats USA
5801 N. 21st St., Ozark, 417-581-7300, sportboatsusa.com
Best-Selling Boat: 
Bennington 2275RCW with a Yamaha 225 SHO motor
Price: Starting at $60,000
Why You'll Love It: If you're a fan of customization, a Bennington pontoon boat is the perfect choice for you. There are many models and sizes to choose from, and there are countless accessories available including ski tow bars, privacy enclosures, stainless steel corner cleats, snap-in carpet on vinyl flooring, in-floor storage, an ottoman cooler and more. The most popular seating configurations include rear-facing loungers that allow you to relax and enjoy the lake views. 
â–²The Ski Shack
5539 S. Campbell Ave., Springfield, 417-882-8480 (also with locations at Indian Point Marina and Baxter Marina on Table Rock Lake), theskishack.com
Best-Selling Boat: Malibu Wakesetter 24 MXZ
Price: Starting at $85,000
Why You'll Love It: Out of the box, this wakeboarding boat is as good as they come. The Malibu Wakesetter features four hard-water ballast tanks hidden under the floor plus Malibu's patented power-wedge technology. It features a touch-screen system that's simple to use, and you can add custom pre-sets for every rider on your boat. Whether you're a beginning wakeboarder or you've been riding for years, this boat can be customized for your riding style. Plus there's seating for more than 15. 
â–²The Harbor
Located at State Park Marina on Indian Point, 363 Harbor Ln., Branson, 417-338-2828, theharborboatsales.com
Best-Selling Boat: Chaparral 287 SSX
Price: Starting at $119,528
Why You'll Love It: The Chaparral 287 SSX has been the number-one selling 28-foot sport boat on Table Rock Lake for the last three years. A great big-water boat, this boat is safe and extra roomy, and it offers an uncompromising ride in all conditions. The beauty is yacht-certified, making its price attractive compared to other boats in its class. It's designed for large families, but is also a perfect choice for couples who enjoy taking the boat across the lake to a waterside dinner.