Spaces
Outdoor Overhaul
Make outdoor living even more comfortable than indoor lounging this summer with these products.
Written by Jennifer Adamson | Photo courtesy Outdoor Home Inc.
Jun 2016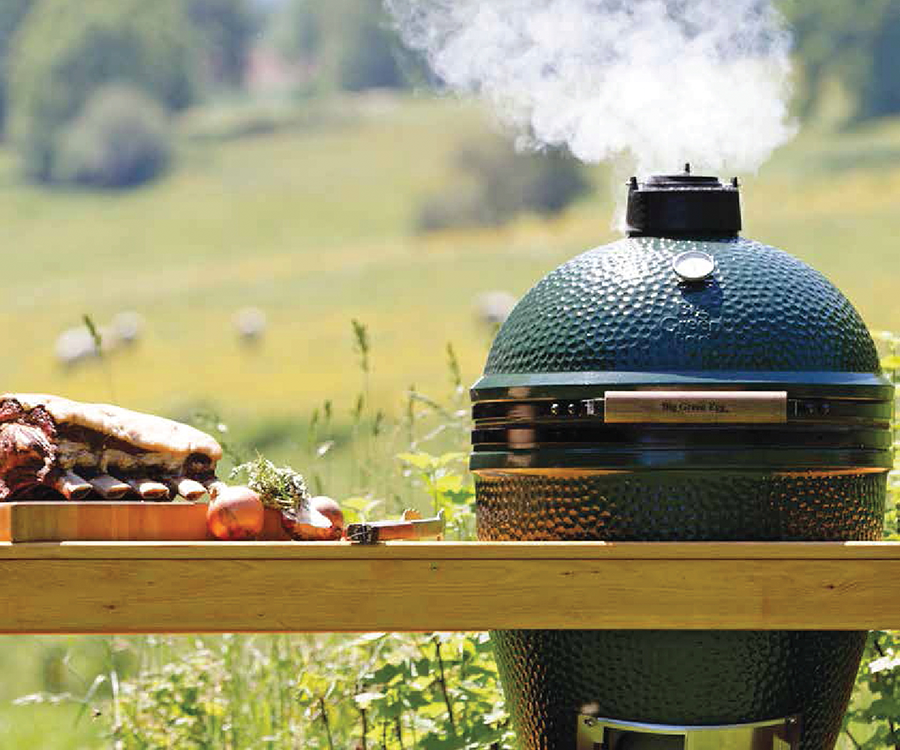 Summer is finally here, which means spending lots more time outside. But before you get too comfy, let three local home experts update you on what's hot in outdoor living. Sharon Renyer, co-owner of Outdoor Rooms by Design, Mark Ranum, manager of the Springfield location of Outdoor Home Inc., and Joan Nutting, a buyer for Maschino's, offer up a selection of products that prove that technology, color and comfort are dictating this season's top outdoor trends. 
Motorized Louvered Roof
by ALRS Outdoor Living, starting at $5,199
Available at Outdoor Rooms by Design
Instead of portable shade solutions that are unreliable and unsightly, this motorized louvered roof is a permanent choice for relief from the sun. The product is engineered to open and close at the touch of a button, letting in as much or as little sunlight as you desire, and it is manufactured using extruded aluminum and an electrostatic powder coating, which provide durability against harsh wind and snow. Rafters attach to any existing structure or freestanding model. Size, shape and color can also be customized to your needs and personal aesthetic.
Serenata LED Umbrella Light and Media Center
by Treasure Gardens, $185
Available at Outdoor Home Inc.
If budget restraints prevent you from switching out your old-school shade umbrella, give it a modern update with this inexpensive two-in-one product designed to provide ambient lighting and serve as a radio and music docking station for your iPod or smartphone. Just clamp the unit onto any standard-size umbrella pole and turn it on using a wireless remote control. A rechargeable battery provides up to six hours of usage when lights and stereo are on simultaneously. 
Big Green Egg
by Big Green Egg Inc., large is $889
Available at Outdoor Home Inc.
On the market since 1974, this item is still one of the most popular must-haves for your outdoor kitchen. What makes this cooking vessel so extraordinary is its versatility and ability to conduct heat at extremely high temperatures using ceramic technology first developed by NASA. Plus, superior insulation from the grill's sealed design allows for a slow burn, impacting flavor no matter which cooking method you prefer. With an extensive line of accessories, smoking, roasting and baking on the egg are also possible. 
Artisan Torches
by La Candela, starting at $88
Available at Maschino's
Hand-fired and hand-painted in Mexico, beautiful ceramic torches add a pop of color to your garden or patio and keep bugs away all night. Among several different collections are designs inspired by Moroccan tile patterns, Mexican Day of the Dead artistry and the natural world. They hold enough fuel to burn for up to five hours, and because the oil reservoir holders are ceramic too, you never have to unscrew a rusty connection.
Madrid Square Patioflame Table
by Napoleon, $899
Available at Outdoor Home Inc.
When a late afternoon barbecue with friends turns into a nightcap and stargazing, stay warm beside a stylish fire pit. The tabletop's basket-weave pattern and bronze color complement a variety of furniture finishes, and the unit's construction conceals the gas tank behind a small door for a streamlined look. The manufacturer also took precautions against wind and rain by adding holes in the burner pan to drain water after a shower and offering an optional glass windscreen for breezy days. If you don't need a flame, an aluminum burner cover converts the fire pit into a full table.
Five Seasons Collection of Area Rugs
by Couristan, starting at $58
Available at Maschino's
To complete the look of your exterior lounge area or to serve as a jumping-off point in an outdoor space remodel, choose an area rug from this collection of inspiring patterns. Made of mold- and mildew-resistant polypropylene and UV protected to withstand the elements, each rug has a smooth, flat-weave texture that feels pleasant on bare feet and requires little maintenance. Put one under a table or lounge chair or just use it as a deck covering. Couristan manufactures 12 additional lines of outdoor rugs with endless size and color options.
Ernest Hemingway Chesterfield Crescent Wedge Sofa Sectional
by Thomasville, $8,999
Available at Outdoor Rooms by Design
There's always a place for everyone around the fire pit with this curved sectional that creates a conversation area and allows multiple people to get cozy together. When you're not keeping warm by the fire, the pieces can be relocated closer to the pool or other relaxing spots. Each wedge is made of synthetic wicker to outlast prolonged exposure to sun and water, and drain-through cushions don't ever require covering.
AquaSport Swim Spa
by Hydropool, starting at $15,500
Available at Outdoor Rooms by Design
This pool-spa hybrid's truest purpose is exercise, with water jets that produce a current against which to swim, but the jets can be turned off for splashing around. Other benefits include self-cleaning technology, a comparatively smaller size and its lower price point. This unit can be installed above ground or in-ground.