Reviews
The Golden Girl Rum Club Review
Four young movers and shakers team up to create a rum bar that is making waves in downtown Springfield and beyond.
Written by Vivian Wheeler | Photos by Brandon Alms
Jun 2016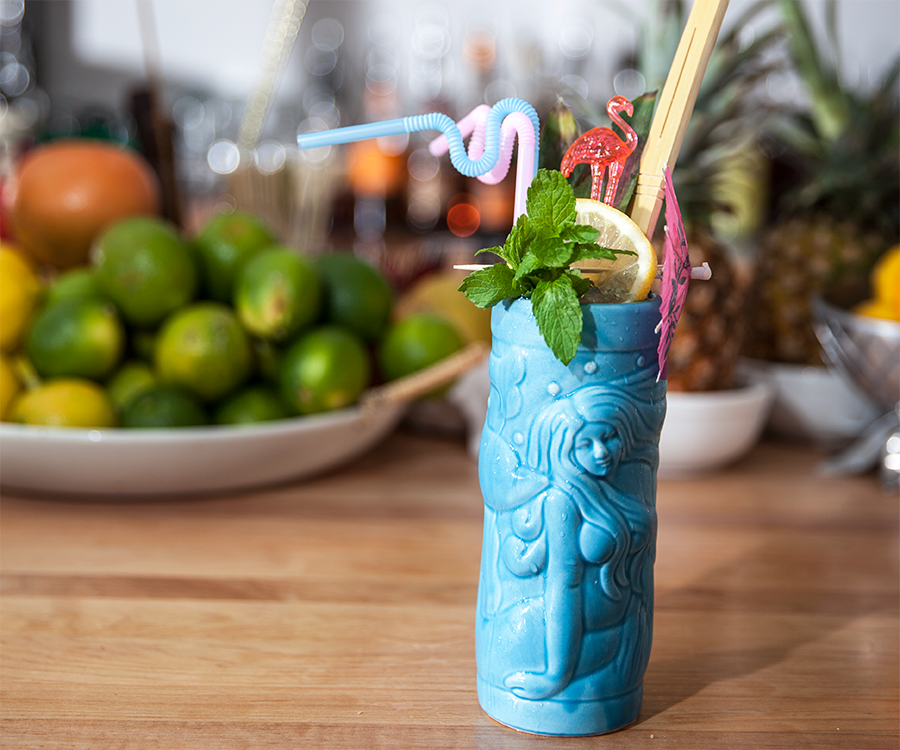 The Golden Girl Rum Club
137 Park Central Square, 417-425-5162, thegoldengirl.com
Hours: Tues.–Sat. open 11 a.m.–2 p.m.; 5 p.m.–1:30 a.m.
When you walk into Golden Girl Rum Club, a tiki bar located on the Springfield square, a graphic, stylized black pineapple set against a white wall greets you. Designed by Rogan Howitt, one of the four owners, this pineapple is a synecdoche for the bar and restaurant. It's fun and playful. It looks effortless, though in reality, a lot of time and careful thought went into creating it. And the pineapple just so happens to be the international symbol for hospitality. 
Given their respective careers, it's not surprising that Howitt along with the other three owners, Joshua Widner, Emma Chapman and Trey George, created a bar that marries beautiful design with well-crafted cocktails. Widner is co-owner of Scotch & Soda, where Howitt has been bartending since its opening. The wife-and-husband team of Emma Chapman and Trey George plays a major role at A Beautiful Mess, a blog that excels in producing an array of gorgeous things. What is surprising is the fact that Golden Girl boasts a from-scratch kitchen and a menu drawing on eclectic international flavors.
The menu is composed of small plates, salads and appetizers. This allows for a choose-your-own-adventure experience when creating a meal. My friend and I ate there for dinner a couple of weeks ago, and half of the fun of the evening was deciding what to order. 
We started with the miso and the elotes. A delicate dashi broth serves as the foundation of the miso. Vegetables and soft tofu cubes are added to the mix, and the soup is topped with coconut chili cream and micro greens. What could have been a pretty standard bowl of miso was brightened up by a hint of spice from the chili cream and some bitterness from the micro greens. It was heavenly. I may or may not have picked up the bowl to slurp down the last few remaining drops. The elotes, a Mexican corn dish, is served off the cob in a miniature cast iron skillet. The dish is topped with cotija cheese, lime, cilantro and a side of warm tortillas. As we were finishing our starters, our second round of goodies was coming out. 
It wasn't long after the kale Caesar salad, Thai Sticky wings and Staff Special sandwich arrived that we realized we might have slightly over-ordered. All of the dishes were good, but for us the wings really stood out. They are baked, as opposed to deep-fried. It says a lot about the talent of the chefs, Josiah Craig and Joe Still, that they are able to make those wings sing. The wings are marinated in a dashi brine for a day and a half, twice baked and coated with a Thai chili sauce. The result is an unusual combination of flavors that I haven't encountered before. 


The elotes and the Thai Sticky wings make great shareable dishes for the table or standalone meals for one. 


The other half of the fun of the evening was trying a few of the elaborately concocted drinks on the Golden Girl menu. Howitt and Widner spent months creating and perfecting the cocktails. "It was just us, holed up in a lab upstairs with as much rum as you can possibly find," Widner says. My favorite of the evening was the GG Itch. Made with Buffalo Trace bourbon, Appleton Estate Signature rum, Plantation Overproof dark rum, Rhum Clement Creole Shrub, passionfruit, pineapple and lemon, this drink is a complex tropical cocktail that packs a punch. Many of the drinks require several steps to make, and service can take a little longer than your run-of-the-mill bar, but you know what they say: Good things come to those who wait. 


Glass garage doors open up to the square, contributing a fresh, open-air feeling to the bright décor. 
Q&A With Joshua Widner, Rogan Howitt and Trey George 
417 Magazine: How did Golden Girl Rum Club come about?
Joshua Widner: Golden Girl was birthed out of an opportunity where Emma and Trey reached out to me last year at some point wanting to partner to some extent, not knowing quite what the full extent was, but wanting to do something together at some capacity, and that conversation stayed open for quite a few months. I honed the plan for a rum bar. I pitched it to my brother to come in and be a partner and then me and Rogie together pitched it to Emma and Trey to be partners, and it just blossomed into this beautiful and cool place. 
417: What made you want to do a rum bar? 
J.W.: Some guys that I really looked up to had opened some rum bars in the past couple of years, and they're just the most fun place you can possibly be. 
Rogan Howitt: Being rooted in traditional cocktails, this is such a departure from that. This is like really fun stuff. 
J.W.: It was the opposite vibe of Scotch & Soda, so it appealed to me to do something different.
417: Trey, this was your first time in the restaurant business. What surprised you? 
Trey George: What surprised me more was how well a lot of stuff came together relatively quickly—our food especially because I was kind of panicking. We were towards the end, and we had a guy lined up who was going to run the kitchen, and he backed out. And then we found these two guys, and they are some of the most talented guys I've ever seen.