Reviews
5 Best Gourmet Nachos
Gooey goodness atop crunchy chips? Yes, please! These five outside-the-box takes on nachos have our mouths watering.
By Katie Pollock Estes
Mar 2010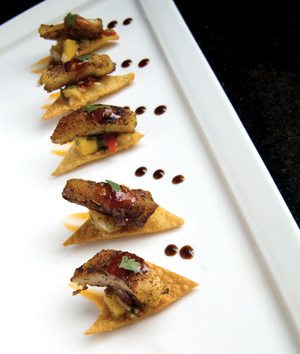 The plate of nachos is a versatile thing: It's a meal, it's an appetizer, it's a happy-hour shareable. It's crunchy, it's gooey, it's spicy. I believe very strongly that almost any type of meat and/or cheese tumbling off the edges of a fully loaded tortilla chip is a near-perfect creation. (I even like the oh-so-vulgar, oh-so-yummy movie theater version). But there's a world of nacho innovation in 417-land at restaurants that are taking the chip/melted cheese/meat recipe into whole new territory. They're replacing tortilla chips with other crunchy topping-holders, like fried wontons. They're replacing ground beef with more interesting proteins. They're stepping off the hard-worn path that keeps veggie toppings limited to jalapeños, onions and tomatoes and throwing on things like peperoncini peppers and artichoke hearts. Read on, and learn why "nacho" means so many things in 417-land.


Sea Bass Nachos
$7.50 at Bijan's Sea & Grille 
Editor's Note: This restaurant has closed since the publication of this article
Why We Love Them: The sea bass has a buttery-rich texture. The fruit salsa cools your taste buds down. And the crispy wontons are a brilliant alternative to tortilla chips. And when it all comes together? Decadent.
What's on Top: The wonton chips are topped with sea bass, fruit salsa and Cajun seasonings.


Barbecue Nachos
$6.99 at Whole Hog Café, 224 W. Sunshine St., Springfield, 417-868-0042
What's on Top: Tortilla chips are piled high with loads of cheese and topped with beef brisket, pulled pork or pulled chicken.
Why We Love Them: These nachos are big and filling, and they're the best of two of our favorite indulgent food worlds: crunchy Mexican-inspired goodness and super-hearty barbecued meat. The nachos come sans sauce, which is an excellent excuse to try each of the six sauces that are on the table. (Secret hint: There's a seventh sauce that's super spicy, and you have to ask for it at the counter.)


Italian Nachos
$9.25 at Mille's 
Editor's Note: This restaurant has closed since the publication of this article
Why We Love Them: The
fried pasta replaces tortilla chips in this recipe. They're crunchy to the max, and they take a little getting used to. But three bites into the Italian nachos at Mille's, and you'll be in love with them.
What's on Top: Red and green bell peppers, red onions, olives, peperoncinis, Italian sausage, mozzerella cheese and alfredo sauce are piled high on fried pasta.


Mediterranean Nachos
$7.75 at Touch Restaurant, 1620 E. Republic Rd., Springfield, 417-823-8383
What's on Top: Pita chips are topped with artichoke hearts, jalapeños, tomato coulis, feta cheese, cucumber yogurt and hummus.
Why We Love Them: Each ingredient in these nachos has a bold flavor of its own. They create a beautiful union: the briny artichoke hearts, the spicy jalapeños, the tart tomato coulis, the sharp feta cheese, the cool cucumber yogurt, and so-divine hummus.


Chipotle Chicken Nachos
$8.95 at Houlihan's, 2431 N. Glenstone Ave., Springfield, 417-862-7777
What's on Top: Tortilla chips come with melted smoked chipotle cheese, chicken, cilantro, jalapeños, scallions, tomatoes, sour cream, salsa and guacamole.
Why We Love Them: Although they are most "normal" nachos on this list, they still stand out from the standard-edition because of the chipotle cheese. It's just barely spicy—not too much—with a deep smoky flavor.