Dishes
5 Best Non-Traditional Nachos
When crunchy chips meet melty cheese and flavorful toppings, magical things happen. Join us on a mouthwatering journey where we wave bye-bye to typical tortilla chips-and-cheese nachos and find varieties that range from Italian to Lebanese.
By Savannah Waszczuk
Mar 2015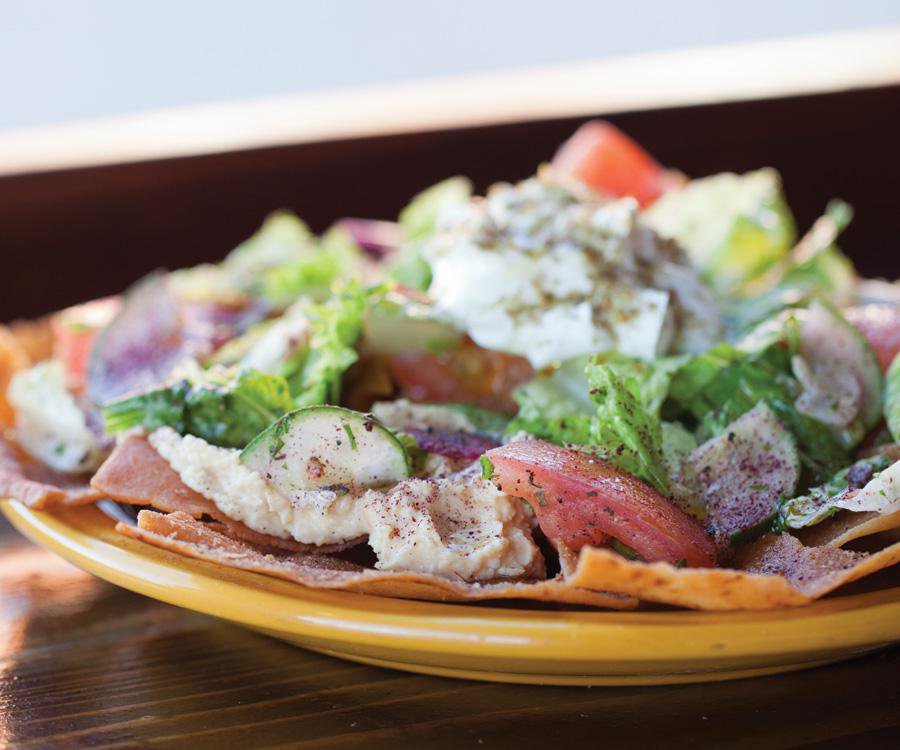 1. Those Lebanese Nachos 
Starting at $5.49 at That Lebanese Place, 338 E. Commercial St., Springfield, 417-536-6677, thatlebaneseplace.net
Why We Love Them: A hefty stack of crunchy pita chips is loaded with homemade hummus, a thick drizzle of labneh and a fattoush salad made with chopped tomatoes, romaine lettuce, cucumber, green onion, radish and garlic. Then, it's all topped with extra virgin olive oil. Add gyro meat, chicken or beef to make the dish extra-filling.
2. BBQ Nachos
Starting at $8.69 at Danna's Bar-B-Que & Burger Shop, multiple 417-land locations, dannasbbq.com
Why We Love Them: The tortilla chips at Danna's Bar-B-Que are made from white corn tortillas and fried to order. These crunchy, salty treats are piled high with barbecue baked beans, cheddar cheese, jalapeños, sour cream and your choice of smoked pork, beef, chicken or sausage. And as if it weren't delicious enough, it's all drizzled with the restaurant's mild barbecue sauce.  
3. Dublin Nachos
$8.49 at Dublin's Pass Irish Pub, 2726 W. Republic Rd., Springfield, 417-877-7625; 317 Park Central East, Springfield, 417-862-7625; dublinspass.com
Why We Love Them: This flavor-packed app combines a handful of our favorite Irish foods. First, homemade potato chips are topped with malt vinegar and kosher salt. Next comes sliced rashers (Irish bacon) and bangers (Irish sausage). It's all topped with a warm Guinness cheese sauce, green onions and diced tomatoes. 
4. Nachos italiano
$8.99 at Florentina's Ristorante Italiano, 2690 Green Mountain Dr., Branson, 417- 337-9882, florentinasristoranteitaliano.com
Why We Love Them: In this delectable creation, a bed of crispy pasta chips is topped with homemade alfredo sauce, grilled chicken, kalamata olives, pepperoncini, diced tomatoes, red onion and a special house-blend of cheeses. As an added bonus, it's  drizzled with a balsamic reduction.
5. Nachos el Carbon
$12.29 for lunch or $14.29 for dinner at Cantina Laredo, 4109 S. National Ave., Springfield, 417-881-7200; Branson Landing, 1001 Branson Landing Blvd., Branson, 417-334-6062; cantinalaredo.com
Why We Love Them: Usually, nachos are served in a big sloppy pile, and compiling the perfect bite that includes all ingredients is a challenge. But not at Cantina Laredo. Here, each chip is placed on the plate individually and carefully loaded with refried beans, cheddar cheese and a slice of chicken or beef fajita meat. Nachos gone neat? Yes, please.