Health
Aerial Yoga at My Hot Yoga
Two staffers try out Springfield's only aerial yoga class at My Hot Yoga, 3104 E. Sunshine St., Ste. C, Springfield, 417-888-0130, myhotyoga.net
By Savannah Waszczuk | Photos by Brandon Alms
Mar 2015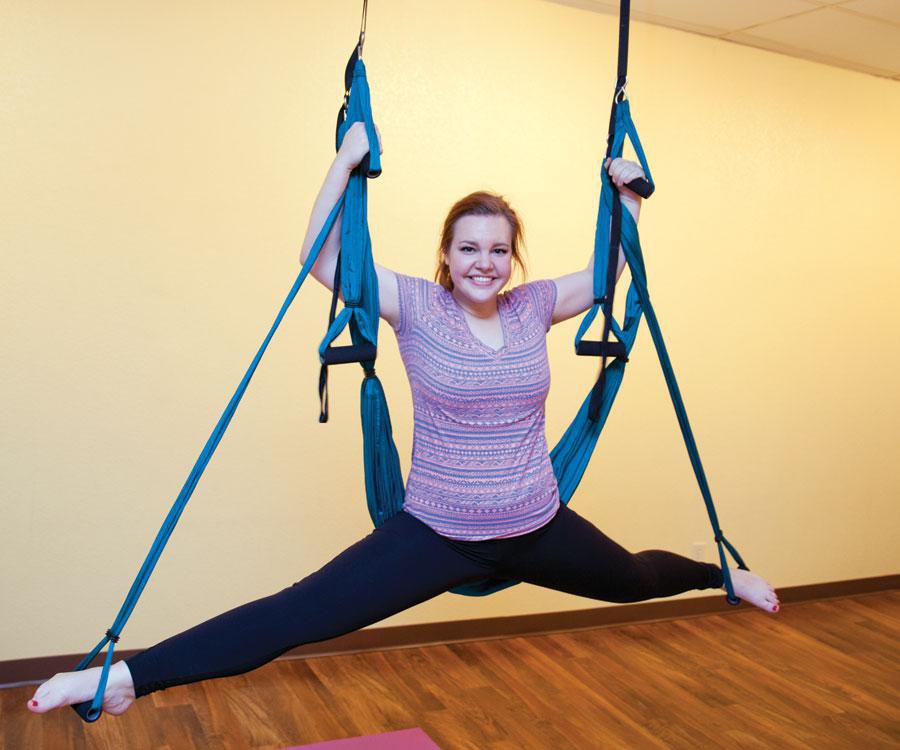 For most people, yoga is a calming, peaceful experience that's as good for the mind as it is for the body. But this has never, ever been the case for me. I typically dread any form of yoga. I'm not flexible, and I often find yoga poses uncomfortable. After a few minutes of forcing my inflexible body into those uncomfortable poses, I'm done. I'm no yogi. 
Rewind to a few weeks ago when I received this assignment: try aerial yoga at My Hot Yoga. I can't do yoga on the ground, and they were asking me to do it while hanging from the ceiling! I was secretly hoping that the instructors at My Hot Yoga would tell me beginners weren't allowed. Instead, they welcomed me, and I found myself hanging from the ceiling a few days later.
The Studio
My Hot Yoga (3014 E. Sunshine St., Ste. C, Springfield, 417-888-0130, myhotyoga.net) first opened its doors in January 2011, and it was purchased by its current co-owners, Amanda Stehle and Alicia Epps, in January 2013. It's tucked away in the quiet Southern Hills Shopping Center, and you'd never guess the studio offered 60- and 75-minute hot yoga classes, deep stretch yoga and Ashtanga yoga classes, yoga boot camp, yoga sculpt and even aerial yoga classes. But it's there, and it's bursting with energy. When I took the aerial yoga class in January, My Hot Yoga was preparing to offer even more, having a brand-new area for aerial yoga classes scheduled to open in early February. "We're gaining an extra 1,881 square feet," Stehle says. "We will use the new area for aerial yoga and children's yoga, and we're also going to have a classroom for yoga training sessions. We will take everything that is not heated over to our new space."   
The Experience
Too scared to go alone, I asked Editorial Designer Abby Gust to join me in trying out my first-ever aerial yoga class. She happily agreed, and the two of us skipped our usual lunchtime soup break to take our best shot at yoga in the air. When we arrived at My Hot Yoga, we were greeted by Stehle and Epps, and they both assured us we had nothing to be afraid of. 
Teal slings were strung from the ceiling all over the room. These slings, which you use to perform aerial yoga, hang slightly higher than your bottom. When you first get in, you have to jump up a teensy bit, and that first jump was perhaps my most terrifying moment of the class. The problem was, I didn't trust that the sling would hold me! I just knew that the beams would rip from the ceiling and crash down on me and Abby the second I landed. Thankfully (and just as Stehle promised), the beams were plenty strong, and my sling held up just fine. Phew! I was soon nestled in the cocoon pose, which is where you are laying on your back and enveloped in the sling. As I slowly swayed from side to side and waited for the class to start, I even felt a little relaxed. 
Before I knew it, Stehle, who was instructing the class, was walking us through various poses. She offers a beginner aerial class, an aerial sculpt class and an intermediate aerial class, but she created a special session where she let us try a bit of everything. We started with mild inversions, where we would wrap our legs in the swing and hang half-way back in the sling, releasing our arms. Soon we were hanging upside down in the sling with the soles of our feet together and our palms at heart center. Getting used to the feeling of hanging upside down was a bit of a challenge for me, but I pushed through. Stehle walked us through a variety of poses, having us try an ab sequence, a releasing sequence and even a handstand sequence where we walked across our mats with our hands. (This is super-challenging while upside down!) I surprised myself by being able to do them all, at least to some extent. As the class progressed, we tried more challenging poses, including the garland pose and then the superman pose where our bodies were actually suspended as if we were flying. Well, at least that's what that was supposed to look like. I didn't quite have the core strength to do it successfully. We then experimented with standing poses, even exposing our legs to perform splits in the air. Yes, the splits! 
There were a few poses I couldn't do properly, but Stehle offered modifications, making it clear that the class was open to beginners. Also, when there was something I didn't feel confident in, she and Epps were there to help. They guided me through and made me feel more confident in myself, and before I knew it, I was nestled back in the cocoon pose for our cool down. As I felt the sling wrapped around my body and slowly swayed from side to side, I felt relieved and relaxed. 
The Effects
Aerial yoga provides a full-body workout. As all of the body is forced to move and stretch, you are toning and redefining muscles and regenerating and strengthening joints. "Decompression of the spine is one of its main features," Stehle says. Spinal decompression, which isn't found in many workouts, is great for back pain. There are also many other benefits, which Stehle can speak to perfectly. "Since I started instructing the class last June, my BMI has dropped 14 percent and I've dropped two pant sizes and lost 20 pounds," Stehle says. "I had done hot yoga for years before that and I thought I was really strong, but I wasn't. My body needed that little extra."  And even though I only tried one class, I can speak highly of it. Aerial yoga is something I could get used to. I finally understood what the yoga obsession was all about.