Dishes
Fit Chic from Grad School
Plus six other things that passed the test of our taste buds.
By The Editors
Mar 2016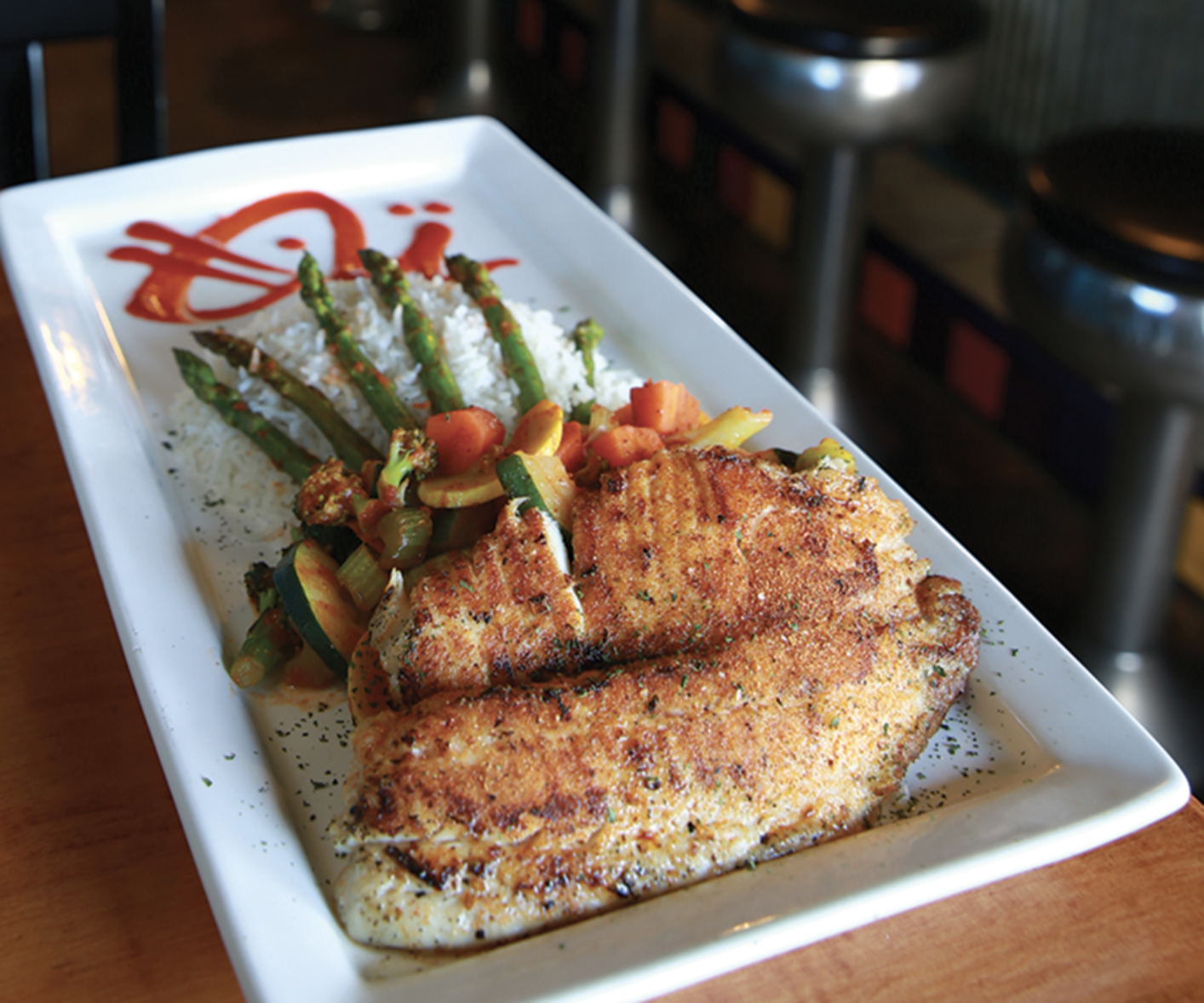 1. Grad School (434 S. Jefferson Ave., 417-866-8163) might be known for its burgers, wings and fries, but we're currently crushing on a healthier option offered by the beloved downtown restaurant. The Fit Chic comes with your choice of protein (we like the tilapia), grilled asparagus and basmati rice. Yum! 
2. Go ahead and treat yo'self to a Mudturtle latte from Mudhouse (323 South Ave., Springfield, 417-832-1720, mudhousecoffee.com). Ghiradelli chocolate, real caramel and whipped cream mingle with espresso to form an indulgent caffeine rush.  
3. The steak special from Bambu (1338 E. Battlefield, Springfield, 417-881-9881) used to be just that—an evening special. But it ended up being so popular it earned its way onto the menu. Tender pieces of steak are sauteed in a delicate mixture of Vietnamese flavors and then served with pickled veggies and red rice. 
4. Stop by Legacy Bagelry at MaMa Jean's Market & Deli (900 E. Battlefield, #140, Springfield, 417-881-0004, legacybagelry.com), and start your morning off with the blueberry bagel and lemon cream cheese. The bagel has real blueberries, and the cream cheese tastes like a lemon icebox pie. 
5. The only thing better than beer battered fries are the beer battered bacon cheese fries topped with melted colby cheese, crispy bacon and ranch at The Grotto (301 E. Battlefield, Springfield, 417-886-9608, gogrotto.com). They're the perfect starter.
6. Whether you prefer to call them a profiterole, choux à la crème or cream puff, the French pastries filled with fluffy cream from La Galette Berrichonne (143 E. Main St., Fordland, 417-738-2112) are divine. The fact that you can only snag them on Fridays and Saturdays makes them all the sweeter.  
7.  We love the coconut curry pizza from Springfield Brewing Company (305 S Market Ave., Springfield, 417-832-8277, springfieldbrewingco.com) topped with yellow curry, mozzarella cheese, seasonal vegetables, tomatoes, cashews and chopped cilantro.