Travel
One Perfect Paris Day
After we viewed the Arc d'Triomphe, Eiffel Tower and Napoleon's Tomb—and after we toured the Louvre, d'Orsay and Versailles—it was time to pop into some decadent indulgence in the City of Lights.
Written by Joan Whitaker
Mar 2016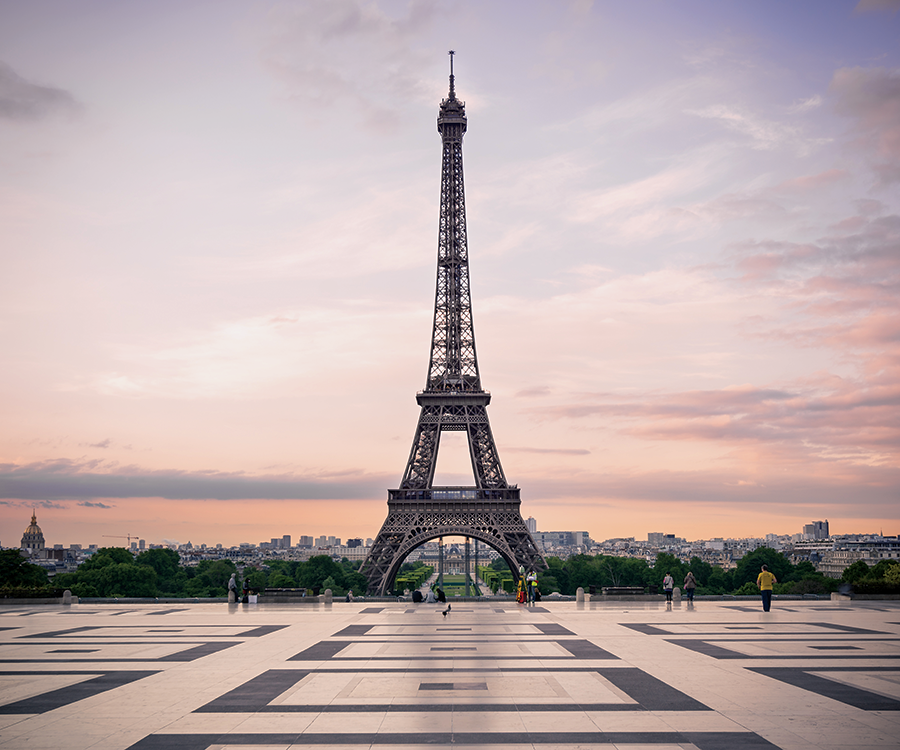 Top Left: The displays of chocolate at Patrick Roger rival those of a jewelry store. Bottom Left: The raisin bread at Poilane bakery is made from scratch and baked in the wood-fired oven in the basement every day. Right: The Pierre Herme pastry shop is home to rows of delectable and flavorful macarons. 


In researching fun things to do in Paris for an upcoming trip, I happened upon the website Paris by Mouth (parisbymouth.com). It offered a wealth of information on two of my favorite things: eating and drinking. I couldn't get enough of it and used it as a basis for making dinner reservations and seeking out lunch spots. But the thing that really caught my eye was food tours of various Paris neighborhoods led by knowledgeable foodies. I was hooked. Tickets go on sale three months in advance and tours are limited to about eight people. I set my calendar reminder to make our reservations since there were six people in my group, and we only had one day open to enjoy this Paris by Mouth service.
Starting with Sweets
Our perfect Paris day begins in the Saint-Germain neighborhood on the Seine's left bank in the seventh arrondissement (district). We meet our guide, Sara Garcia, in front of the Poilane bakery at 10 am. Sara, a Los Angeles native living in Paris the past five years, charms us with her smile and wonderful background story on Poilane. Pierre Poilane came to Paris in 1932 to make his signature sourdough loaves, not traditional baguettes. It was slow going at first, but he was committed to his product: a four-pound, round loaf made with stone-ground wheat and baked in a wood-fired oven in the bakery's basement. That oven is still in use, and the bread is still made the same way every time, every day. In addition to bread, Poilane makes these wonderful little butter cookies called Punitions as well as Viennese pastries, jellies and jams. Sara buys several slices of bread and a couple of apple pastries and tucks them into her bag.
Back on the sidewalk, she pulls a tray and knife from her bag and cuts the pastries into eight parts so we can all have a taste. What a clever woman, and what a delicious treat.
Sara leads us to our next stop, the Pierre Herme pastry shop. Looking more like a candy store than a bakery, the display case is absolutely gorgeous with delicately decorated pastries. Pierre, referred to as the Picasso of pastry, is best known for his macarons. And, oh my. These little morsels of goodness are like nothing we've ever had. Sure he makes all the traditional flavors, but he also makes some with a twist. Sara buys two varieties for us to taste—his sweet grass and hay flavor-of-the-month and his signature satine, a delicate mix of passion fruit, orange and cream cheese. Holy moly. Our eyes roll back in our heads and we may have made mewing sounds. These are truly nectar from heaven.
Now on a sugar high, Sara leads us to Patrick Roger, a chocolate shop like no other. In the glass front window a replica of Rodin's The Thinker is displayed. The three-foot statue is carved from chocolate! As we walk through the doors the thought crosses my mind, "Toto, I don't think we're at Russell Stover's anymore." If Pierre Herme's displays look like a candy store, then Patrick Roger's displays look like a jewelry store. Tiffany's to be exact. The accent color they use for display boxes and bags is every bit as elegant as the Tiffany blue, only Roger's is more a blue-green. It's rumored Patrick Roger eats 150 pieces of chocolate a day and after a taste or two, it's easy to see how. Sara buys a nice selection for us to take with us. 


Left: "Serge Cailland is one of Paris's most celebrated butchers and a frequent guest on French television cooking shows." Right: Marche Couvert is one of Paris's covered markets where you can buy anything from food to flowers. 


Market Fare
With our bread and chocolate in hand, Sara walks us to Marche Couvert, a covered market on rue Lobineau to get charcuterie and cheese.
These covered markets are popular throughout France. We fell in love with them on our trip and started dreaming about how we could get something like them in Springfield. The markets are typically open seven mornings a week, closing around 1 p.m. They are filled with privately owned booths, offering a single location to buy produce, meat, cheese, fish, bread, pastries, spices, et cetera—just like a farmers' market, only enclosed and open daily. 
As we stroll through Marche Couvert, marveling at the selection of fish, meat and cheese, Sara walks us over to Serge Caillaud's, Boucherie Au Belle Viande. Serge is one of Paris's most celebrated butchers and a frequent guest on French television cooking shows. One look at him and you understand why. You can tell he is a man who loves life and his craft. His smile is infectious. And although he doesn't speak English, Sara interprets for us while Serge hams it up (no pun intended) with one of the chickens from his case that still has its head and feet intact. Serge explains keeping the whole chicken helps maintain the bird's freshness. Sara buys a giant slice of rillettes, pork shredded to a consistency similar to pâté, as well as a portion of aspic containing chunks of ham, basil and shallots. Frankly, it looks a little daunting.
Next up is the cheese counter, which wraps around two sides of the booth. We've never seen so many different kinds of cheeses or known anyone who actually knows what they all are. Sara, an experienced foodie, knows her stuff and selects two goat, four cow and one sheep cheese for us to take away.
And then the time has come to enjoy our goodies.
As we walk through the door of La Derniere Goutte, a wine shop, Sara gives a big bonjour to Patty, the shopkeeper who leads us to a back room and situates us at a long table. Sara pulls our precious finds from her satchel and opens the first of three wines for us to taste.
We begin with a 2013 Sancerre Domain Sauterau, tasting it alone and then with two of the goat cheeses, Rouelle du Tam from Midi-Pyrenees and Bouchette Cendree from the Loire valley. Of the two, I preferred the latter.




One of the cheese counters at Marche Couvert features cheeses made from cow, goat and sheep. 


Our next wine is a 2013 Saint-Chinian Mas Champart "cote d'Arbo." Easy for Sara to say. For my part, let's just say it was a pretty color, smelled good and tasted better. We move from goat to cow cheese as Sara presents a Brie de Meaux from Ille-de-France and Epoisse from Burgundy. Then, the two different ages of Comte, one aged 15 to 20 years and one 12 to 15 years. That's a long time to wait to eat something, so we appreciate the commitment as much as the result. We remark that cheese just doesn't taste like this in the United States. Sara explains the pasteurization process required in the U.S. takes away a lot of the flavor.
Then, the charcuterie. Americans just aren't very adventurous in this department. Both the rillettes and aspic are good, but I don't think any of us are eager to buy more. Truthfully, they are just a gateway to the chocolate.
Sara opens a bottle of Banyuls Reserva Domaine de la tour Vielle, a sweet dessert wine that perfectly complements the chocolate, a rocher noir and a lemon-basil. It's a perfect way to end our tasting. And it is also time for the wine shop to close for the afternoon. (Most all retail stores close from 1:30 to 4 p.m.)

Au revoir, Patty! 

Sara has one final stop for us: Henri Le Roux, a chocolate and caramel store. It is said Henri is the first to put salt and caramel together. We are so very glad he had that insight. We load up on his delicious chocolate and caramels and then say our thank yous and goodbyes to Sara, a most wonderful and knowledgeable guide. 
Shopping for Dessert
The Saint-Germain area is a shoe mecca, making it difficult to walk down any street without prolonged window shopping. That's okay since many shops are closed for siesta, or whatever the French call their afternoon break. No worries, though, because the famed and revered Bon Marche department store is open for business! 
Bon Marche is truly a feast for the eyes. It's the most beautiful store I've ever seen. Strolling through the boutiques is similar to strolling the Champs Elysees, sans traffic, in that all the designer stores on the Champs Elysees are represented at Bon Marche: Dior, Louis Vuitton and, of course, Chanel, among all the rest. And when you get tired of looking at beautiful clothes, shoes (oh, you should see the shoe department!), handbags and jewelry (as if!), wander over to La Grande Epicerie de Paris, the market adjacent to, but still part of, Bon Marche. It's here you'll work up another appetite as you peruse the beautiful displays of produce, pastries, cheese and wine. Even displays of grocery items such as canned goods and dairy are beautiful. And, if you are in need of a pick-me-up, you can sit and enjoy an espresso or aperitif. In fact, you can eat an entire meal there if you wish, but don't because you have cosmetics to buy.
Assuming you love cosmetics, and especially if you love French cosmetics, Citypharma is your Mecca. At the corner of rue du four and rue Bonaparte, you'll find brands such as Laroche Posey, Avene, Claudelie and Uriage for 20 percent less than anywhere else in Paris. Locals and tourists from all over the world come here to stock up.
Now, it's happy hour and time to rest your feet and whet your whistle at one of the area's wine bars, of which there are plenty. One in particular to check out is Freddy's on rue de Seine. If possible, grab a seat at the bar, ignore the menu and ask the bartender for a recommendation. Freddy's is a tiny little place, which makes it all the more fun. Plus, it is perfectly situated between two restaurants for you to choose from for dinner. All are owned by the same people. Semilla is next door and Fish is across the street. We chose Semilla and treated ourselves to the chef's tasting menu with wine pairings. 
Delectable. And, a perfect ending to a perfect Paris day.
Plan Your Tasty Trip
Is your mouth watering for a vacation as delicious as this one? Start by planning your own excursion with the company that organized and led the tour Joan Whitaker and her travel companions took:
Paris by Mouth
(parisbymouth.com). If you simply want to recreate Joan's trek, here's 
a list of contact information for the restaurants and spots she stopped at along the way.
Poilane
8 rue du Cherche-Midi, Paris 75006
33 0 1 45 48 42 59
poilane.com
Pierre Herme
72 rue Bonaparte, Paris 75006
pierreherme.com
Patrick Roger
108 boulevard Saint-Germain, Paris 75006
patrickroger.com
Marche Couvert
14 Rue Lobineau, 75006 Paris, France
33 1 43 26 01 44
La Derniere Goutte
6 Rue de Bourbon le Château, 75006 Paris, France
33 1 43 29 11 62
ladernieregoutte.net
Henri Le Roux
1 rue de Bourbon le Château - 75006 PARIS
33 1 82 28 49 80
chocolatleroux.eu
Bon Marche Rive Gauche
24 Rue de Sèvres, 75007 Paris, France
33 1 44 39 80 00
lebonmarche.com
La Grande Epicerie de Paris
38 Rue de Sèvres, 75007 Paris, France
33 1 44 39 81 00
lagrandeepicerie.com
Citypharma 
26 Rue du Four, 75006 Paris, France
33 1 46 33 20 81
pharmacie-paris-citypharma.fr
Freddy's
54 Rue de Seine, 75006 Paris, France
Semilla
54 Rue de Seine, 75006 Paris, France
33 1 43 54 34 50
Fish La Boissonnerie
69 Rue de Seine, 75006 Paris, France
33 1 43 54 34 69