Reviews
Civil Kitchen & Tap on Park Central Square
Another option for eats, drinks and patio dining on Park Central Square is serving up everything from brunch to late-night fare.
By Katie Pollock Estes
Mar 2016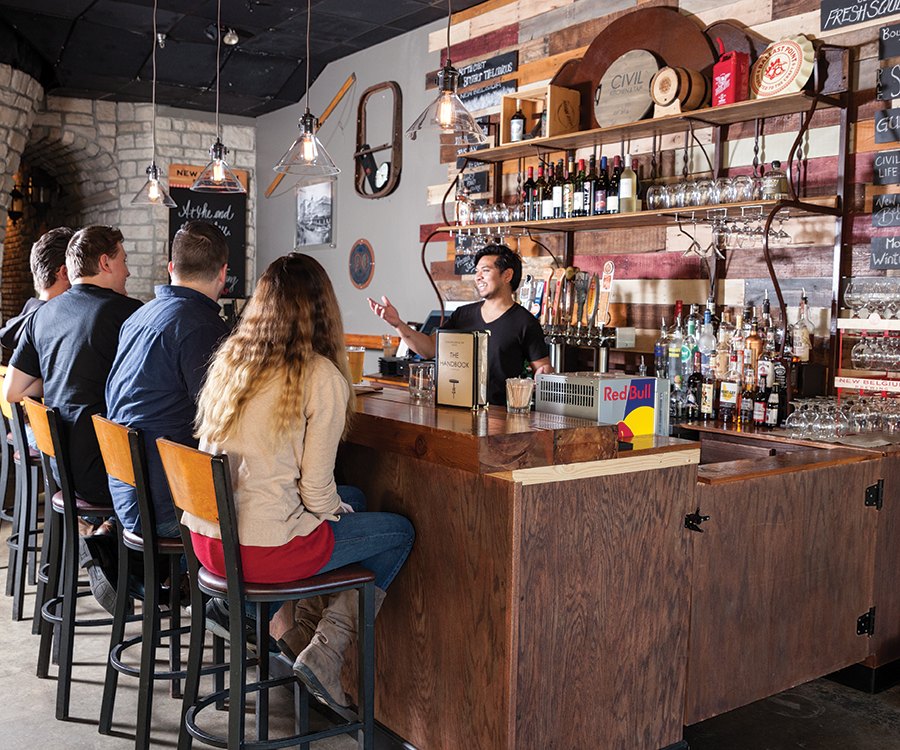 Waffles are totally a thing right now.

We keep seeing them on menus around 417-land, often creatively topped, and it's a sweet trend we have no problem getting excited about. And waffles are just one of the things you can find on the menu at Civil Kitchen & Tap, the restaurant at the southwestern edge of Park Central East where Trolley's used to be. They bill themselves as a spot that offers "a Midwestern spin on your favorite classics." What does that mean? Well, if you spend a sec looking over the menu, you'll see things like a petit filet that's served with gouda mashed potatoes, a seafood broil served up on Saturdays only, some trendy apps like deviled eggs and fried green tomatoes, and some unexpected edible animals like fried frog legs.
And to continue that waffle trend, the menu has a little section with a handful of creatively topped waffles that you can pair with homemade sauces and gravies. Things like the vanilla bean and cinnamon gravy (I'd get that on the Hella Nutella waffle) or the habanero and honey syrup (which might be a fun topper for the chicken and waffles).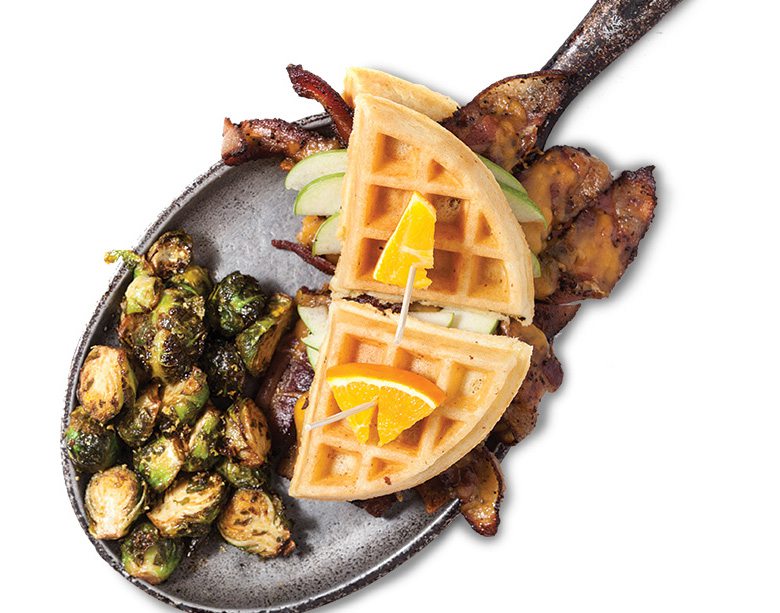 Photo by Brandon Alms
Rather than bread, Civil's bacon, apple and cheddar panini is served on a Belgian waffle. For an extra tasty side, try the crispy Brussels sprouts.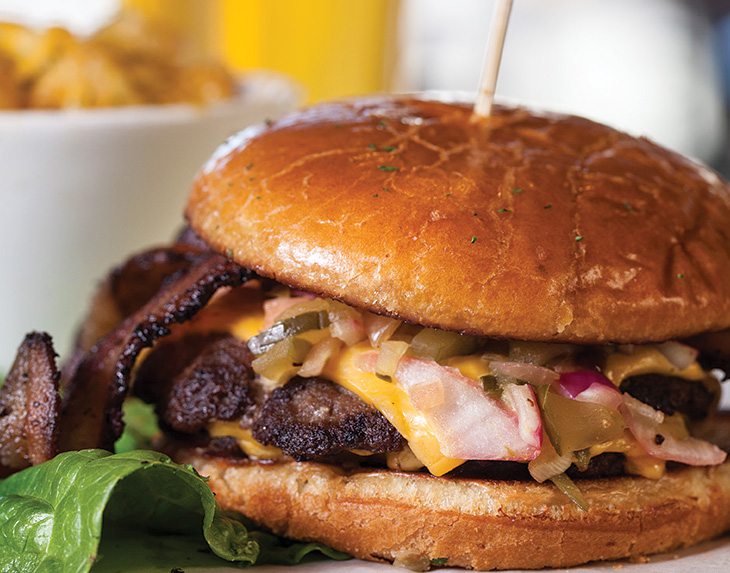 Photo by Brandon Alms
Served on a brioche bun, the Chef's Burger at Civil Kitchen & Tap comes with two beef patties, bacon, American cheese, onions, homemade pickles and Civil Sauce.
But it was lunchtime when I stopped by with my friend, Dori Grinder, to try Civil Kitchen & Tap out for the first time, and I wasn't in the mood for a waffle. We sat down to check out the menu, and although the restaurant wasn't full, it had a steady stream of folks coming and going during our extra-long lunchtime chat. 
In the mood for something utterly unhealthy, I ordered the Chef's Burger. It comes with two beef patties, bacon, American cheese, a barbecue-like Civil Sauce, onions and homemade pickles stuffed inside a brioche bun. This was definitely an indulgent sandwich—one that kept my napkin in frequent, much-needed use. After a few bites, I had to pick up my fork and knife. It was that kind of burger. And the house-made pickles were a nice touch that was way more satisfying than a floppy Vlasic. While the burger was so juicy it was practically dripping, I wasn't a big fan of the bun that was just way too greasy for me. 
And just so I could make sure that there was absolutely nothing good for me on my plate, I got the smoked mac and cheese as my side. Fat cavatappi pasta (one of my favorite noodles, especially for saucy meals) floats in a thick and smoky cheese sauce with plenty more stretchy, ooey-gooey cheese on top. This rich side dish was my favorite thing on my plate. I said I had ordered it just to try it, but I ate every last noodle.
Dori's sandwich was a little funkier. She got the bacon, apple and cheddar panini. A tasty combo of fillings for sure (especially since the apples were tart Granny Smith slices), they were made a little unusual by being served inside a crispy Belgian waffle. Yep, a whole waffle in place of bread. I didn't try a bite of her sandwich, so I can't review it. But I did notice that it looked way too light on the fillings for something surrounded by that much thick waffle. But the waffle did look delish. Dori said the sandwich was not particularly flavorful compared to her side dish: the crispy Brussels sprouts. I definitely dipped my fork into her Brussels sprouts a couple of times, and they had a very bold flavor with lots of zippy vinegar and a nice, light crunch. She loved them, and so did I. I actually kind of wished I'd ordered them as my side, but I was still pretty darn satisfied by my little bowl of carbs and cheese.
Our server offered us dessert (monkey bread, chocolate mousse or creme brulee), but we had to scoot. Maybe on our next visit, a sweet treat will be the perfect meal ender.