Health
Sip and Shavasana at Cellar + Plate's WOGA
Wine plus yoga? Why not! Now you can nourish your body and soul at Cellar + Plate's new yoga class.
By Ettie Berneking
Mar 2018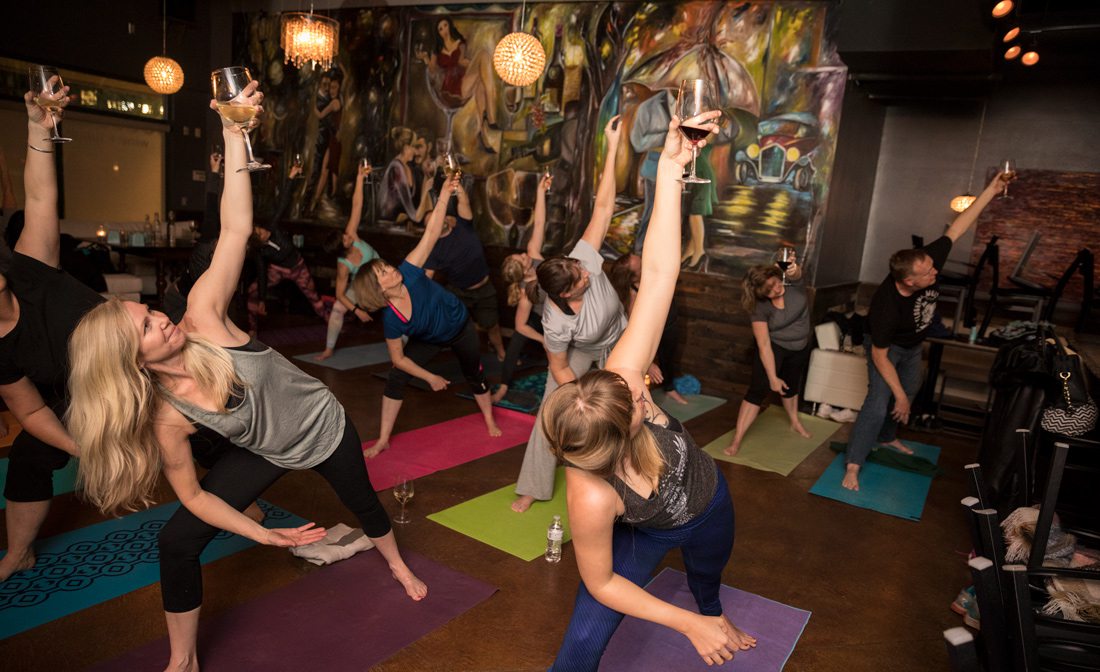 I still remember the first time I tried yoga outside the comfort of my living room. It was humiliating. Most of the 90 minutes were a painful reminder of how inflexible I was. I could barely touch my toes, and my tree pose was rocked by a hurricane of imbalance. For someone who bikes and runs, the struggle to simply keep my arms lifted above my head was a real hit to my ego. It took a solid two months of hot yoga, where my lack of experience was hidden in a shroud of dimmed lighting, before my teetering stopped and my tightly wound muscles relaxed. When I heard about WOGA at Cellar + Plate—a weekly yoga practice that incorporates wine into the flow—all I could think was, "You've got to be kidding me!" Here I was struggling to perfect standing lotus while other yoga newbies and pros were drowning their daily stresses with some vinyasa and merlot. If focusing on my breath could improve my yoga flow, surely a glass or two of vino could bump me from introductory to intermediate yogi.

The Venue 
Ever since Cellar + Plate (2916 S. Lone Pine Ave., Springfield, 417-894-2003) first opened, owner Mary Guccione has embraced the unexpected. Yes, you can stop by for wine and tapas or settle in and have a full-blown dinner, but you can also take a cooking class and enjoy a drag show during brunch. So, when Guccione's daughter, Alexis, asked if she could host a yoga class inside the wine bar, Guccione didn't hesitate. "I'll pair anything with wine," she says. So far, the pairing has been a hit.
The WOGA classes started in January and take place each Monday and Friday. By mid-January, the class was at capacity with more than 30 new and seasoned yogis spread out across the floor. To make room for yoga mats and the requisite wine glasses, tables and chairs are pushed to the side and stacked out of the way. Lights are dimmed, the heat is cranked up, wine is uncorked and incense is lit.

Having only stopped in for wine, I wasn't sure how Cellar + Plate's moonlighting as a yoga studio would go over, but I was impressed. The space was welcoming and calming, especially once I had a glass of zinfandel in hand. This might have been my favorite part of the night. Mary Guccione and Alexis didn't hold back. With yoga mats in place, guests had a selection of Chianti, merlot, zinfandel, sparkling Italian white wine and even mini bottles of prosecco. These weren't wimpy pours either. Halfway through Alexis's hour-long flow, I was feeling tipsy, but this time it wasn't because of my lack of balance.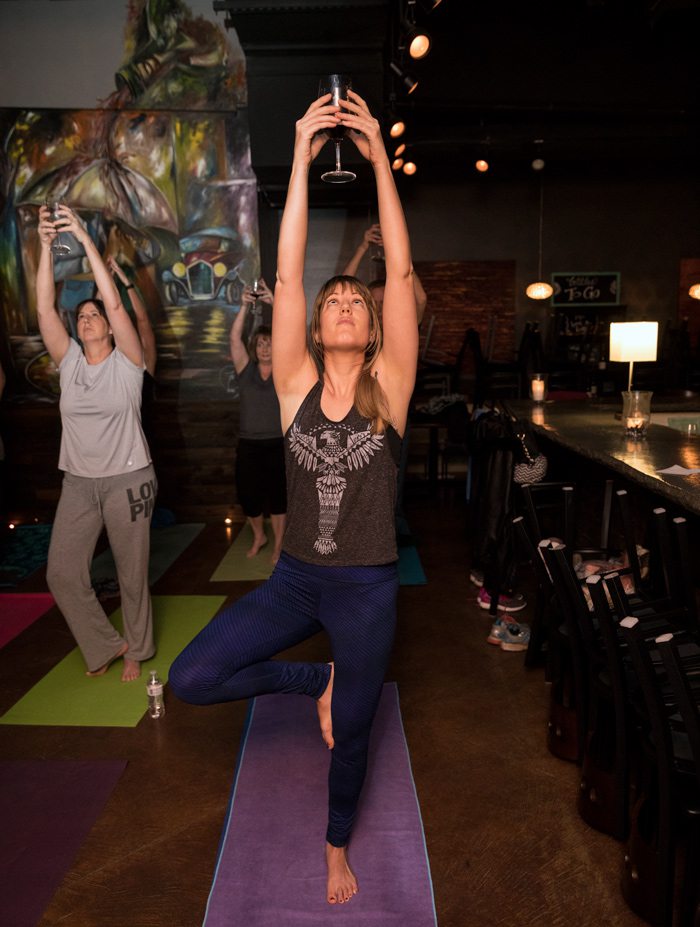 The Workout
This class is perfect for beginners. Not only does the wine calm your nerves, but the flow itself is wonderfully approachable. Alexis daylights as a massage therapist, and her yoga class is a gentle vinyasa great for stretching sore or rigid muscles. "Even the seasoned yogis love to stretch out with a gentle class," she says. Alexis herself is relatively new to yoga and was certified to teach one year ago. Like so many other yoga converts, Alexis was looking for more mental clarity and found it on her yoga mat. "I found that after a couple glasses of wine, I just craved being on my mat," she says. "It was all I wanted to do. Being a little loosened up makes it easier to get into some of those positions."

I can attest to that. Before Alexis' class, I was struggling to hold crow pose, but deep into my second glass of wine, I had no trouble at all. Advanced poses like crow were encouraged throughout the flow, but more relaxing stretches and balancing poses made up a bulk of the hour. To incorporate the wine glass resting at the top of each yoga mat, Alexis worked in what she calls "sipportunities." Sometimes they happened as we held a pose and let our muscles really deepen within the stretch, but other times, Alexis would pause for a water or wine break, another sipportunity. As wine glasses emptied, yogis discreetly tiptoed to the back of the room for a refill before meeting the rest of us back in warrior 1.

The Effects
It might come as a surprise, but it's actually quite difficult to balance a glass of wine in one hand while sinking into warrior pose or balancing in tree pose. I teetered and wobbled trying to balance my wine, but sometimes those moments of instability presented themselves as sipportunities, and I enjoyed each one. There was a levity to WOGA that made the class less intimidating and allowed me to focus more on relaxation. For some hard-core yogis, blending your flow with wine might seem counterproductive, and Alexis understands. "This class honors and respects the sacred meaning of yoga," she says. "But it's okay to take it lightly and laugh and have fun while you're doing yoga. Wine and yoga feed your soul, so why not enjoy them together?" After a busy Monday, I couldn't have agreed more. WOGA was exactly what I needed. It was fun, challenging and enjoyable.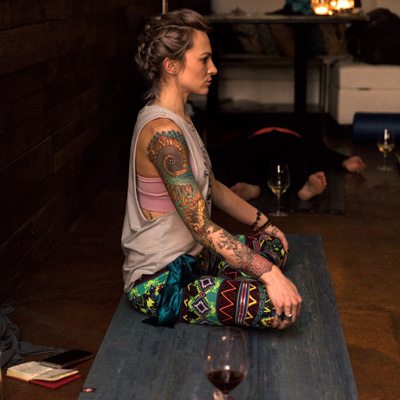 WOGA at Cellar + Plate
Alexis Guccione leads the hour-long WOGA flow at Cellar + Plate.
Beyond the Grapes: The class costs $10 and is a gentle vinyasa yoga flow held Mondays at 6 p.m. and Fridays at 10:30 a.m.
Breathe Deep: Don't forget to focus on your breath as you focus on not spilling your wine!
Sip and Flow: You don't have to wait for Alexis to announce sipportunities. Enjoy your vino throughout your flow.
Sampler Pack: Alexis and Mary Guccione select different wines for each class, so be sure to try them all.