Profiles
12 Questions with Ashton Lewis
The master brewer at Springfield Brewing Company started out helping design the equipment for the brewery. Now he's been creating beer in 417-land for 16 years.
By Jessica Covert
May 2014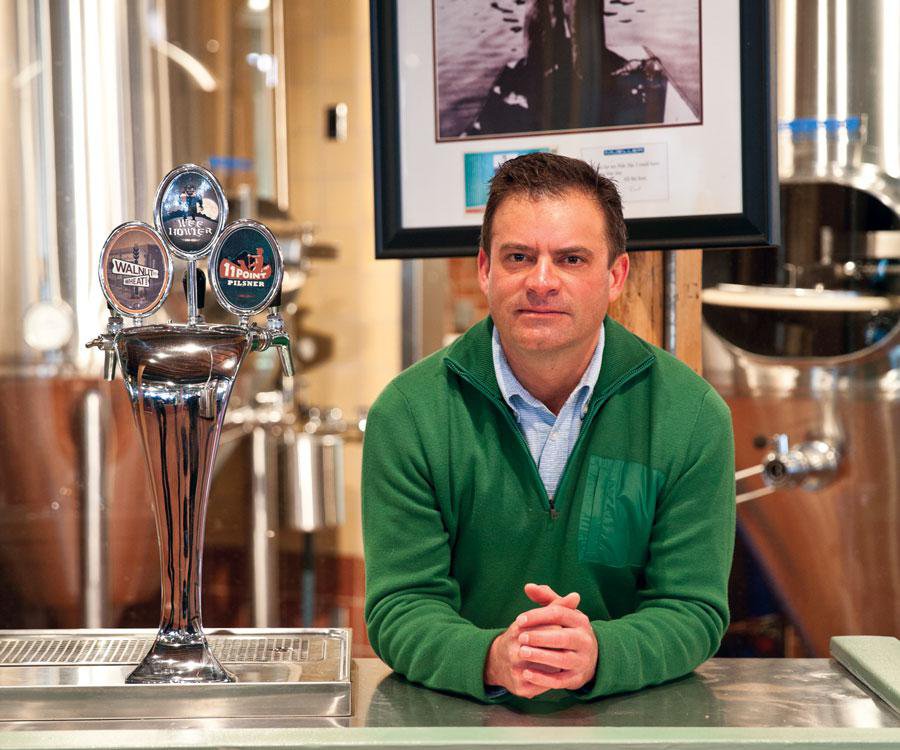 Beer is something that Ashton Lewis knows well. His day job is at Paul Mueller, but he's also been the master brewer at Springfield Brewing Company since it opened in 1997. Lewis is now one of the partners who owns the popular downtown Springfield brewpub, and he's still the talented mastermind behind the 55,800 gallons of beer the place is expected to brew in 2014. Get to know him here, then go try one of his tasty creations.


417 Magazine: What's your job title and role at Springfield Brewing Company? 
Ashton Lewis: My job title is master brewer, and my primary role is overseeing the brewing operation. My real contribution to the effort is recipe formulation.


417: How did you get started brewing? 
A.L.: I got started as a home brewer in high school. My best friend and I grew up in Maryland, and we started home brewing between our junior and senior year of high school. When I had to choose a major, I had decided I wanted to be a brewer, and I decided to major in food science. I applied to graduate school at University of California–Davis, which has a brewing program in the department of food science. 


417: What kinds of things do you get to create day to day? 
A.L.: The way I create recipes is in writing. A beer recipe starts out with an idea. It's a concept of what we think the beer is going to look like in terms of color, what the alcohol content's going to be, what the bitterness level is and what the aromas are going to be. I use math to calculate different grains that we're going to use to get the alcohol content and color we're after. It's a combination of imagination and using brewing science. And honestly, a lot of that comes with experience.


417: Do you ever have to go back to the drawing board after you've tried a beer? 
A.L.: The weird thing about beer is you can't really do that. When you're making spaghetti sauce for example, let's say you start out with the basic recipe and then you taste it and you're like, 'Well, it needs more oregano,' then you add more oregano. You can do that with cooking, but with beer, we start out with the raw materials for beer and then the yeast transforms the sweet liquid into beer during fermentation. Once the beer is made, there's not a whole lot we can do to go back and change anything. That's why it's so important to get it right up front.
 
417: What's Springfield Brewing Company's most popular beer? 
A.L.: Paul's Pale Ale.


417: You're also an editor for Brew Your Own magazine, right?
A.L.: Correct. I don't really have a life outside of beer.


417: What does that entail? 
I do that mainly on the weekends and after work. As a technical editor, I read articles to make sure that there's nothing in the articles that's a factual misnomer or factually incorrect. I also write a Q&A column.


417: Do you have a favorite microbrew? 
A.L.: I think if you ask any other person who does what I do, they would tell you that all of our beers are kind of like kids, and it's kind of hard to have a favorite because they're all things that we formulate, and they kind of have a life. I like a lot of different beers.


417: Do you have a favorite non-local microbrew? 
A.L.: I think Boulevard Brewing Company does just a great job with all of their beers. A lot of their specials in the series called the Smokestack Series are really nice. A slightly newer brewery is the Urban Chestnut Brewery up in St. Louis.


417: What's your favorite beer adjective? Do you like hoppy beer? Sour beer?
A.L.: The hallmark that I find most appealing in any beer is balance. I strive for balance. Some sour beers are over-the-top sour, but a really good sour beer is going to have balance to it, and it's going to have a pleasurable taste and several components not just one being sour. With the beers here at Springfield Brewing Company, I aim for balance and drinkability. 


417: Have you ever had a brewing disaster? 
A.L.: I wouldn't say I've had a disaster. I've done a couple of things I haven't been real happy about. One year we did a spiced beer for Christmas, so it had cinnamon and cloves and nutmeg in it. I was on vacation, and I came back, and this beer had just come on draught. I tasted it, and it was way over-spiced. I was like, "We are not serving this beer," so we basically dumped it down the drain and had to replace it with something. That was the worst thing I have ever done here at Springfield Brewing Company. 


417: Is there a dream brew you'd like to make a reality at Springfield Brewing Company? 
A.L.: I do like sour beers, and sour beers are not the smartest things to be making in an operation because they can contaminate other beer. But one day I would like to have a sour beer program. That may or may not ever happen.