Profiles
Instant Karma Gourmet Hot Dogs
Meet Jason Miller, a New York-trained chef who returned to his hometown of Joplin and opened Instant Karma Gourmet Hot Dogs. Emphasis on gourmet.
Written by Matt Lemmon | Photos by Kevin O'Riley
Mar 2016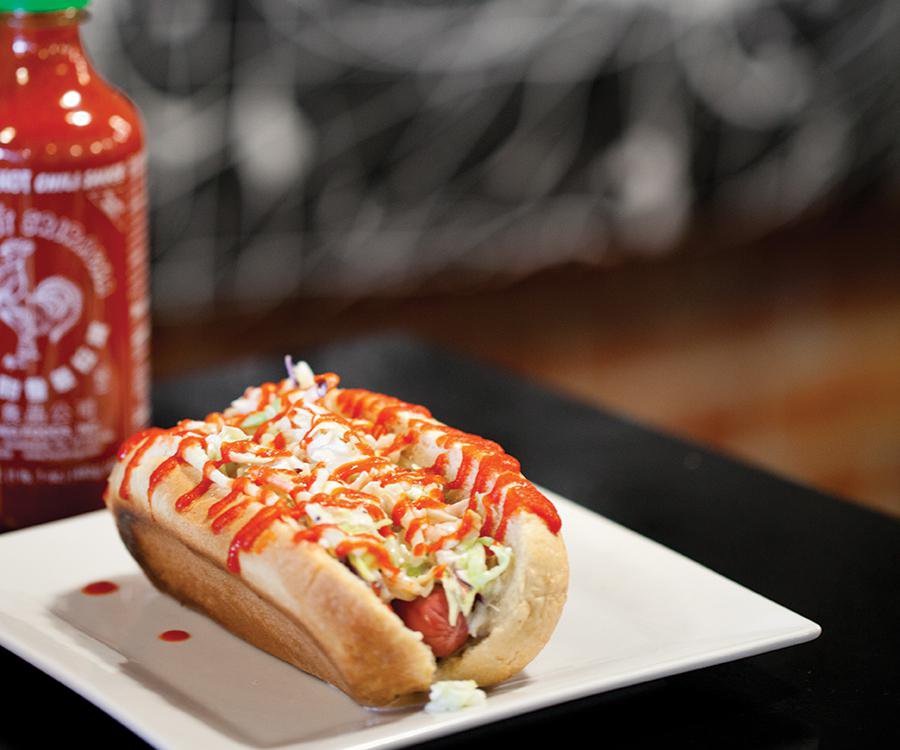 Peanut butter and jelly fries. Ostrich burgers. Meat candy corn dogs. The menu at any of Jason Miller's two Joplin restaurants—Instant Karma Gourmet Hot Dogs and Eagle Drive In—is enough to convince you that he's the Willy Wonka of classic American fare. But how, exactly, does a restaurateur decide to put giant tater tots and a crab rangoon burger on his menu, anyway? It helps to think like an artist. 
417 Magazine: How did you get your start in the restaurant business?
Jason Miller: I moved to New York in my 20s to go to art school, and I got into the restaurant business so I could go to school and have time to paint and make a living. But I'd been cooking my whole life. I was the kind of kid who when I was 10, I wanted a food processor for Christmas.
417: So where did the adventurousness of your menu come from?
JM: I think the creativity side comes from the art background, but I'm also pretty well-traveled. I've tried a lot of different foods, and there are no limits when I think about it.
417: Where did you work in New York?
JM: Tortilla Flats in Greenwich Village. I worked at Pacifico with Alan Harding, who had a cooking show for a while. They had several concepts all throughout Brooklyn. The inspiration for Instant Karma came from Crif Dogs, [a famous hotdoggery] on St. Mark's Place.




Jason Miller dreams up the next menu item in the kitchen at Instant Karma. 
417: How did Instant Karma get started?
JM: My wife and I always laugh about it. We say if you wanted to come to our house and make a cake in 2009 or 2010, you couldn't, because everything we owned was at the restaurant. We started with a line where we just yelled out your name when your food was up. Now we have put in a bar and have 30 beers on tap.
417: Where do the ideas for your menu items come from?
JM: It's a little bit of everything. I tell people to think of it as Method cooking: You go into the kitchen, and ideas happen naturally. I see things in magazines and think about things I ate when I was a kid, and the people who work for me bounce things around, too. Sometimes things come out of necessity. One time I ordered a big case of frozen pearl onions and only used one bag for a nicer dish. So the guys and I talked about doing a variation on the Bloomin' Onion. We fried these pearl onions…and people just went crazy for them.
417: How does a Midwest market like Joplin react to some of your more far out selections?
JM: A lot of the time I try to take an idea and put a southwest Missouri twist on it. Sometimes we do Cashew Calamari. On TV I saw kung pao calamari, so I just deep fried it and made a Springfield-style cashew sauce. I've always felt like I know what people want to eat.
417: Have you ever attempted something that just flopped?
JM: We've had ingredients like sweet breads, and those are hard to push here. We tried serving those with one of our beer dinners and had difficulty. I've also done foie gras, and that pisses a lot of people off once they know what it is.
417: What would you consider a "house favorite"?
JM: Probably our grilled cheese burgers. There's a series of them, but the staple is a cheeseburger with two grilled cheese sandwiches as buns. Our staple hot dog has to be the Philly Tubesteak—an all-beef dog with grilled cheddar cheese and sauteed onions and peppers.
417: What are your favorite dishes at your restaurants?
JM: At Instant Karma it's probably just our really good cheeseburger with the regular French fries. We use Springfield Brewing Company's pale ale for our cheese sauce. At Eagle Drive-In we have a really great blackened salmon with blueberry barbecue sauce. That, or the Spaghetti Red, which is a normal Spaghetti Red, but with our prime rib chili.
417: What do you make at home?
JM: My kids are 7, 9 and 16, and we'll grill up some skirt steak medium rare, pan-sear a couple of duck breasts and slice it all thin. Then we'll bake a wheel of brie and serve it with a French baguette, and asparagus or green beans on the side. We probably eat that three times a week.