Reviews
Gourmet Soufflé
Intimidated by the idea of baking a soufflé, the ultimate fancy-pants dessert? A new locally created instant soufflé makes it easier for non-pros to whip up the treat at home.
By Miranda McCabe | Photos by Jessica Kennon Spencer
May 2014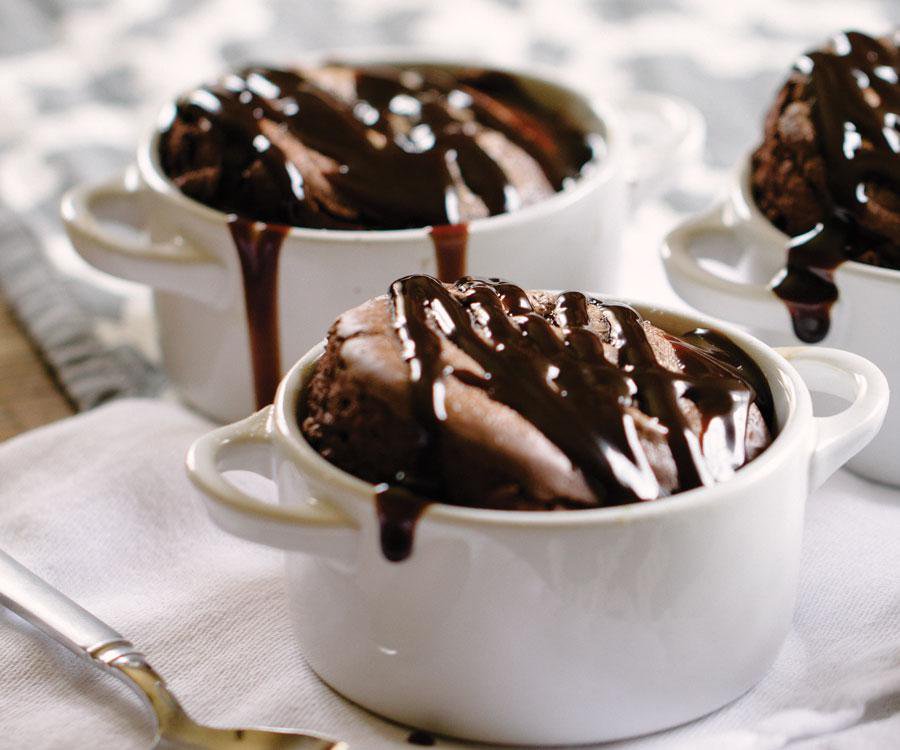 Fickle is a word that comes to mind when thinking of making a soufflé. In an effort to make baking the difficult dessert a bit easier, Springfield's Chef James Clary helped create an instant soufflé called Gourmet Soufflé. Locals probably recognize Clary's name—and have tasty memories of his famous soufflés.
"I sold my restaurant, and former customers asked where they could get my soufflé," says Clary, a partner and executive chef of Gourmet Flavors Group LLC that owns Gourmet Soufflé. "That's where I got the idea. No one has ever invented soufflé from a box."
In 2007, Clary asked the people at Gourmet Flavors Group if they would be interested in taking on this project. After five years of research and learning how to dehydrate egg whites, the product was created. "Gourmet Soufflé tastes every bit as good, if not better, than my original soufflé," says Clary.
All that it takes to make this classic French dessert is water. It takes three minutes to prepare and 9 to 10 minutes to bake in a convection oven. Inside the Gourmet Soufflé kit is a 10.5-ounce bag of instant chocolate soufflé mix, paper baking ramekins, chocolate sauce topping and baking instructions.

You can purchase Gourmet Soufflé at five Price Cutter locations in Springfield.
"It is so easy my kids could make this," says Natalie Stewart, director of operations at Gourmet Flavors Group LLC. "We joke around and say it is soufflé for dummies. You literally cannot mess it up, and they are absolutely delicious." 
Currently, the only flavor available is chocolate. And like your favorite restaurant soufflés, the dish is the consistency of a cake with a custardy texture through the middle. 
At last year's National Restaurant Association trade show, Gourmet Soufflé made the top 10 new products of the year according to Nation's Restaurant News. "This product is so unique," Clary says. "It has never been done. It is very rare that a new food item has been created. The invention of Gourmet Soufflé is as big as instant cake mix." 
The original purpose of this instant soufflé was to sell wholesale to restaurant owners and resale. "The resale route just took a little longer," says Clary. Eventually, Gourmet Soufflé wants to become global. Currently, they are looking at partners in Europe.
Buy it 
Find Gourmet Soufflé at five local Price Cutter locations or online at gourmetsouffle.com or amazon.com.