Trails
5 Best Walks to See Spring Flora and Fauna
April showers bring May flowers, so southwest Missouri is sure to be in full bloom this month. Grab your favorite trail buddy and start exploring one of our many local trails with great views.
By Adrienne Donica
May 2018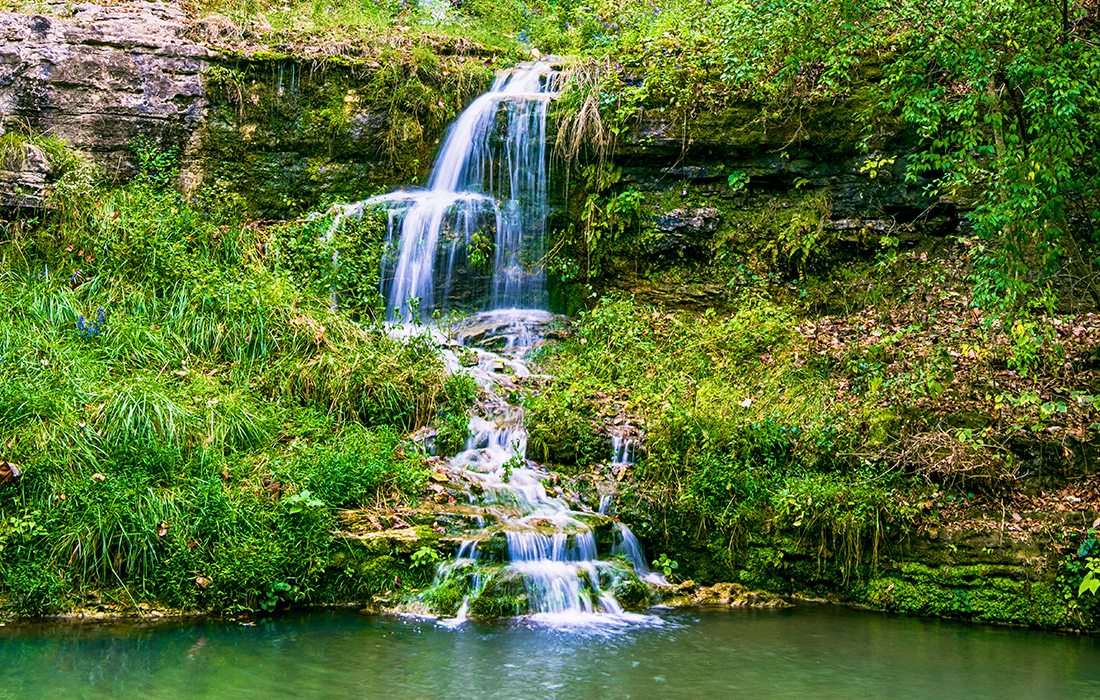 1. Dogwood Canyon Nature Park
2038 W. State Highway 86, Lampe, 1-800-225-6343, dogwoodcanyon.org
Go chase waterfalls, rainbow trout and more along Dogwood Canyon's 6.5-mile paved trail, and if you go early this month, you should still find some blooming dogwoods. Access to the trail is $10 for adults and $5 for kids 11 and younger in addition to the park entrance fee.
2. Frisco Highline Trail
Springfield trailhead, 3845 W. Kearney St., Springfield, 417-864-2015, friscohighlinetrail.org
There's plenty to see on Missouri's second longest rail-to-trail system, including several creeks, springs and the Little Sac River. Wildflowers and native flowering trees also line the 35-mile trail. At mile 32, don't miss La Petite Gemme Prairie, which has more than 300 plant species within its 37 acres.
3. Springfield Botanical Gardens
Nathanael Greene/Close Memorial Park, 2400 S. Scenic Ave., Springfield, 417-891-1515, parkboard.org/botanical
Stop and smell the flowers, specifically the irises and peonies, at the Springfield Botanical Gardens, before watching close to 30 species of butterflies flutter about at the Dr. Bill Roston Native Butterfly House, opening May 11. 
4. Hercules Glades Wilderness
Mark Twain National Forest, Bradleyville, 573-364-4621, fs.usda.gov
About an hour southeast of Springfield, the Hercules Glades Wilderness Area is the perfect place to spot critters such as roadrunners, rattlesnakes, collared lizards and more. Make sure to wear comfortable shoes as terrain on the trail is difficult in some places.
5. Prairie State Park
128 NW 150th Lane, Mindenmines, 417-843-6711, mostateparks.com/park/prairie-state-park
This state park, less than two hours from Springfield, is where the local buffalo roam. Spot the herd, which will likely include some bison babies, during a free guided hike on May 5. Advanced registration is encouraged; call the park office to make reservations.