Life
Listen Up: Hear Springfield's Siren Song
Beneath the noises of the city's hustle and bustle lies a curious, melodious babble of sounds—you just have to stop and listen.
By Susan Atteberry Smith
May 2018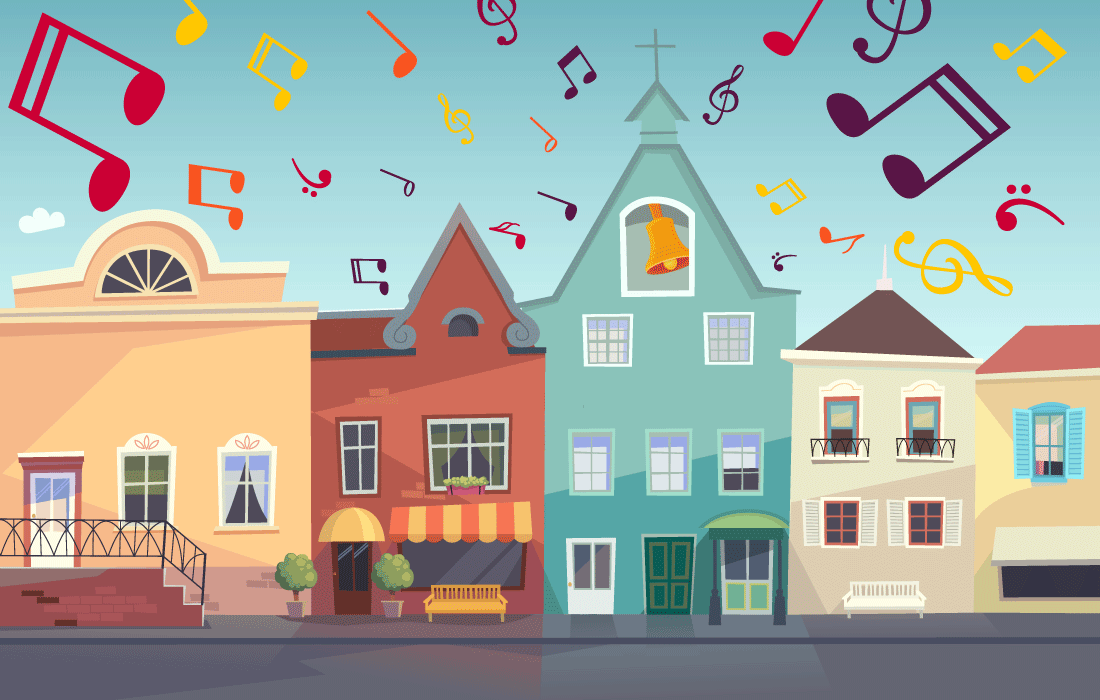 With a cacophony of other people's noise, on any given day, Springfield sounds like a typical city. There's the roar of freeway traffic, the bass thumping from someone else's car speakers at a red light. Somewhere, a jackhammer drums into concrete or a siren screams toward an emergency. Free adrenaline jolts—unlike espresso shots—abound. Yet for those who can stop and listen, so do more melodious sounds. 


Ringing in a New Day
At 6 a.m., bells around the world call Catholics to pray the Angelus, a devotion begun by Franciscan monks in 11th-century Italy. Carillon bells in the tower at St. Joseph Catholic Church on North Campbell Avenue don't play hymns until 9:30 a.m., but when they do, everyone in the rectory—from Father Denis Dougherty to the Monday morning coffee group—stops work to say the ancient prayer. Traditionally, Angelus bells ring at 6 a.m., noon and 6 p.m., "But we don't dare play it at 6:00 in the morning," Dougherty says with a chuckle. 
In his 18 years as parish priest, however, Dougherty has heard no complaints from neighbors about the thrice-daily repertoire of sacred music or the pealing of the church's original bells before Mass. "We think this reaches out to the neighborhood and shares the concept that God is with us, and there's a place in our life to remember that," he says. 


Music in the Air
Eight blocks north, when a pleasant breeze draws customers to tables outside Big Momma's Coffee & Espresso Bar on Commercial Street, more than traffic and street-level conversation meets their ears. Low, mellow tones float from two large wind chimes suspended above the sidewalk: They belong to Ms. Gilmore's Tea Room and Vintage Suitcase. "We have people sitting outside, and they'll say, 'Oh, how delightful,'" says Big Momma's owner Lyle Foster. "It's soothing, it's melodious, and I can just feel like I'm in a different place and time."
Even when the chimes clang on windy days, Foster doesn't mind. C-Street was "dead silent" when he opened his cafe before the street's revitalization. "All of it's really refreshing today because it symbolizes life and creativity and all that," he says. 


Mid-Day Concerts
As noon carillon bells play and St. Joseph Academy students stop to pray the Angelus, yet another open-air concert starts at Missouri State University. Music from the 48 bells of the Jane A. Meyer Carillon has resounded on campus during lunch hours and summer concerts since University Carillonist Jeremy Chesman came to MSU in 2002. 
Yet carillons—and carillonists—are rare. MSU's is one of two carillons in Missouri; Concordia Seminary in St. Louis houses the other. Chesman, who has studied with some of the best and performed throughout Europe, guesses he's one of a few hundred carillonists in North America. Still, the professor enjoys his anonymous recitals, mixing popular songs with less familiar compositions to connect with listeners he can't see from his perch in the Meyer Library tower. "Nobody knows who's up there, and I don't know who I'm reaching," Chesman says. "But sometimes I'll run into people on campus who say, 'Oh, I heard this last week, and this was a song my mother used to sing to me, and it was so nice to hear that song.'" 


Nature's Surround Sound
Spilling from pond to pond, water becomes a waterfall. Wind rustles through bamboo; birds sing. The Mizumoto Japanese Stroll Garden is an ideal spot within the Springfield Botanical Gardens at Nathanael Greene/Close Memorial Park to hear the music—and quiet spaces—of nature. 
During weekend park events attracting as many as 10,000 visitors—April's Cherry Blossom Kite and Piñata Festival, June's Butterfly Festival or September's Japanese Fall Festival—the stroll garden is crowded. Most days, though, only 20 or 30 may visit, says Springfield Botanical Gardens Coordinator Katie Keith. "For the most part, that really is kind of an isolated garden, and if you come on a non-festival day, that is probably the most peaceful spot in the park," she says. "In some cases, you have almost seven-and-a-half acres to yourself." 
With a prison shooting range nearby, even the stroll garden isn't perfectly peaceful. Yet "calming, soothing sounds" usually prevail, Keith says, and "just being in fresh air probably lowers your heart rate, calms you down, connects you with other organisms in the universe that maybe you wouldn't experience if you stayed inside all the time." 


Five O'Clock Bells
In the St. Joseph rectory hangs a print of The Angelus, painted by Jean-Francois Millet in 1859: Standing in a field at twilight, beside a pitchfork and harvest basket, a man and woman bow their heads in prayer. 
As day workers leave downtown offices, hymns play once more from the church tower. "One lady called and said, 'Thank you for the bells. I listen to them on the way home,'" Dougherty says.  
Such sounds modulate the noise of the city. "It's nice, I think, to hear some kind of organized sound that makes the world a little bit more beautiful," Chesman says.