Dishes
Banh Mi at Bambu Vietnamese Cuisine
Plus six other things that passed the test of our taste buds.
By The Editors
Nov 2012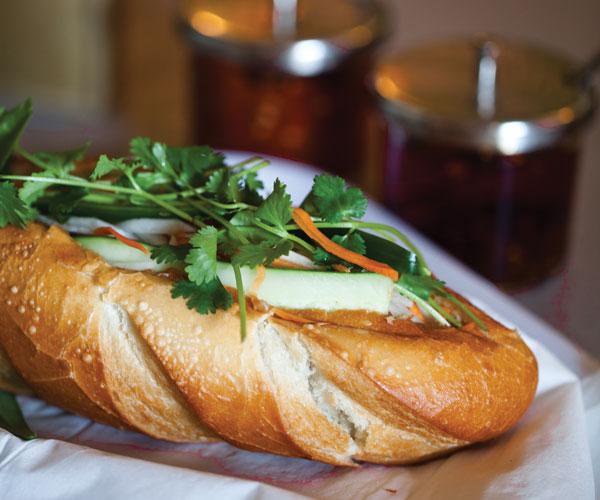 1. We're loving the new banh mi sandwiches at Bambu Vietnamese Cuisine (1338 E. Battlefield, Springfield, 417-881-9881, springfieldbambu.com). They are big, full sandwiches packed with pork, pickled carrots and radish, pate and more on a crispy-chewy baguette. Plus there's a barely there punch of flavor from a thin, light tomato-based sauce that's a little sweet. The spicy fresh jalapeños and bright fresh cilantro are the icing on the cake.
2. When we're hungry for a simple pizza, we gravitate toward the Eros pizza from Arris Pizza (1332 N. Republic Rd., Springfield, 417-881-7260, arrispizzaonline.com). It has just two toppings–slices of fresh roma tomatoes and chopped fresh basil leaves. But the two go perfectly together.

3. The Billy BBQ Beans at Billy Simm's BBQ (3757 S. Glenstone Ave., Springfield, 417-883-7467, billysimsbbq.com) are the perfect blend of smoky and barbecue flavors. Our favorite part: They are packed with chunks of tender pulled pork.
4. A new favorite appetizer is the Tyler T at Metropolitan Grill (2931 E. Battlefield, Springfield, 417-889-4951, metropolitan-grill.com). It's a spicy combination of beef short rib nachos topped with gorgonzola cheese, a Patron demi-glace and apple and jicama salsa. Sounds odd, but the combination of flavors is awesome. 
5. We can't get enough of the spinach and artichoke ravioli at J. Parrino's Queen City Deli (1647 E. Sunshine St., Springfield, 417-887-1148, queencitydeli.com). The spinach pasta is stuffed with a super-creamy and cheesy artichoke filling and topped with a tart marinara sauce. It's great with the house side salad.
6. Mijuri Sushi Bar & Grill (2710 S. Campbell Ave., Springfield, 417-889-9593) is now serving Korean kalbi short ribs, and they are delicious. The meat is super-tender and just a little sweet from a light application of sauce. We have trouble ordering anything other than sushi at Mijuri, but this just made it onto our must-order list.
7. The freshly caught blackened trout entrée at Rockbridge Trout Ranch (1 County Road 142, Rockbridge, 417-679-3619, rockbridgemo.com) has two big trout filets topped with a seasoning that has just enough kick to add great flavor without winding up too salty. It's delish.