Profiles
An Artist's Studio
By Savannah Waszczuk | Photos by Brandon Alms
Nov 2014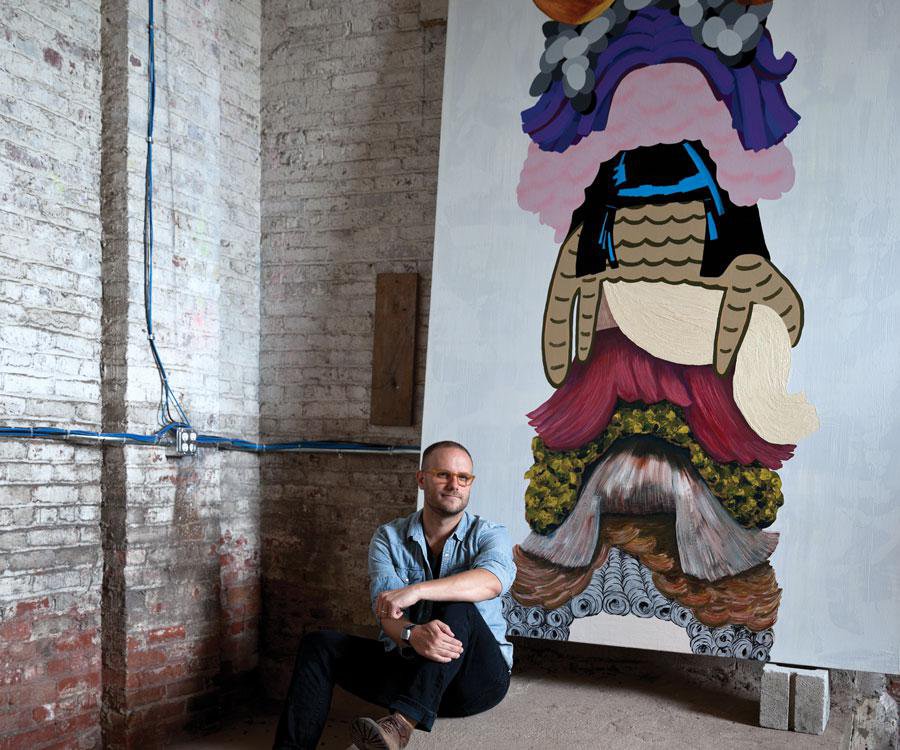 Visual artist Jeff Broekhoven recently received his Master of Fine Arts in painting from the University of Wisconsin—Madison, and he sells his work around 417-land and all across the country. Broekhoven currently teaches classes at Missouri State University and Drury University, and he also works as an art consultant. We invited ourselves to his downtown Springfield studio to see where the creative magic happens.
A Place to Call Home
Broekhoven's art studio is located in a raw, unfinished warehouse-style building in downtown Springfield. The bare brick walls enclose the massive space, which stands proudly with 25-foot ceilings and a few large timber beams. It might look a little rough to the untrained eye, but this blank canvas is perfect for Broekhoven. "I think artists are often attracted to unfinished spaces," he says. "My work is messy. This spaces allows me the freedom to make a mess."
Large and in Charge
"The sheer scale of this space complements the scale of my work," Broekhoven says. With paintings that regularly measure in at 8, 9 and even 12 feet high, the towering ceilings and spacious floorplan give Broekhoven ample room to create large-scale artwork. "I usually start with smaller study paintings, sketches and digital collages composed from images of previous paintings and appropriated images. When it's time for the large painting, I project the upscaled images on the canvas and trace it on with a pencil.
Spaced Out
In addition to its high-towering walls, the studio contains three large rooms, which is perfect for Broekhoven—he uses one as a gallery space, and he uses another as a workshop to stretch his canvases. "I build my own stretchers and stretch my own canvases," he says. The third room is used for storing many of his tools and painting.
Custom Tools
A huge wooden table stretches along a studio wall near one of Broekhoven's latest projects, and it's completely covered with custom-cut stencils, hand-made paintbrushes and a variety of other impressive tools Broekhoven uses to create his art. "I would say that I'm a painter who makes marks and paints with a lot of untraditional processes," he says. Creating paintings regularly includes a large list of tools such as painters tape, custom-made stencils and even hand-made brushes. "I needed a 10-inch-wide brush to get a single mark on a recent painting, so I put together my own using three smaller brushes," he says. 
It's All in the Bag
In addition to his custom-made tools, Broekhoven relies on an ever-growing collection of tried-and-true brushes. "Right now, most of my traditional brushes are soaking in Dawn dish soap waiting to be cleaned," he says. "I'll admit that I don't always clean them off right away, so the cleaning process  often ends up taking me way too long."
Paints for Many Processes
Broekhoven doesn't only have paints in nearly every color imaginable—he also has paints in many varieties. "On this project, I used acrylic, oil, oil enamel and spray paint," he says of one of his latest works, Big Wigs. "I often start in acrylic and finish in oil." 
Lively Creations
"I want my work to be a little awkward, but also very lighthearted and even hilarious," Broekhoven says. "I try to couple seriousness with bright playfulness." This is evident in many of his pieces, which you can often see hanging around his Springfield studio.
Hungry for more?
Broekhoven is currently represented as a gallery artist with Obelisk Home. Visit the store to see more of his work, or check it out online at jeffbroekhoven.com