Health
Cox Medical Center Branson
The new emergency department at Cox Medical Center Branson features tons of state-of-the-art bells and whistles for its patients, including pretty Ozarks views through the windows.
By Kelsey Berry | Photo by Brandon Alms
Nov 2014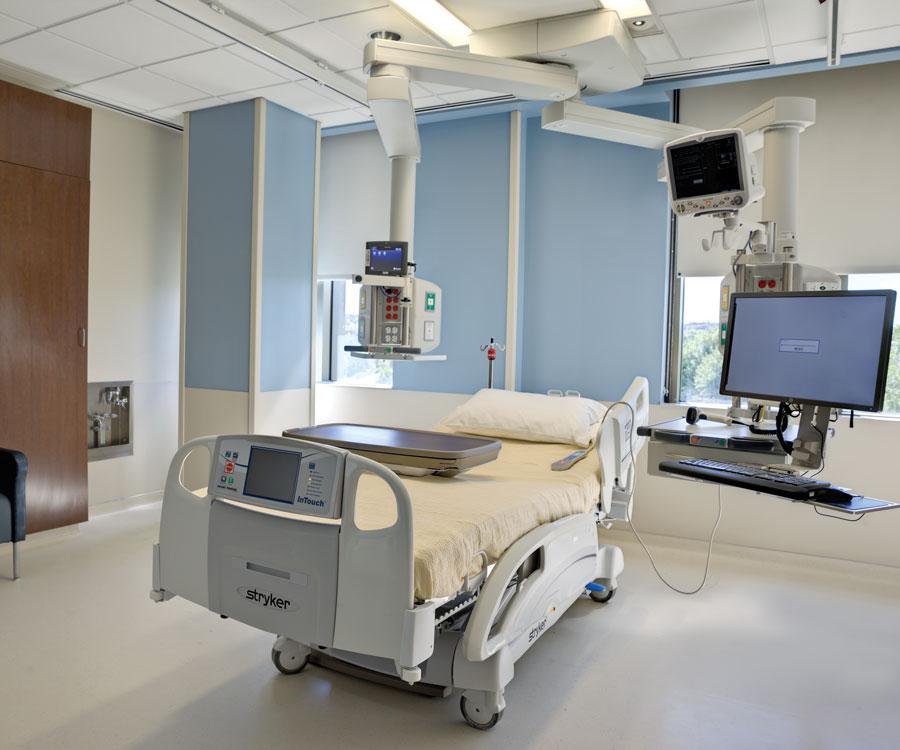 Cox Medical Center Branson revealed its new state-of-the-art emergency department and critical care unit September 12 with a community open house event.
Construction on the $30.8 million, 60,000-square-foot project kicked off last September, and the addition is leaps and bounds above the old one. It provides more space, increased convenience for staff and enhanced patient-driven care.
Lynne Yaggy, RN, VP of clinical services, says the center's needs were addressed with the expansion and renovation project.
"When we looked at our critical care space, it was always being maxed-out with patients, so we knew we needed more space. But we also needed appropriate space," Yaggy says. "I think that's really what this building represents—having the right space at the right time. Buildings change, demands change, and your population changes. This is a direct result of that."
Misty Denevan RN and director of emergency services and critical care, says the old emergency department served about 37,000 patients each year, and the new facility allows care providers to serve about 55,000 to 60,000 each year. 
The Critical Care Unit opened in 1973 with just four beds, and the emergency department in 1992 with four exam rooms. 
Today the 34 exam rooms, 20 critical care patient rooms and five rapid treatment rooms, where care will begin right away, provide faster and improved patient care.
The new critical care patient rooms are almost twice as big as the original ones, and the beds are able to be turned so patients get stunning views of the Ozarks from their rooms.
"Patients spend a lot of time here," Denevan says. "A lot of them are tourists and travelers that come here to see the beautiful Ozarks. So at least we have a beautiful view here for them to see."
Even the colors of the CCU rooms are designed with patients' healing in mind. Serene colors, natural light and views of the Ozark Mountains are showcased in the new family waiting area with new furniture for increased comfort.
Smart rooms are also a new feature in the facility, allowing patients access to more information about their care and care giving team.
"Everybody's going to this electronic charting, so more and more things have become digital for patients," Yaggy says. "One of the things we built in for future use is smart room technology. So when I walk in, a pad on the outside of the door recognizes my name badge and then populates the screen for the patient." Smart room technology also allows patients access to surveys, educational information and more.
Additional features were added with care providers in mind, including more nurse stations, identical work spaces in each room and Tornados, which clean and dispose of bed pans.
The staff participated in blocks of mock-scenario based training to prepare to work in the new space and to get an idea of workflow patterns before it was open to patients.
The new emergency department and critical care unit are phase one of a two-phase project. Construction of the second phase is estimated to be finished at the end of 2014.