Reviews
5 Best Fries
They're crispy, they're crunchy and they're perfectly salty. They can be dipped in ketchup, plunged in gourmet sauces or even enjoyed with no condiments at all. They're the five best orders of fries in 417-land, and they're ready and waiting for you.
By Savannah Waszczuk
Nov 2015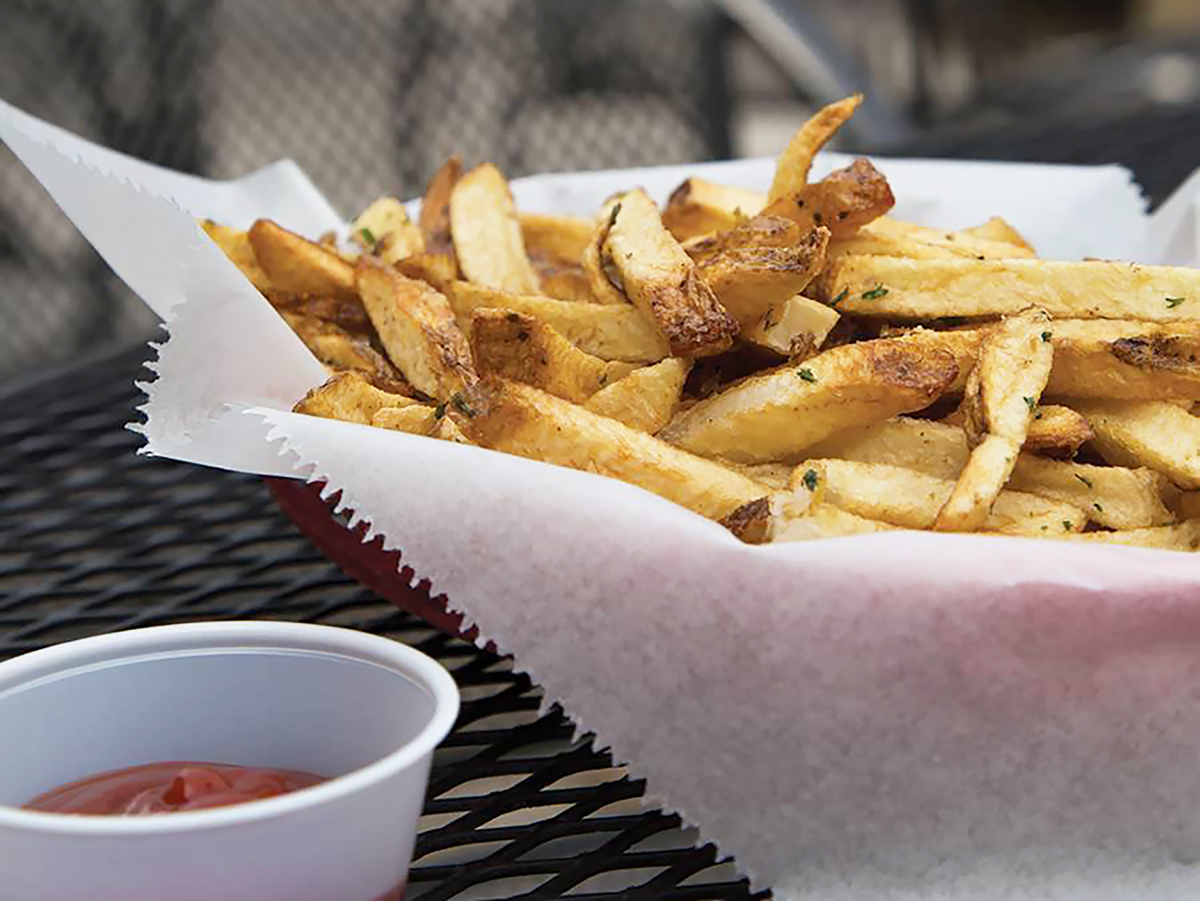 1.Ebbets House-cut Fries
$1.99 at Ebbets Field, 1027 E. Walnut St., Springfield; 417-865-5050, ebbetspub.com
Why we love them: Every day, the staff at Ebbets Field takes whole potatoes, hand cuts them into fries and then tosses them in the fryer. All fry connoisseurs know that nothing (and we mean nothing!) beats freshly cut fries. While they're still hot, they're tossed with salt and a few secret ingredients, then served to hungry diners crispy on the outside and soft on the inside. 
 
2. Homemade French Fries
$1.99–3.99 at Two Fish Five Loaves (Editor's note: This location has closed since the time of publication), located in the Springfield Mobile Food Park, 836 N. Glenstone Ave., Springfield; 417-861-6533
Why we love them: Since they're hand-cut daily, the fries at Two Fish Five Loaves come in many shapes and sizes. Some are thinner, like a potato chip, and others are fatter, like more traditional fries. After they're cut up, these beauties are dou-ble-fried in a soybean blend oil, then salted and served with your choice of garlic aioli or creamy jalapeño ranch aioli (or both for 50 cents more). 
 
3. Hand-cut Fries
$2.19–3.59 at Mojo Burger Company, 702 S. Maiden Ln., Joplin; 417-624-4232, facebook.com/MojoBurgerCo
Why we love them: There are a number of things that make the hand-cut fries at MOJO BURGER COMPANY extra-delicious. First, it's the dry seasonings (ranch, Cajun, sweet and salty, lemon pepper or salt and vinegar) coated on while they're still hot. Another major contender in the fries' deliciousness is the dipping sauces. There's a Mojo sauce (think thousand island dressing with a kick) and a buttermilk-based spicy Stache sauce. 


4. Salt and Vinegar Fries
$4 per order at Touch Restaurant & Lounge, 1620 E. Republic Rd., Springfield; 417-823-8383, touch-restaurant.com
Why we love them: If you haven't already, be sure to give the restaurant's salt and vinegar fries on the tapas menu a try. Touch takes its perfectly crispy house-cut fries and adds the perfect amount of salt and vinegar, creating a tangy palate-pleasing finger food you'll likely find addicting. 


5. Fresh-cut Fries
$3.75 at Galloway Grill, 4211 S. Lone Pine Ave., Springfield; 417-882-5300, gallowaygrill.com
Why we love them: When you need a pile of fries that'll last you through a couple of cold ones, cozy up to a table at Galloway Grill. This restau-rant-bar hybrid serves up freshly cut fries, beer-battered fries and sweet potato fries alongside a burger or as a super-side. While they're all tasty, we're partial to the plain freshly cut fries: They're savory, simple and perfectly salty.