Reviews
Turbo Fire Pizza is a Speedy Lunchtime Option
Need pizza pronto? Turbo Fire Pizza is Springfield's new fast-casual pizza joint that solves our editorial coordinator's lunchtime woes.
By Vivian Wheeler
Nov 2017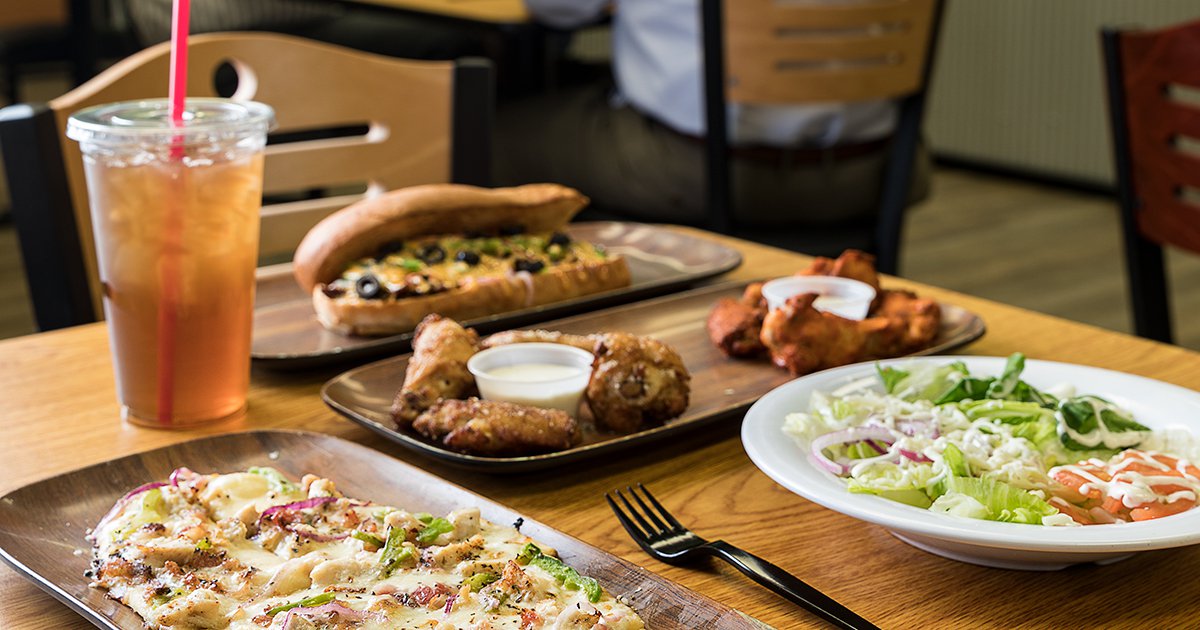 Few things beat a leisurely lunch with friends. Maybe you start with a couple of appetizers and nurse a cocktail or two. You linger over the entrees, and, by the time you're finished with dessert, the afternoon is gone. I typically follow those types of lunches with a nap. However, if your life is anything like mine, those lunches are few and far between. Most days I'm eating leftovers hunched at my desk, and that's if I remember to pack my lunch. On my worst days, I find myself pulling through a drive-thru at a fast-food restaurant (oh the shame!) and ordering a meal I know will have me falling asleep at my computer an hour later. My lunchtime struggle left me looking for a middle ground, somewhere I can get in and out in less than 30 minutes that doesn't make me hate myself the second I take the last bite. That's when I learned about Turbo Fire Pizza (3654 S. Campbell Ave., 417-501-8810).
The first Turbo Fire Pizza was opened in Springfield, Illinois, in 2015, and the Collins family opened the second location here in 417-land in May. On its Facebook page, Turbo Fire Pizza claims to cook your pizza in 60 seconds, and one day a couple of weeks ago, I decided to put that claim to the test. I rounded up my co-worker Claire Porter, and we set off for what we hoped would be a quick and satisfying lunch.
The pizzas are divided into two categories, signature and build-your-own. Lured by the unlimited toppings, we were originally leaning toward building our own pizza, but then we spotted the chicken bacon ranch pizza. At Turbo Fire Pizza, your pizza is built in front of you, and you're encouraged to customize your pizza as much as you want. As someone who is constantly asking for extra sauce, I appreciate this quite a bit. 
The chicken bacon ranch pizza is made with ranch, chicken, garlic cheese Alfredo, shredded mozzarella, onions, green peppers and bacon. When I asked for extra ranch and green peppers, no one batted an eye. This was my kind of place! Along with the pizza, Claire and I also decided to try the Turbo grinder, an order of wings and a couple of side salads. By the time we got to the register to pay, our pizza was ready, and a few minutes later so was everything else.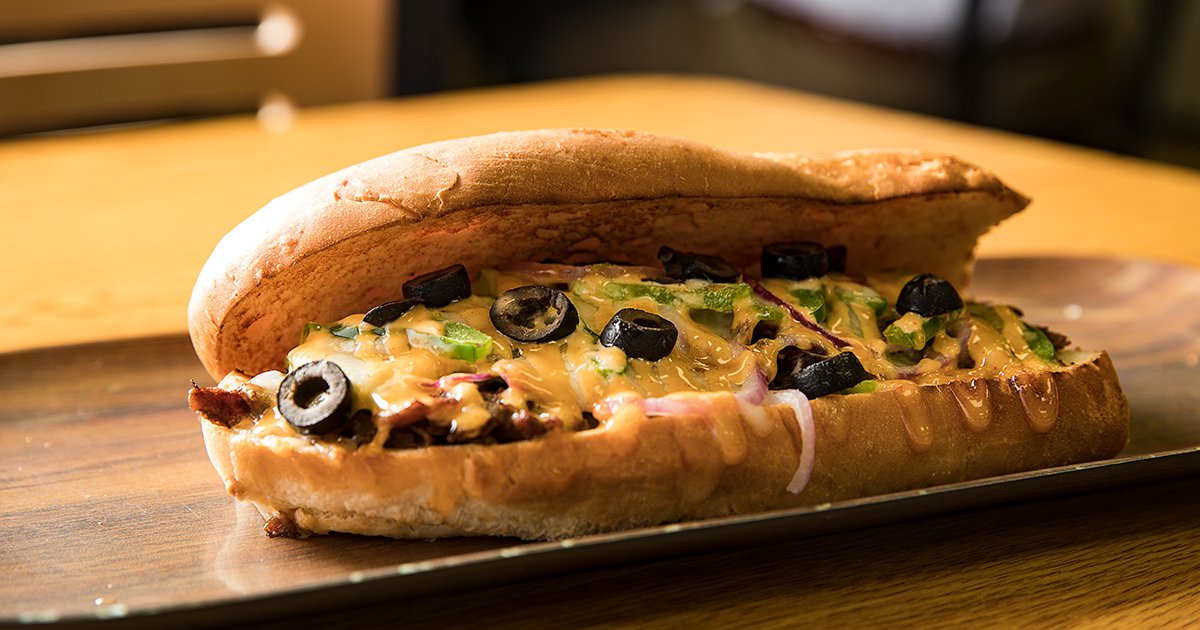 We sat down and dug in. The first thing we tried was the wings. We ordered four of the garlic Parmesan and four of the classic buffalo, and, surprisingly, we both liked the garlic Parmesan wings the best. They were super crispy and salty and were bursting with flavor. Although—fair warning—if you don't have a high tolerance for salt, these probably aren't the wings for you. With the Turbo grinder, you can choose either chicken or steak, and we opted for the steak. It also was topped with cheesy garlic Alfredo sauce, shredded mozzarella, bacon, mushrooms and Turbo sauce. The first thing I noticed was the bread. It was unlike any other I've had. It was kind of sweet and a little bit doughy. I found out afterward the dough is made by a doughnut shop in Springfield, Illinois: Mel-O-Cream donuts. It was a surprising but fun twist on a hoagie bun.
One bite into the pizza, and I was hooked. To be totally candid, I was skeptical about the pizza to begin with. I'm somewhat of a traditionalist when it comes to tomato pie, and when I found out Turbo Fire Pizza made its personal pizzas on naan, I wasn't sure what to think. But this was one of those cases where I was happy to be wrong. Even though the pizza is only cooked for 60 seconds, the crust turned out super crispy. The cheesy garlic Alfredo sauce was delicious and worked well with the other toppings. We finished every last bite and still made it back to the office before our next meeting. 
---

Turbo Fire by the Numbers
100 pizza crusts tried by the Turbo Fire Pizza owners before the perfect crust was found

9 flavors of wing sauce available 

2 inches high record height of how tall a customer stacked their pizza with toppings

1,000-degree oven cooks the pizza

60 seconds for the pizza to bake

402,653,184 total pizza combinations that exist assuming each customer only chooses one cheese and one sauce
---



Q&A with owner Wray Collins
417 Magazine: How did the idea for Turbo Fire Pizza come about?
Wray Collins: The Collins family has been in the restaurant business for 30 years with Subway, with Papa Murphy's, with Sonic. Nowadays we really just do Subways. There's really not much more growth with Subway anymore, so we decided we wanted to go out and look for other options, new concepts that are kind of sweeping the nation, and what we've kind of figured out is pizza is very popular. 
417: How did you find the perfect pizza crust?
W.C.: We went out and taste tested so many kinds of crusts and so many different products for over six months. We finally found the perfect one just when we thought we were giving up. We flew all the way out to Iowa, and we found our personal-sized Indian naan bread that we use for our personal-sized pizza. 
417: What makes your turbo-oven special?
W.C.: The ovens that we use are Turbo Chef ovens. However, we have installed a pizza stone in them, and this pizza stone is always sitting at 520 degrees Fahrenheit. On top of that, whenever we go to cook the pizzas, it's a convection oven and has a fan in there and it goes to 1,000 degrees instantly. It's blowing 1000 degrees on these pizzas on top and you got your pizza stone in the bottom that is getting your crust nice and crispy for you.
417: What's a standout dish you have at Turbo Fire Pizza that most other pizza places don't offer?
W.C.: Our pork wings are very popular. They are kind of like the top of a pork rib or pork shank. We like to joke with our customers, "Have you ever heard of the expression, 'When pigs fly?'"