Kid-Friendly Fall Fun
This year's kid-friendly fall festivities include an array of corn mazes, pumpkin patches and spooky fun for all ages.
Illustrations by Katelyn O'Connor
Oct 2014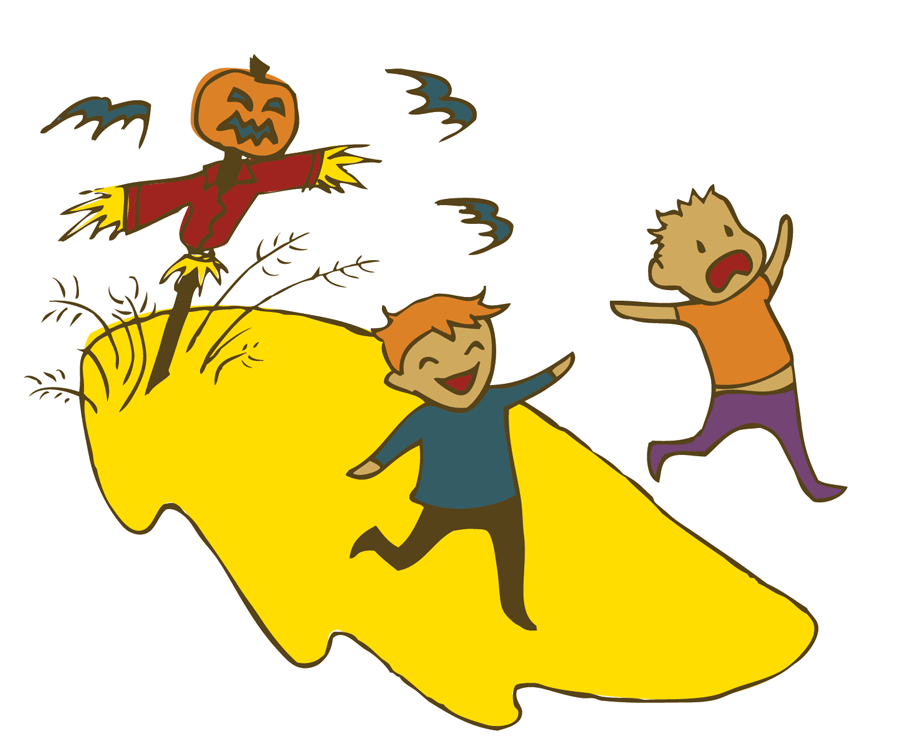 Hampton Corn Maze
Through November 1
Take a half-mile ride in a covered wagon filled with hay over to the 8-acre corn maze where you'll be challenged to make your way to the end. Then head over to the pick-your-own pumpkin patch to select the perfect pumpkin to carve. Other activities include kiddie barrel rides, tons of great photo ops and fire pits available for rent. Staff can start your fire for you, and roasting forks are provided, so all you need to bring is your choice of food and a few blankets or lawn chairs to stay comfortable and warm. There are no hauntings here, so kids of all ages are welcome.
Fridays 4–9 p.m., Saturdays and Sundays 10 a.m.–9 p.m.; $8 for ages 12 and older, $6 for kids 3 to 11, kids 2 and younger are free, $6 for seniors and military with valid ID, $6 per person for groups of 10 or more; Hampton's Greenhouse, Pumpkin Patch & Corn Maze, 6817 State Highway 38, Marshfield. For more information visit hamptoncornmaze.com or call 417-859-4855.
Pickin' Patch Farm
Through October 31
For a day of family fun on the farm, hop on a hay ride, find your way through the corn maze or take the little ones to the whirlpool maze. Afterward, pick through pumpkins, squash and gourds or browse the seasonal décor, hay bales and mums. Families can even capture the memory of this fall outing with a portrait session from a professional photographer. Be sure to call the farm to learn which days the photographer is available and to schedule your photo session.  
Monday–Saturday 10 a.m.–7 p.m., Sundays noon–6 p.m.; $6 for adults, $3 for kids 2 to 12, children younger than 2 are free, Pickin' Patch Farm, 22813 Highway ZZ, Marionville. For more information call 417-258-7132 or visit pickinpatchfarm.com.
The MAiZE
September 20–November 1
Activities range from hay rides and a cow train to corn cannon fun, farm animals and seasonal games. Take the younger ones to Little Kernal's Corner, a free play area while the older kids get lost in the Field of Screams, which begins September 26 and continues every Wednesday, Friday and Saturday night. This year's MAiZE also features a new attraction, the Zombie Harvest, an interactive paintball shooting game for ages 6 and older.
Wednesdays 5:30–8:30 p.m., Fridays 5–10 p.m., Saturdays noon–10 p.m.; field trips by appointment Monday–Friday 9 a.m.–2 p.m.; $8 for ages 12 and older, $5 for kids 5–11, kids 4 and younger, veterans or military with valid ID are free; 23298 Lawrence 1150, Verona. For more info, visit themaize.com or call 417-498-6191.
Fall Fest
Through October 26
Get lost in the corn maze, test your aim with the corn cannon, hop on the cow train for a ride through the park or pick your own pumpkin in the pumpkin patch. The options are endless and the fun is appropriate for all ages. If you want something spooky, jump on a hay ride that takes you to the trailhead where you'll be faced with an eerie quarter-mile walk through the woods. A variety of frightening things are sure to send your heart racing, so this trail is for ages 8 and older only. The Haunted Trail opens October 3–25, and kids 12 and younger must be accompanied by an adult.
Fall Fest is Saturdays 11 a.m.–6 p.m., Sundays noon–6 p.m.; free (some activities include a small fee). Haunted Trail is Fridays and Saturdays 6–10 p.m.; $5; Rutledge-Wilson Farm Park, 3825 W. Farm Road 146, Springfield. For more information call 417-837-5949 or visit parkboard.org/rutledge_wilson.
Monster Corn Maze
Through November 1
Grope your way through the horrifying dark maze until you reach a three-story house on the edge of a forest filled with bone-chilling creatures. If you make it through the woods, you'll reach a new menacing ride featured at this year's maze, but you'll have to wait and see for yourself what terrors await you. The maze's final exit includes a spinning vortex machine filled with black lights that stands between you and safety. If you make it through the maze, try the coffin ride. The scent of red roses and freshly dug dirt will overwhelm your senses as you feel yourself descending into your own grave. 
Fridays and Saturdays from dusk to 11 p.m.; $14 or $21 for VIP ticket; suggested for ages 12 and older; 181 State Route AM, Cabool. For more information visit monstercornmaze.com or call 417-962-2676.