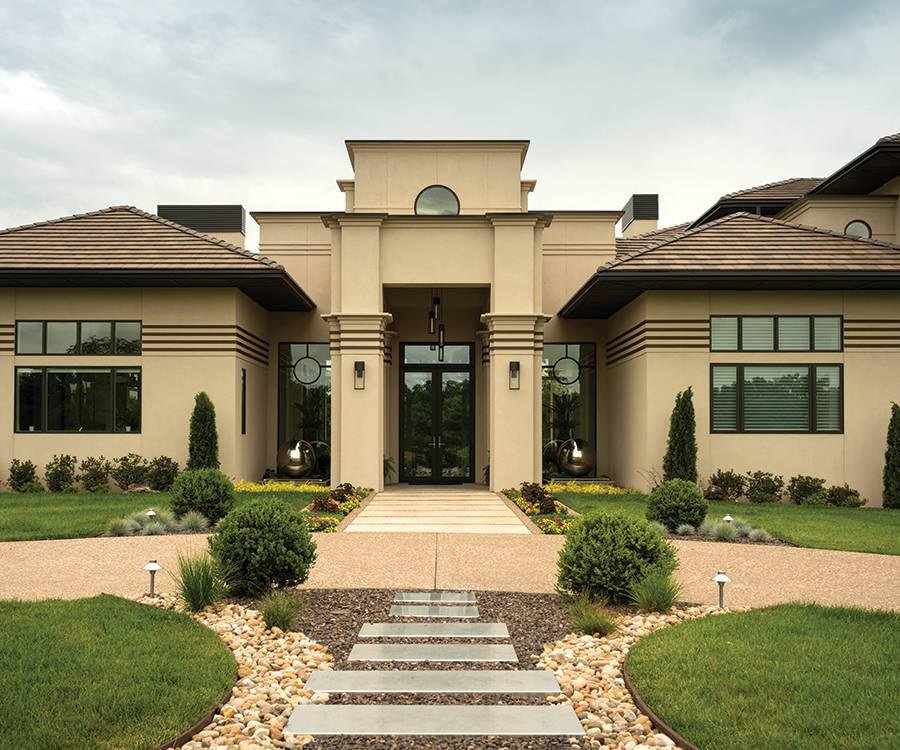 Mark and Patti Johnson know all about building show-stopping homes. In fact, Patti's last custom build, a three-story French chateau–style home that sits on 20 acres east of Springfield, was sold on the spot, along with all of its furniture. "We had someone call and ask if they could come by and see it," Patti says. The home wasn't for sale at the time, but they decided to let the potential buyers take a glimpse, and it ended well for the couple.  
Patti designed that home, and she also chose all of its furniture. So when it was time to build this new house, a 7,500-square-foot home that sits on 6-and-a-half acres in east Springfield, she pulled out the graph paper and started sketching. "I drew every room out first," she says. Next, the Johnsons worked with pros at J.L. Thompson Design Group Inc. and Bailey Company to bring the drawings to life and create an absolutely gorgeous California contemporary-style home in the process. 
"We look at a lot of houses while traveling," Patti says. Some of her design and décor ideas for their home came from those houses, and she also drew inspiration from magazines and books. But most of all, the concepts came from her experience in the field. Patti formerly owned London Crest Interiors, and she has nearly 20 years of experience with interior design. It's this experience that's responsible for her close attention to detail, like carefully selecting this home's gorgeous travertine flooring, designing a custom hanging fireplace and choosing windows that stretch all the way to the floor. "A big thing about having a house designed properly is thinking about every surface," Patti says. "I picked out everything for every single inch of every single room in that house." While she closed London Crest Interiors nearly 10 years ago, Patti recently decided to get back in the retail side of the business and opened 5908 with her daughters. The store in Springfield's Farmers Park that sells home furnishings, accessories and gifts.
The home's living room is outlined in massive windows that stretch to the floor and offer views of the gorgeous pool and outdoor living area. "From the time I drew up the plans, I knew all I wanted in the living room was a huge sectional sofa," Patti says. Besides the expansive sofa, a floating fireplace under a stacked stone wall is the only other focal point, and it provides a partial separation from the dining and kitchen areas. 
Patti chose to add a splash of drama to the kitchen by bringing in high-gloss walnut cabinets. A line of glass cabinetry caps these cabinets and outlines the room. The space also features gridded beam work that Patti drew, plus travertine floors and an island with a waterfall edge. 
The stairs in the home were modeled after a design by Kelly Wearstler, one of Patti's favorite designers. "I saw a staircase in one of her homes I really liked," Patti says. She took a photo to her builder, Matt Bailey of Bailey Company, and had him work with his team to recreate the staircase.
The television in the media room hangs on a black glass wall, and a sofa that can be transformed to a chaise lounge provides comfortable seating. The space freely flows along with the rest of the home's neutral color palette of white, black and a splash of gray.
A wall of mirrors adds a dramatic effect to Patti's shoe closet, and mirrored striping helps carry the look throughout the space. While a shoe closet wasn't a must in Patti's home plans, she had it on her wish list and was happy that there was enough space to fit it in. 

A second master bedroom complete with a fireplace and connected master bathroom is located upstairs. "We wanted to have a nice place for our friends and family to stay when they visit," Patti says. A black wall with metal strips makes a statement behind the bed, and black furniture helps tie the room together.
The home's exterior is finished with stucco, and the roof is covered with flat concrete tiles. Rather than filling the front yard with an abundance of trees and shrubbery, the Johnsons decided to keep it minimal and let the beauty of the home's design take center stage.