Travel
Steelville
The perfect fall getaway is located about 140 miles northeast of Springfield. The "Home of Hospitality" is famous for its rivers, trails and recreation. Book a room at Wildwood State Lodge and stay a while—there's plenty to do in Steelville.
By Riley de León | Photos courtesy Missouri Department of Tourism
Oct 2015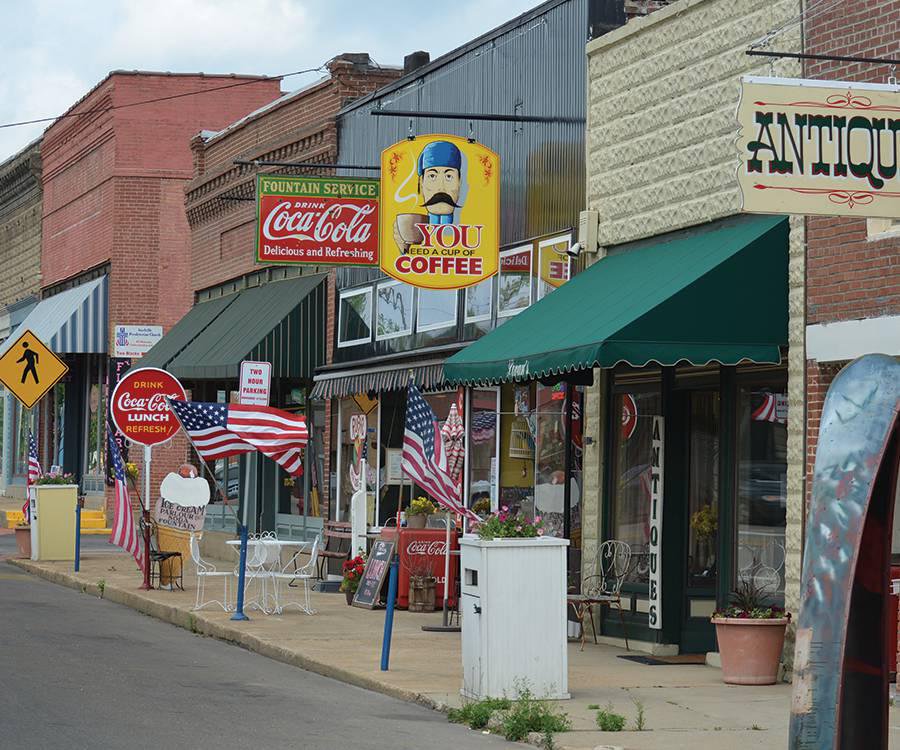 SHOP
Lined with painted canoes is Main Street, home to little shops and boutiques perfect for getting a head start on your holiday shopping. On Main Street you can find a marketplace of antiques, wine, liquor, groceries, gas, retail and all the other things that you might need during your visit to Steelville. Among these one-of-a-kind shops is Evans House, Art on Display (503 W. Main St., Steelville, 573-775-2151). The home dates back to the Civil War days and is now used as a
downtown center for the arts. Inside, beautiful pine floors have been refinished, everything has been a given fresh coat of paint, and period
details have been restored. The shop is available for art gallery space, family gatherings, baby showers, wedding showers and business socials.
HIKE
Hiking trails show off the natural beauty of the winding Ozark Trail. You can find access to the trail from Steelville by driving east on Highway 8 for 10 miles, turning left on Butts Road, traveling north about 0.5 miles and turning left when you reach Lower Narrows Road. 
The Courtois section of the trail is 48 miles long and has more trip options than any other part of the trail. You can enjoy a short walk along the Courtois Creek, a vigorous mountain bike challenge on the Berryman Loop, a sunset horseback ride to the Huzzah Creek bluffs, a long backpacking trip or even an adventure that combines a 12.5-mile hike with a canoe trip back to your car. 
While you're in Steelville, also check out Zahorsky Woods, where trails lead through glades and along a 100-foot dolomite bluff overlooking the Meramec River. Its 56 acres of pretty views are a short drive from Wildwood Springs Lodge on the east side of Old Highway 19. 

The Bass River Resort is the perfect destination for floating or camping along the water and is situated between the Huzzah and Meramec rivers. 
CANOE
If you're looking for a place to rent a canoe or float, Bass River Resort (204 Butts Rd., Steelville, 800-392-3700) is perfect. There you can visit the pristine Huzzah and Meramec Rivers near Steelville and camp along the beautiful Courtois River at the spacious resort. Relax with a few good friends on a canoe, raft, tube or kayak. With so many choices of watercraft, you'll never want to leave!
EXPLORE
Rent a bike for an hour or a day through Steelville Bike Rental (604 W. Main St., Steelville, 573-775-1111). Enjoy the Hoppe Spring or head down the trail to feed the ducks along the Yadkin Creek. Head up Spring Street to Grand
Avenue, and enjoy a nice long ride down to Bird's Nest Road and Historic Bird's Nest Bridge.
EAT
Located minutes north in Cuba off of Historic Route 66 is a restaurant perfect for outdoor dining. Frisco's Grill & Pub (121 S. Smith St., Cuba, 573-885-1522) offers 20 beers on tap and several large TVs to watch all of your favorite sports. While you're there, order John's Wings by the pound—the perfect balance of sweet and spicy in one-, three-, or five-pound quantities. For dessert, The Fountain (105 E. Main St., Steelville, 573-775-2800) offers old-fashioned soda drinks, a tasty menu of food and award-winning Ruby's Ice Cream, homemade just 22 minutes away in St. James. 
RIDE
Make your way through the beautiful Ozark Mountain countryside on horseback at the Huzzah
Valley Resort (970 MO-8, Steelville, 573-786-8412). Choose from a 1-hour Head 'em Up and Move 'em Out Ride, a 2-hour Keep it in the Saddle Ride or a 3-hour Cowboy Up Ride. A two-person minimum is required for all rides except kiddie rides. After a fun and exhausting day of riding or paddling, try ending the day with a good old-fashioned relaxing hayride. Climb aboard the wagon and enjoy a leisurely tour of the resort grounds. These hayrides offer amazing moonlight views and are wrapped up around a campfire with s'mores, seven nights a week. Grab your friends: A 15-person minimum is required for each hayride. 
CYCLE
Popular among mountain bikers, the 24-mile Berryman Trail loop crosses the scenic Ozarks countryside, winding through timbered stands of oak, pine and bottomland hardwood, climbing switchback fashion from low bottoms to high cherty ridges. Interesting flora and fauna abound in the old fields, glade-like rock outcroppings and deep forest. The western half of the trail also serves as part of the Courtois Section of the Ozark Trail, and can be used as part of a multi-day ride. Be sure to yield the right-of-way to horseback riders.

Wildwood Springs Lodge offers a variety of lodging options in a gorgeous setting. 
LISTEN
If you stay at Wildwood Springs Lodge, you won't be far from some great performances throughout the month of October, including the Marshall Tucker Band, Blood Sweat and Tears featuring Bo Bice, Brewer and Shipley, and Foghat. Visit wildwoodspringslodge.com for show times and ticket information.
This month you can also catch live music from hot acts like The Oak Ridge Boys at Meramec
Music Theatre (26 MO-8, Steelville, 573-775-5999). Built in 2001, this 600-seat theatre has hosted well-known country, bluegrass, gospel and folk acts throughout the years. For a full show listing, visit meramecmusictheatre.com. 
STAY
The Steelville area is rich with history. Wildwood Springs Lodge (125 Grand Dr., Steelville, 573-775-2400) is steeped in natural beauty and its own history dates back to the early 1920s. Nestled in the woods with lovely river views is The
Clubhouse: a charming guest house fully equipped with a kitchen, three bedrooms and two full bathrooms. The fall is a perfect time to go to Steelville to enjoy the morning sunlight as you watch the fog burn off of the river valley below The Clubhouse.