Life
Branson Thrills and Chills
Digital Assistant Lillian Stone hates roller coasters, and that's exactly why we sent her on an eight-hour coaster extravaganza to find the best thrills in 417-land and—hopefully—conquer her fear.
Written by Lillian Stone | Photos by Vivian Wheeler
Oct 2016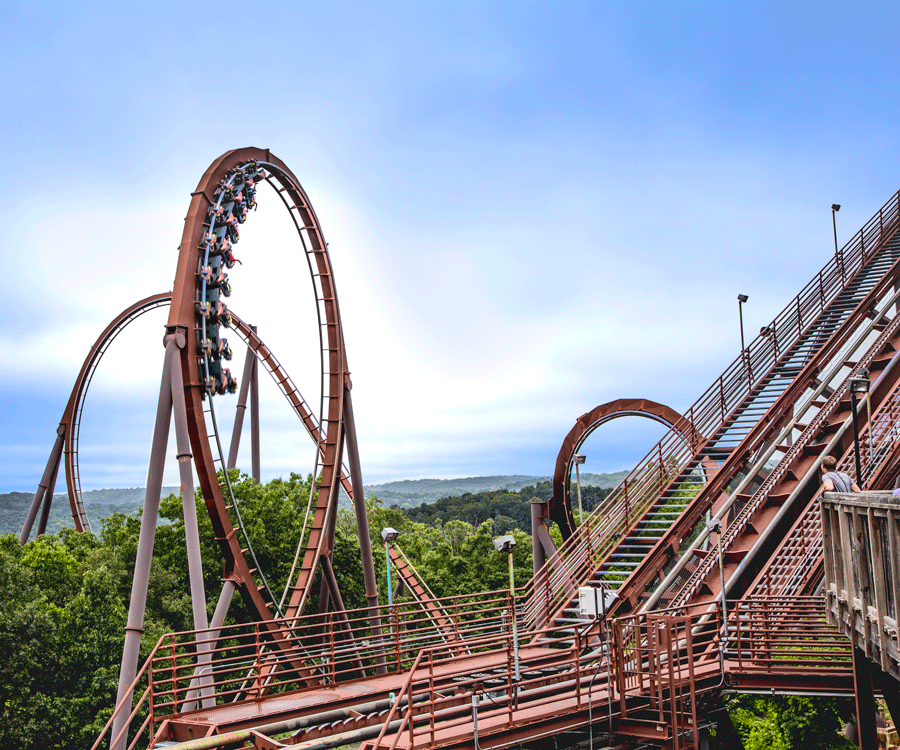 I am quite possibly the biggest chicken in 417-land. On my family's annual pilgrimage to Silver Dollar City, I'm the designated keeper of funnel cakes while others brave the rides. With all that quality standing-around time on the books, I can say with confidence that fall is the best time to enjoy theme parks. Crisp fall weather makes the experience much more enjoyable, especially for those of us who do everything possible to keep all of that coaster-induced wind out of our hair. 
Which brings me back to my status as a certified weenie. It's true that Branson is full of spine-tingling attractions, and it's true that fall is the perfect time to visit said attractions. But which destination offers the best thrills? My lifelong fear of thrill rides clearly made me the perfect candidate to find out. So I spent a full day taking on Branson's best spots for adrenaline junkies. I was joined by Editorial Art Coordinator Vivian Wheeler, who captured my terror on camera for the sake of posterity. 
Our first stop was Silver Dollar City ($61 adult park admission; 399 Silver Dollar City Parkway, Branson; 417-336-7100; silverdollarcity.com), where I was positioned on the front row of Outlaw Run before the park opened. My blood-curdling screams were some of the first sounds to ring through the air that day. Good morning, Branson. Outlaw Run is the "world's most daring wooden coaster." It's the only wooden coaster to twist upside down three times. The first drop takes passengers down more than 16 stories at a mind-boggling 81-degree angle. Topping out at 68 miles per hour, it's the second-fastest wooden coaster in the world. So fast that I was out and on my way to PowderKeg by 10 a.m., eyebrows nearly singed off from that first drop. I was joined by other thrill-seekers on PowderKeg, which launched us from zero to 53 miles per hour in less than three seconds. The rest of the ride was a series of sheer drops, twists and turns. The multi-looping WildFire was the final stop, complete with a 15-story drop and speeds up to 66 miles per hour. I kept my eyes shut tight on the loops, but from a weenie's perspective, the ride looks much more intimidating from the observation deck. Starting my day with Outlaw Run may have desensitized me, but WildFire definitely felt like the tamest of the three.
We left Silver Dollar City and headed to Parakeet Pete's Waterfront Zipline ($24.95 for single-ride ticket; 100 Branson Landing Blvd., Branson; 417-827-0061; bransonlandingattractions.com). The zipline stretches from its launch point on the Branson Landing boardwalk to the Parakeet Pete's Sky Deck above Lake Taneycomo. Weather permitting, visitors can zip up to the Sky Deck for music and drinks on weekend nights. The zipline itself is fairly unassuming; each ride lasts only a minute or two, and no harness is required. Passengers can ride two at a time, which was good news for Vivian and me. We were buckled side-by-side into a lightly swinging seat. The zipline then took us soaring backward up toward the Sky Deck, which we neared with our chair tipping forward slightly as we crept to the top. Then, we zoomed toward the boardwalk, picking up speed until we hit a sudden, thrilling stop. Overall, it's a fun, quick option for those strolling the landing.
Branson Zipline at Wolfe Mountain ($139.99 for single adult Canopy Adventure Combo tour; 2339 US 65, Walnut Shade; 1-800-712-4654; wolfemountainbranson.com) was the most adventurous part of our day. Vivian and I donned harnesses and took the full Canopy Adventure Combo tour, about a two-hour experience. Our energetic guides zipped us through seven lines and across 10 treetop suspension bridges. We then headed for the Blue Streak, the facility's longest zipline—about a quarter of a mile. The Blue Streak zipped us to Everest, a 100-foot platform with only one way down: a free fall. It was really more of a free float, though with a rush after stepping off the platform, but the belay device brought us to the ground pretty gently. The whole experience was outdoorsy fun, but the highlight actually came after we had braved the free fall—we got to see a man propose after his sweetheart descended from Everest. 
Our final destination was The Runaway at Branson Mountain Adventure Park (ticket prices vary; 935 MO-165, Branson; 417-334-7337; bransonalpinemountaincoaster.com). The Runaway is Branson's newest attraction, having celebrated its grand opening on August 12, 2016. It was built as a mountain coaster, a setup that allows riders to pick up speed as they follow the track built on a hilly landscape. The Runaway came as a relief because it offers riders control—each cart is equipped with levers that can increase or decrease the cart's speed. Beyond the control element, there's the scenic factor. The ride starts with a four-minute crawl to the top of the coaster, and the surrounding woods are pretty and peaceful. The carts are released from the pulley system at the top and riders are left to choose their own adventure. It was raining during our visit, so I kept my cart on the slow side. Regardless, the ride was a blast. I zipped around as the Ozark mountainside blurred past my little blue cart. It was a rush to feel the cool woodsy air on my face as I zoomed through the trees. It almost felt like my own private coaster, and I could take it at any speed I liked.
My coaster tour was exhilarating, and 417-land really is full of options for thrill-seekers and weenies alike. I have only one concern about my newfound courage: Who's going to hold the family funnel cakes on our next trip to Silver Dollar City?
Fear Factor

Are you an adrenaline junkie, or does the idea of a 15-story drop make you run for the hills? Either way, Branson has a thrilling attraction for you, ranked from one scream to six.
Outlaw Run (Silver Dollar City):
PowderKeg (Silver Dollar City): 
WildFire (Silver Dollar City): 
Branson Zipline at Wolfe Mountain: 
The Runaway at Branson Mountain Adventure Park: 
Parakeet Pete's Waterfront Zipline: