Spaces
Colby Kern's Monochromatic Urban Loft
Colby Kern and Clay Stacy's loft in downtown Springfield is a testament to the power of good bones, an eye for the unexpected and, perhaps most importantly, a "ruthless" curation style.
By Lillian Stone
Oct 2017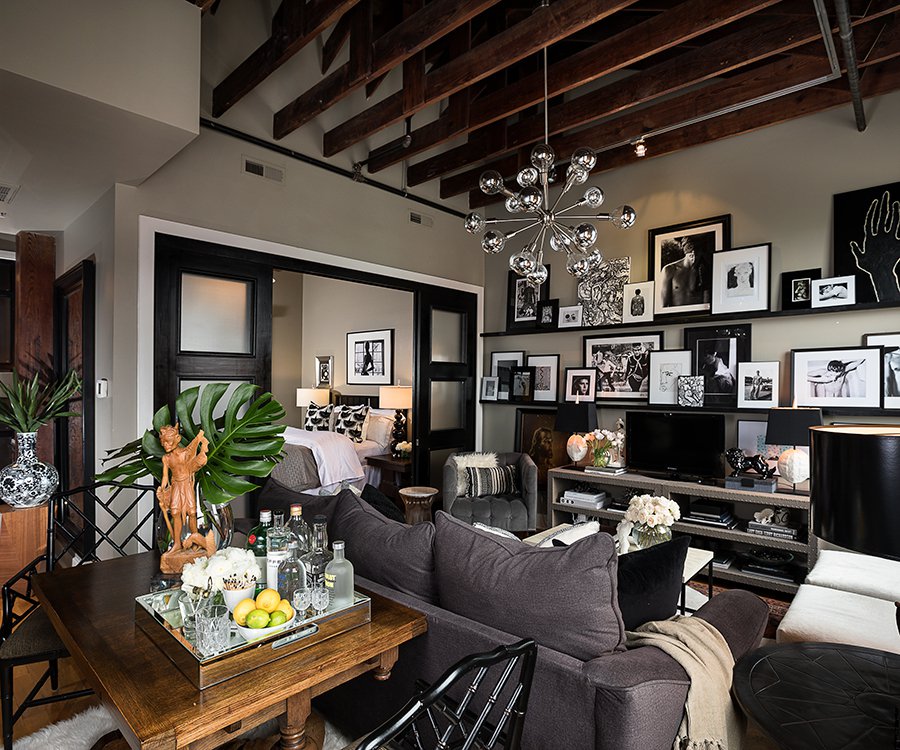 Colby Kern sits cross-legged in a high backed chair in his loft's living area. He strokes his 10-year-old Chihuahua-pug mix, Beanie, whose heavy breathing lends a comic air to Kern's brooding nature. "I'm a very controlled person," Kern says. "I have a very ruthless curation style, and that's in all aspects of my life."
We're discussing the inspiration behind Kern's sophisticated loft in downtown Springfield. The loft, which Kern shares with partner Clay Stacy, overflows with expertly curated art, one-of-a-kind furnishings and the occasional well-placed antique. It's a testament to Kern's creativity and flair for the unexpected—factors that serve him in his job as the lead visual merchandiser for Obelisk Home. The loft is one of seven luxury spaces that make up the Lofts at Inspired Commerce located above Obelisk Home. Originally, Kern wasn't interested in living so close to work. The building, built in 1902 and featuring original exposed brick and ceiling rafters, won him over. "I love the light and the high ceilings," Kern says. "Beyond what's in the space, you have to have good bones to make it look good."
The loft does have good bones—that's undeniable. The interior design, however, is truly captivating. Between Kern's large collection of art and lush furnishings, the loft has very little negative space. However, none of the pieces feel superfluous. "There's nothing in here that I don't absolutely love," says Kern, who refuses to settle on pieces that are less than spectacular. "I see a lot of people who settle," he says. "They'll buy something just in the meantime to fill a space. I don't have a problem waiting to find that perfect item."
The neutral, moody color scheme in the art and furnishings speaks to Kern's disciplined design principles, featuring mainly black and white elements. Many of the framed black-and-white pieces on the loft's walls are photographs captured by Kern himself. "I'm very interested in form," says Kern, whose edgy photographs showcase the masculine form in a sensual, sophisticated way.
That sexy masculine energy is a motif in the entire loft. The furnishings range from high-end, like the Staffordshire porcelain figure in the living room, to homegrown, like the framed portraits of Kern and Stacy drawn by Kern's two nieces. Despite the eclectic collection of art and furnishings, the space is far from overwhelming or gaudy. It feels sleek, clean and inviting—clearly put together by a design expert. 
Part of that expertise may be the result of Kern's work with Obelisk Home. For some, hours spent designing spaces may require nightly recharging sessions. Kern, however, often feels inspired to update his own space after completing a project. "I do [design work] all day at work, and you'd think it would be nice to have a break," he says. "But I just get more inspired afterward."