Dishes
Veggie Pizza from FireLight Pizza Company
Plus six other things that passed the test of our taste buds.
By The Editors
Sep 2013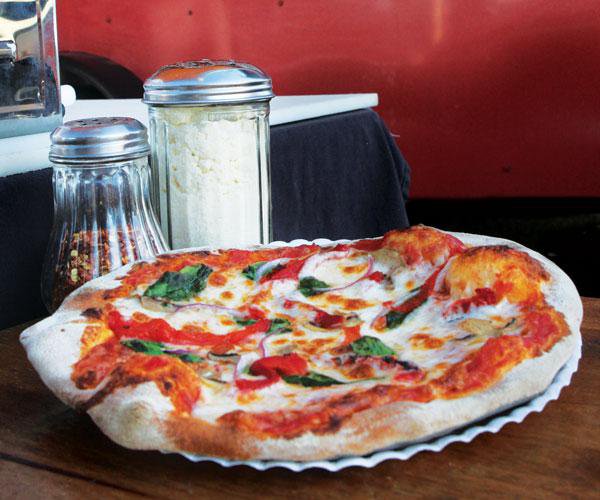 1. We love that the veggie pizza from FireLight Pizza Company (Farmers Market of the Ozarks) comes topped with loads of fresh vegetables (our favorite is the spinach). And the woodfired crust is fantastic.
2.  The kids macaroni and cheese at Leong's Asian Diner (1540 W. Republic Rd., Springfield, 417-887-7500, leongsasiandiner.com) is delicious enough to please grown-up taste buds, too. Steal a bite from the kids, or order it for yourself.
3. We can't get enough of the Queen City Cayenne ice cream at Elle's Patisserie (1454 E. Cherry St., Springfield, 417-832-2171, ellespatisserie.com). It's the perfect blend of sweet chocolate goodness and a spicy kick.
4. We like to get our chocolate fix with the Choco Loco at City Mexican Cuisine (3014 E. Sunshine St., Springfield, 417-719-4188, citymexicancuisine.com). It's a fried flour tortilla that's filled with hazelnut chocolate sauce and topped with white chocolate sauce, chocolate sauce and powdered cinnamon sugar.
5. We don't get to eat guava often, so we got very excited about the guava pastry at Country Girls Espresso (2671 E. Sunshine St., Springfield, 417-887-7777). The flakey pastry dough surrounds a deliciously sweet filling and is smothered in powdered sugar. 
6. When a breakfast craving hits, we love the Pancake Breakfast Sandwich at Brown Egg (607 E. Madison, Springfield, 417-869-1505, brown-egg.com). Two thick and fluffy pancakes serve as the bread on this sandwich, and they are filled with a sausage patty, egg and cheese. Served with syrup, of course.
7. For something utterly indulgent, try the duck poutine at Instant Karma Gourmet Hot Dogs (527 S. Main St., Joplin, 417-206-3647). Shoestring fries are topped with a pale ale cheese sauce and duck gravy.