Theatre Performances in 417-Land
Starting this month, theatre season is in full swing in 417-land. The coming months are packed with shows you'll be dying to see, so we rounded them up to help make your weekend social calendar decisions a little easier.
By Katie Pollock Estes | Photo by François Sechet
Sep 2014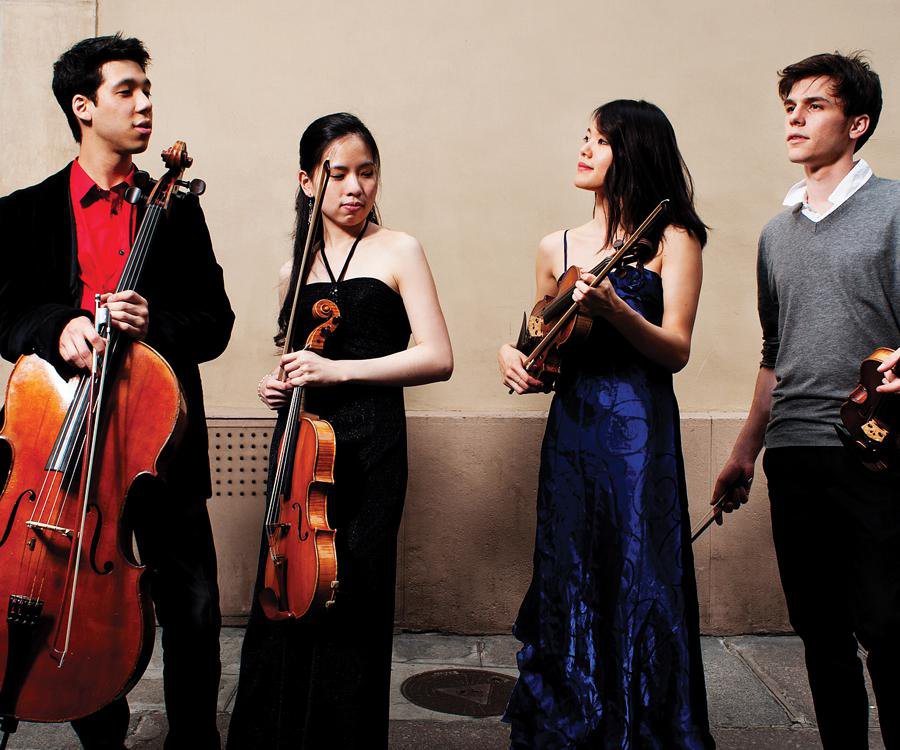 Joplin Little Theatre
joplinlittletheatre.org
JLT In Concert
September 24–28
This tribute to musicals performed at JLT celebrates the theatre's 75th anniversary.
The Best Christmas Pageant Ever
December 10–14
This hilarious play follows the Herdman kids who are cast in a church Christmas pageant.
Eleemosynary
January 28–February 1
Meet an eccentric grandmother, her daughter and her granddaughter.
The Fantasticks
March 25–29
This comedy tells the story of a boy and girl who fall into, out of, and then back into love.
Bertha, the Beautiful Typewriter Girl
May 27–31
A battle between good and evil takes center stage. 
Juanita K. Hammons Hall for the Performing Arts
hammonshall.com
The Music Man in Concert
September 26–27
Celebrate the 50th anniversary of this classic play.
Hermès Quartet string quartet
October 8
Two violinists, a violist and a cellist take the stage.
Julie Fowlis: Music of the Scottish Isles
October 13
If you've seen Brave, then you've heard this vocalist.
Dr. Seuss' How the Grinch Stole Christmas—The Musical
October 24–25
It's the Grinch versus the sweet Whos in this tale.
Senegal St. Joseph Gospel Choir
November 5
Hear songs from Senegalese folklore that combine Catholic liturgy and Muslim music.
Flamenco Vivo/Carlota Santana: The Soul of Flamenco
November 11
Enjoy the energy and emotion of Flamenco.
Terry Bradshaw: America's Favorite Dumb Blonde—A Life in Four Quarters
November 18
Quarterback, sports analyst, singer, actor—Terry Bradshaw does it all.
Jim Brickman: On a Winter's Night
December 5
Enjoy instrumentals and vocals at this holiday concert.
Sweet Honey in the Rock: Celebrating the Holydays
December 6
An a cappella ensemble performs Christmas, Kwanzaa, Hebrew music and more.
Junie B. in Jingle Bells, Batman Smells
December 15
Junie B. struggles to enjoy Christmas, since her arch-nemesis is her Secret Santa.
Ji, pianist
January 27
This pianist has won numerous prizes and was the 2012 Young Concert Artists International Auditions winner.
Lerner & Loewe's Camelot
February 6–7
See the Knights of the Round Table take the stage.
Popovich Comedy Pet Theatre
February 25
The kids will love the juggler, clowns and performing animals at this fun show.
Ivy + Bean, The Musical
March 5
Learn life lessons from second-grade pals in this musical based on a series of children's books.
Benjamin Beilman, violinist
March 24
This skilled violinist returns to Hammons Hall. 
Wild Kratts–Live!
April 13
Love the PBS series Wild Kratts? Take the kids to see Martin and Chris Kratt.
Kurt Elling, jazz vocalist
April 21
This vocalist celebrates Frank Sinatra's 100th birthday.
Missouri State University President's Concert
April 26
See the Missouri State University Symphony Orchestra and the Missouri State Combined Choirs perform.
Million Dollar Quartet
May 1–2
This Broadway musical tells the story of Elvis Presley, Jerry Lee Lewis, Johnny Cash and Carl Perkins coming together for a recording session.
Pro Musica
promusicajoplin.org
WindSync
September 25
See a classical music ensemble perform from memory with flute, oboe, clarinet, bassoon and horn.
Escher String Quartet
October 21
This praised quartet has been performing since 2005.
Cantus 
November 13
Snag tickets to see this male vocal ensemble perform. 
Brasil Quitar Dui
February 5
Brazilian works are performed by a guitar duo.
Lysander Piano Trio
March 26
This trio trained at The Julliard School, and now you can see them in 417-land.
American Bass Quintet
April 16
This internationally recognized quintet received Chamber Music America's highest honor in 2013.
The Skinny Improv
theskinnyimprov.com
Mainstage Improv Show
Ongoing every Friday and Saturday (except third Saturday)
Ten Spots (long-form improv)
Ongoing every Friday and Saturday (except third Saturday)
Playhouse! An Improvised Kids Show
Ongoing first and third Saturdays in September, October, December and June
Springfield Little Theatre
springfieldlittletheatre.org 
Disney's Mary Poppins
September 12–October 5
Watch everyone's favorite nanny take the stage with familiar songs like "A Spoonful of Sugar" and "Feed the Birds."
The Phantom Tollbooth Jr.
October 17–26
With help from a dresser that turns into a magical tollbooth, Milo goes to a world where he must save a princess.
A Streetcar Named Desire
November 14–23
Landers Theatre becomes the French Quarter of New Orleans, where Blanche DuBois is staying with her sister Stella and Stella's husband.
The Littlest Angel
December 5–14
This Christmas classic tells the story of an angel who is brought to life and winds up having an adventure that leads to the creation of the Star of Bethlehem.
The 25th Annual Putnam County Spelling Bee
January 23–February 8
This hilarious Tony Award–winning musical follows six kids seeking a spelling bee championship. Best part: Possible audience participation.
Disney's My Son Pinocchio Jr
February 20–March 1
Ever wonder what Pinocchio's story would be like if it were told from Geppetto's point of view? You can find out with My Son Pinocchio Jr. 
The Wizard of Oz
April 3–19
Everyone's favorite lion, tin man and scarecrow return with Dorothy in this classic musical that's fun for the whole family.
Tuna Does Vegas!
May 8–17
As part of the Tuna Trilogy, this play tells the story of an entire town that follows a radio host to Vegas, where he goes to renew his wedding vows.
Dirty Rotten Scoundrels
June 12–28
Two con men face off to see who gets to stay in a town that's just not big enough for both of them.
Springfield Ballet
springfieldballet.org
The Nutcracker
December 18–21
It's everyone's favorite ballet and a staple of the Christmas season. And this year, the ballet returns with new costumes and updated choreography.
Snow White
April 24–26
Bring the kids to this whimsical ballet that tells the story of Snow White and the Seven Dwarfs.
SRO Lyric Theatre
srolyrictheatre.org
The Elixir of Love
October 24–26
This opera by Donizetti is performed in English. 
Voices of Christmas: The Wise Women
December 5–7
Take in both secular and sacred music in this holiday concert featuring the one-act opera The Wise Women. 
Street Scene
February 20–22
This American opera is showing at The Historic Fox Theatre on the Square with an opening night celebration at The Tower Club. 
Café des Artistes: Roma Fellini
April 24–25
Come to The Creamery Arts Center to hear popular Italian music, Italian arias and Italian –influenced musical theatre pieces. 
Operazzi
Ongoing every third Sunday 
This recurring open mic night features opera, musical theatre and jazz.
Springfield Contemporary Theatre
springfieldcontemporarytheatre.org
Moonlight and Magnolias
September 12–28
What happens when the director of Gone with the Wind is fired? Find out.
The Normal Heart
October 17–November 2
Writer and activist Ned Weeks raises awareness about the rise of HIV/AIDS in New York City in the 1980s.
Around the World in 80 Days
November 21–December 14
It's the 19th century, and a man tries to win a bet and circumnavigate the globe in just 80 days.
Shining City
January 9–18
In this ghost story, a widower sees his dead wife in their house.
The Tempest
February 13–March 1
This Shakespearean play tells the story of a shipwreck, a duke, his daughter and magic.
Painting Churches
March 20–April 4
Mags arrives in Boston to help her elderly parents pack for a move from their longtime home to Cape Cod.
Spring Awakening
April 24–May 17
This Tony Award winner for Best Musical features rock music and tells the story of life as a teenager. 
Springfield Symphony Orchestra
springfieldmosymphony.org
Scenes from Italy
September 20
Dukas' La Peri ballet, the Intermezzo from the opera I Pagliacci, the tone poem The Pines of Rome and more are performed by the symphony with special guest violinist Che-Yun.
Breezes from Bohemia
October 11
Clarinetist Jon Manasse joins the symphony in a performance that includes Dvorak's Symphony No. 8 and more.
Salute to Veterans
November 8
The symphony honors American veterans with a concert full of patriotic songs, songs of commemoration and mourning and themes from Hollywood and Broadway war stories.
Christmas Around the World
December 13
The title says it all. The Springfield Boys Choir joins the symphony as they perform holiday music from all over the world.
A Visit to Russia 
January 24
Celebrate the orchestral music of Russia with special guest Vadym Kholodenko, who studied at the Moscow Conservatory and is a Van Cliburn Gold Medalist.
The Resurrection Symphony
February 21
Hear Mahler's Symphony No. 2 in what the Springfield Symphony Orchestra calls a monumental event and "one of the most thrilling musical events of a lifetime."
European Treasures
March 21
This concert features classical and Baroque works and Ravel's classical-inspired Tombeau de Couperin.
German Tour
April 11
Hear classical music from Germany, such as Brahms' Academic Festival, Schumann's Rhennish, the Emperor Waltz from Austria and more.
Symphonic Big Band!
May 9
Join the symphony as it celebrates jazz legend Duke Ellington and plays music that Ellington composed for an orchestra. As an added bonus: A big band joins the symphony on stage to play jazz hits.