Travel
Chesterfield, MO
Just three hours northeast of Springfield is a quaint residential enclave known for its numerous shopping areas, outlets and public parks. Hit the road for a family-friendly weekend away in Chesterfield.
By Riley de León | Photo courtesy St. Louis County Parks Department, by Randy Allen with vsaphoto.com
Sep 2015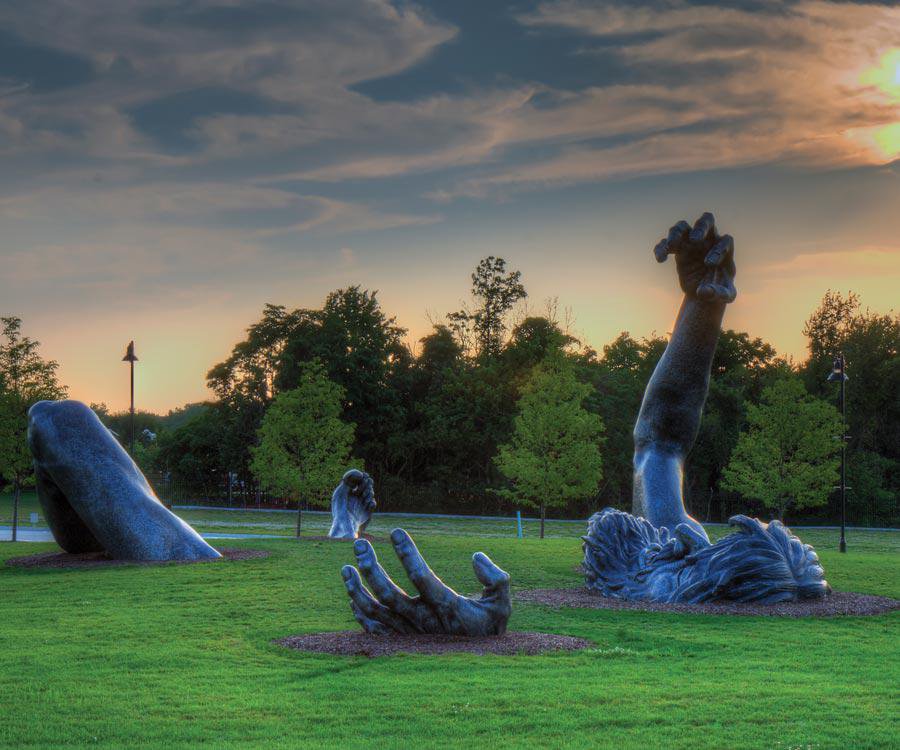 EXPLORE
For art that you can interact with, don't miss The Awakening (on the corner of Chesterfield Parkway West and Lydia Hill Rd., Chesterfield). This sculpture depicts a 70-foot-tall giant clawing his way out of the ground. Come early in the day so it's not too hot to climb on the
giant and slide down his knee.
Then venture out to Faust Park (15185 Olive Blvd., Chesterfield, 314-615-8328) to ride the famous St. Louis Carousel or check out more than 60 butterfly species and more than 150 tropical plants at The Sophia M. Sachs Butterfly House. Visit during October for the annual Owls and Orchids event, when the Butterfly House expands its collection of Owl Butterflies and decorates the conservatory with colorful, blooming orchids. 
SHOP
Two new outlet malls mean you can shop until you drop. The Taubman
Prestige Outlets (17057 N Outer 40 Rd., Chesterfield, 636-536-3014) offers shoppers a mix of stores in an inviting, village-like format. Spice up your home décor by visiting the Restoration Hardware Outlet or add some flair to your wardrobe by shopping at the Polo Ralph Lauren Factory Store. 
Visit St. Louis Premium Outlets (18521 Outlet Blvd., Chesterfield, 314-399-8163) for shopping that's always worth the trip. Tour more than 90 outlet stores including Coach, Kate Spade New York, and J.Crew. Both of these signature outlet malls are new to the Chesterfield area and bring together some of the finest brands and some great savings.
EAT
When hunger calls, head to Annie Gunn's (16806 Chesterfield Airport Rd., Chesterfield, 636-532-7684) where chef Lou Rook, III will make your mouth water with his seasonal culinary creations. When visiting one of Chesterfield's most celebrated restaurants, be sure to try Chef Lou's House Smoked Seafood Sampler with a house made Guinness rye.
If you're looking for a fine dining experience, try Veritas (15860 Fountain Plaza Drive, Ellisville,
636-227-6800), which has become a signature west county gathering place for food lovers. Whether it's for lunch or dinner, make plans to meet your friends at the Mustard Bar and enjoy all the wonderful tastes it has to offer.
For a glass of vino to round out your meal, Charlie Gitto's (15525 Olive Blvd., Chesterfield, 636-536-2199) wine list has hundreds of selections. Gitto's delivers iconic Italian dining straight from The Hill in St. Louis. Just uncork your bottle of choice, and enjoy a relaxing meal. 
STAY
The Hyatt Place (333 Chesterfield Center East, Chesterfield, 636-536-6262) offers a comfortable stay at a boutique hotel located in the heart of Chesterfield. Guests can enjoy a spacious bedroom, a complementary continental breakfast and everything needed for a fabulous stay in the Gateway to the West. This is the perfect place to unpack your bags and relax in between shopping, dining out and exploring the area.