Life
Family Time: Inflatable Fun
With bouncy and boisterous games for kids and kid-at-heart adults, the inflatables trend is one bubble that won't burst anytime soon.
Written by Jennifer Adamson | Photos courtesy Ultimate Bubble Sports
Sep 2016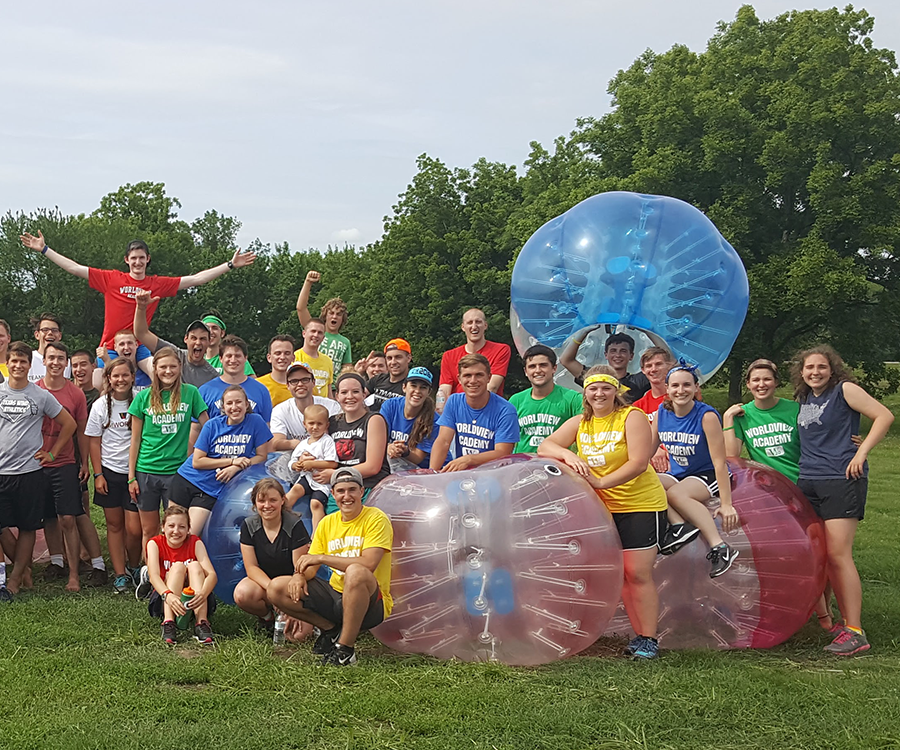 Pin the tail on the donkey is out. Piñatas are lame. Today's biggest party craze is inflatables. With bounce houses, slides and more hilarious options, their appeal is stronger and more widespread than ever. Fortunately, two local business owners recognize the demand and are stepping up to the plate to offer tons of traditional and not-so-traditional inflatables you can use to take your kid (or adult) event to the next level.

At Ultimate Bubble Sports, owner Luke Rogers is thinking outside the box and turning inflatables into wacky games you and your friends never knew you needed to try, like bubble soccer. "It's a zorb bubble that you wear like a backpack," he says. "You kind of dive in headfirst and put your arms through the shoulder straps. Then you hold the handles and run around and play soccer. The purpose is to knock your opponent away from the soccer ball." Except for your feet, your body is encapsulated. A deep cushion of air between you and the outside of the bubble protects you when you get bumped but also skews your depth perception just enough to make you wobbly and send you rolling across the field on impact. Think hamster balls for people.
Ultimate Bubble Sports is also blowing up the market with ultimate archery. It's kind of like paintball, except you hide behind bubbles and shoot foam-tipped arrows at your competition. And this summer, Rogers plans to introduce 417-land to inflatable trampoline volleyball, also known as bossaball. "We don't want to be just a one-trick pony but a company that exceeds the expectations of those that are wanting to have some extreme fun with inflatables," he says.
Ted Amberg, CEO of Amberg Events, says party-goers are looking for a diverse inventory of fun, which Amberg Events creates by offering high-tech games like laser skeet shooting in addition to inflatables. When the latter are concerned, these aren't your typical bounce houses. The company offers the first-ever life-sized Hungry Hungry Hippos game and a game called Big Baller, which has participants crossing a course by running across giant balls.
Even companies that deal primarily with classic inflatables are seeing the business trend upward. Megan Stagner and her husband, Andy, own Party Station in Nixa and have an inventory of more than 60 inflatables for rent and provide inflatables for close to 150 events every month. "Fifteen years ago, they weren't around as much," Megan says. "Now they're everywhere, and there's such a variety of them."