Life
Where to Sip and Paint
Combine cocktails and canvases at one of these paint night businesses in 417-land for a night to remember.
Written by Karlee Renkoski | Photos by Kyle Davis, courtesy Shutterstock
Sep 2016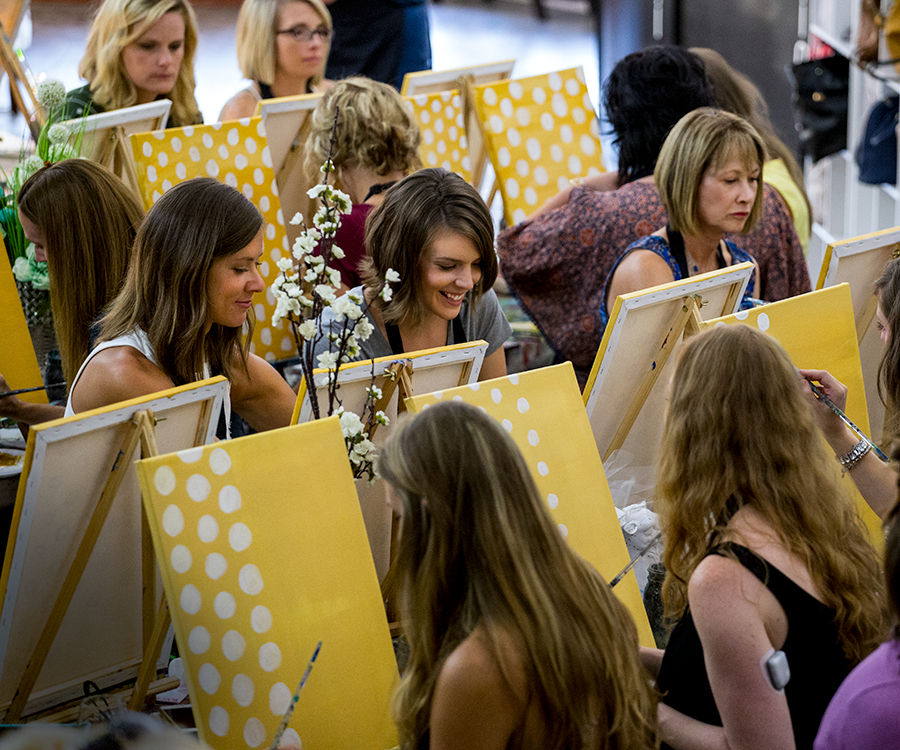 What could be more fun than socializing with a drink in hand? It's time to mix up your same old friends' hangout or date night and get with the creative trend that's striking 417-land. Paint nights came to 417-land about five years ago with RSVPaint, and as more companies hopped on board, it has grown into a popular night out and private party event. 
Although each company's paint night style varies, the general idea is the same. First, choose and purchase an event you like online. On the night of, you're given all the equipment and instruction you'll need for a good time. After sipping wine, cocktails or beer, you'll  feel at ease and enjoy conversations with your friends and the other participants. Then the painter will take you through a series of basic steps to create a canvas you'll be proud to share with others. Whether you think you're a poor artist or as experienced as Renoir, the main idea is to have fun.
All of the paint night companies, whether independently owned or a license or franchise model, have their own way of making the event unique for their guests. Painting with a Twist adds giveaways and games throughout their sessions, and Vino Van Gogh teaches you about the art you're creating. Companies such as The Social Easel and Paint Nite are mobile and hold their events at restaurants or wineries so you can have dinner beforehand. Artists come up with their own ideas for their paintings at RSVPaint and Art Parties Tonight. Many of the companies also partner with local charities to give back. 
There are paint night events to choose from on all different days of the week, and companies show what painting will be used for each one on their websites. A variety of choices, such as landscapes, inanimate objects and even your pet, mean you'll find the perfect design for your evening out. Paint nights are great date activities, and companies offer events in which two canvases reflect one another and can be put together to make one complete picture. Private parties are also popular, including showers, birthdays and even kids' parties. 
For some customers, paint nights help them relax after long workdays. For others, it's a time to learn in an easygoing environment. For anyone who participates, it's an evening to have a good time. The alcohol and social atmosphere will loosen up your creativity as you paint a masterpiece to hang in your home and make memorable moments along the way.