Life
How to Adopt a Greyhound in Springfield, MO
Greyhounds are known for their sleek coats, their slim physiques and their Olympian-like sprinting speeds. But did you know they make great pets? Local nonprofit Greyhound Pet Adoption - Springfield MO is aiming to spread the word.
By Claire Porter
Apr 2019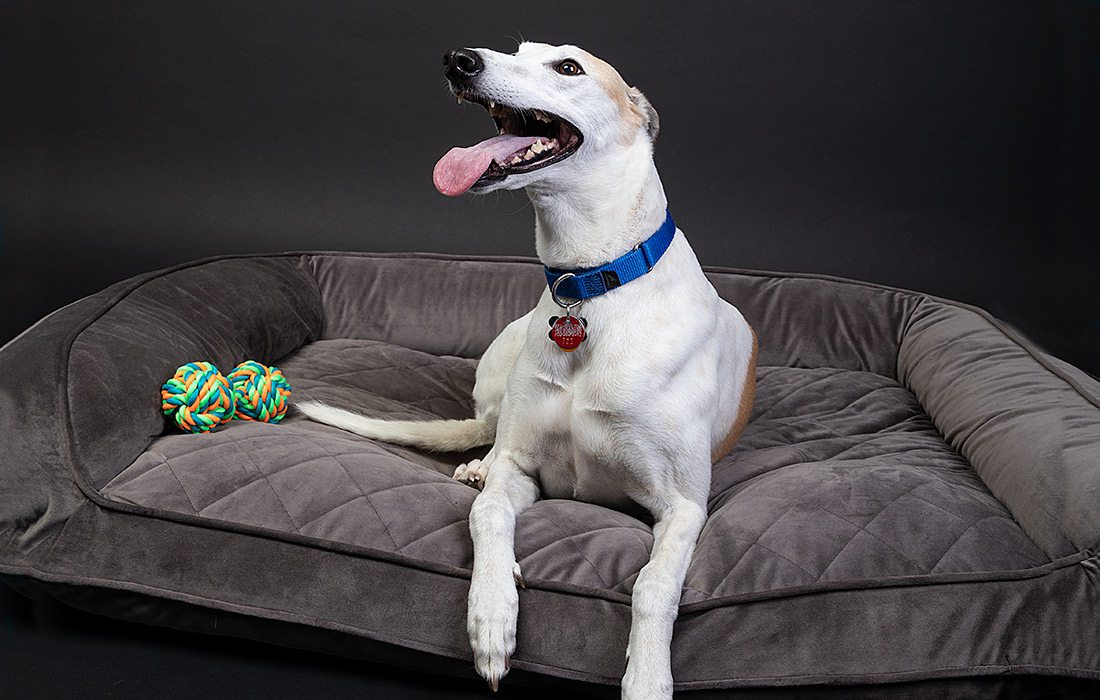 Springfield native—and dog enthusiast—Alane Shultz knows the term "puppy dog eyes" well. That sweet stare kicked off a 26-year passion project for her and her husband, Roland. In 1983, veterinarian friends invited the Shultzes to meet their retired greyhounds, and the Shultzes fell in love. "I loved those dogs more than you could even imagine," Alane says. "I was just swept away." A few months later, the Shultzes adopted their first retired greyhound, Blondie, and since then, they've owned nearly 40 hounds. 


Need for Speed
Greyhounds were bred for speed, and in the early 20th century greyhound racing gained traction, and racetracks popped up around the country. Greyhounds were in high demand, but dogs who aged out or got injured were at risk of being put down if they weren't adopted, which created a rescue mission for adoption organizations. 
As more states ban the sport and shut down tracks, Alane says there will be an influx of greyhounds on the market. Alane estimates that by the end of 2020, there will be only about six year-round tracks in the country plus a few seasonal tracks. The drop in tracks should lead to a reduced demand for breeders, and even fewer dogs needing homes. "That's a good thing because it's more manageable," Alane says. 


Humble Beginnings
For the first few years after adopting Blondie, Alane was just a dog lover who adopted retired racers and stray greyhounds for her family. Then in the early 1990s, the breed's plight attracted national attention. Eleven years ago, April was named Annual Greyhound Adoption Awareness Month. 
Wanting to do their part, the Shultzes founded Greyhound Pet Adoption – Springfield MO in 1992. The group matches dog lovers with a four-legged friend and educates the public on the benefits of owning greyhounds. Since starting the nonprofit organization, Alane estimates they have adopted out 2,000 dogs and assisted with transporting an additional 500 dogs from their race tracks to foster homes and adoption organizations. 


Let the Tails Wag
Twenty-six years after founding GPAMO, Alane says the public is more knowledgeable about the breed, but she's still battling one big misconception. "Just because a dog raced, people would think they were hyper," she says. "They're the most laidback breed on the planet." Alane loves the easygoing breed and touts their social nature and promises that size is not an issue. "They're as huggable and sweet as any small dog," she says. 
She does caution that "not everybody is right for a greyhound," but GPAMO takes thorough steps to vet each dog and each household to get as close to a perfect match as possible. And if things don't work out or if an owner can no longer take care of Fido, the organization always takes its dogs back. 


Lending a Paw
As a nonprofit, GPAMO is entirely volunteer-run and never keeps rescued dogs in kennels. That's why volunteer foster families are crucial to GPAMOs success, but keeping foster families in rotation isn't easy. "Every kind of rescue organization needs fosters," Alane says. "It's hard to get fosters, though. You have to commit in your mind that this is what you're going to do. You can't keep every greyhound that comes through here, because then you're not able to help another dog." If you're feeling like your home could use a few more paws in it, GPAMO always accepts applications for foster homes and potential adopters. You can see the full list and profiles of adoptable hounds at GPAMO's website. 


Interested in helping out, fostering or even adopting? 
Contact Alane Shultz at alanegreyhound@gmail.com for more information.