Travel
Getaway to Lawrence, Kansas
Get ready for a weekend of global eats, live shows and plenty of Jayhawk excitement.
By Ettie Berneking | Photos courtesy KU Marketing Communications
Mar 2015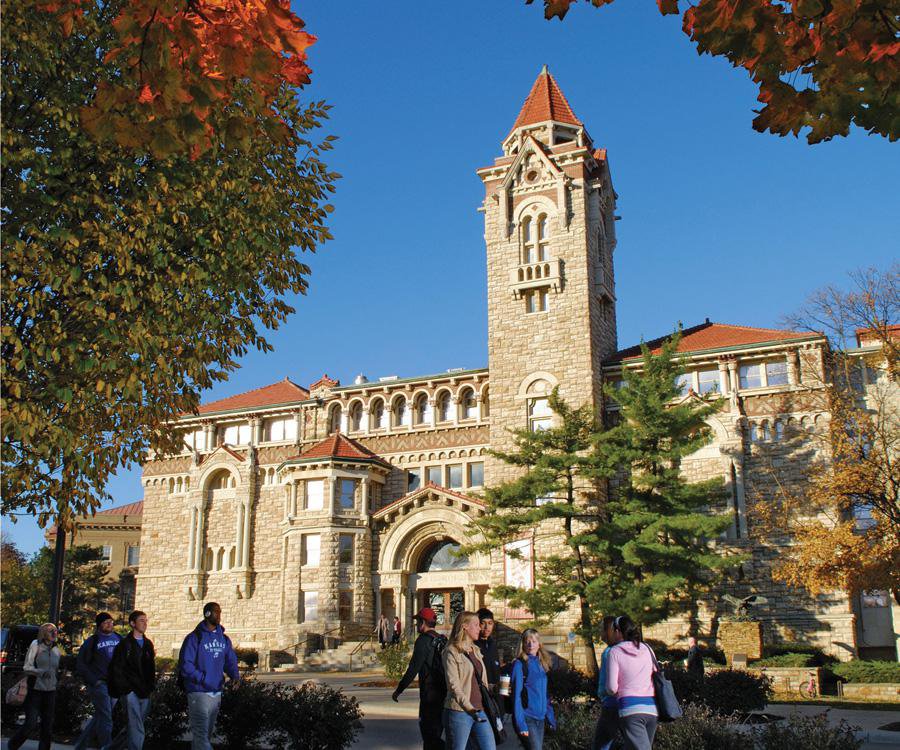 Home to one of Missouri's oldest rivals—the Jayhawk—the bustling college town of Lawrence, Kansas, offers more than a chance to see the Jayhawks in action. The downtown drag is lined with popular shops, boutiques, music venues, restaurants and much more. And a good chunk of the action can be found along Massachusetts Avenue. 
Eat
If what they say about breakfast is true, then plan on waking up early and snagging a seat at Global Café (820 Massachusetts St., Lawrence, 785-838-4600, globalcafelawrence.com). This joint serves food all day, but the breakfast menu is especially tempting with an array of global delicacies including the arepas: a gluten-free South American treat that consists of grilled cornmeal cakes stuffed fat with all sorts of deliciousness. Drown that with a hot barraquito, which is strong Spanish-style espresso layered with sweetened condensed milk, frothy milk foam, cinnamon and a touch of lime.
Recognized for serving tasty eats and a mouthwatering selection of vegetarian options, Zen Zero (811 Massachusetts St., Lawrence, 785-832-0001, zen-zero.com) offers a mix of pan-Asian and Thai favorites. Start your meal with an order of momos: Himalayan dumplings served with spicy sesame and tomato chutneys that come steamed or fried. Fill up on curries and drunken noodles. 
For dinner, swing over to The Mad Greek (907 Massachusetts Ave., Lawrence, 785-843-2441, themadgreeklawrence.com). This family-owned eatery makes a mean spanakopita. Fill up on messy gyros, moussaka, dolmas, plates of pasta and manicotti and soulvaki.
Shop
There are plenty of stores to peruse while you're wandering around downtown Lawrence, but no trip would be complete without a peek inside Au Marche (931 Massachusetts St., Lawrence, 785-865-0876, aumarche.com). This European grocery store is the perfect place to load up on sea salt caramels, soft licorices, Dutch peppermints, hard candies, chocolates, cookies and cakes from France, Germany and the Netherlands.
See
If you have some downtime during the day, catch a movie at Liberty Hall (644 Massachusetts St., Lawrence, 785-749-1972, libertyhall.com). This historic theatre has a little of everything. It houses a concert hall, video store, coffee house and independent cinema. So whether you're in the mood for some live music, the latest indie flick or a hot cup of coffee, Liberty Hall has you covered.
Explore
Even if you're not a raving Jayhawk fan and hold tight to your Missouri pride, make time to take a leisurely stroll around the KU campus. Nature buffs will especially want to check out the Natural History Museum (1345 Jayhawk Blvd., Springfield, 785-864-4450, naturalhistory.ku.edu). You'll find four floors of exhibits that range from parasites to live snakes, fossils and much more. 
And if it's sports that brought you to Lawrence to begin with, you definitely need to spend some time at the Booth Family Hall of Athletics located inside the Allen Fieldhouse (1651 Naismith Dr., Lawrence, 785-864-7050). Get your fill of sports history and trivia here. 
Finally, make time to stop at the Spencer Museum of Art (1301 Mississippi St., Lawrence,
785-864-4710, spencerart.ku.edu) to round out the trip with a bit of culture. From collections of American, African, Asian, European and Oceania artifacts and pottery to a lineup of rotating exhibits, there's something for everyone here.
Stay
The Eldridge Hotel (701 Massachusetts St., Lawrence, 785-749-5011, eldridgehotel.com) blends historic charm with modern comfort. A sparkling lobby welcomes guests along with a ghost that particularly loves to haunt room 506. The hotel was even featured on A&E's Biography Channel's show My Ghost Story. Visit eldridgehotel.com and click on "Our Story" to find the link to the spook-tastic episode. 
For more modern digs, make a reservation at The Oread (1200 Oread Ave., Lawrence,
785-843-1200, theoread.com). This hotel has a great rooftop view of downtown Lawrence, and the Terrace restaurant and Bird Dog Bar are the perfect place to cozy up at the end of the day and enjoy a tipple.